Citadel – new Vietnamese restaurant in a cool French colonial building
A few days ago, I took a foreign partner out for lunch, and decided to give Citadel Saigon a try. This place is one of the newest Vietnamese restaurants in HCM City, aiming to serve traditional Vietnamese cuisine with no MSG and using only fresh, quality ingredients.
Its location, Lane 74 Hai Bà Trưng, District 1, is well known among city foodies. It is one of those special downtown places with many nice old French buildings that have been renovated several times, but still manage to maintain the original French architectural style. It is especially lively at night, with some of the most well-known and long standing restaurants in town, like El Gaucho, The Refinery and Hoa Tu. The new kid on the block is to the left of The Refinery.
The beautiful French colonial building, quiet and spacious with big windows that bring in a lot of sunlight, did not fail to impress. It reminded me of the old Sai Gon, and we learnt there was once a real citadel here in 1790. The first floor is an outdoor area with no air conditioning, suitable for cool days or in the evening. It was lunchtime, so the staff suggested that we go upstairs, which we did, climbing up a quaint wooden staircase.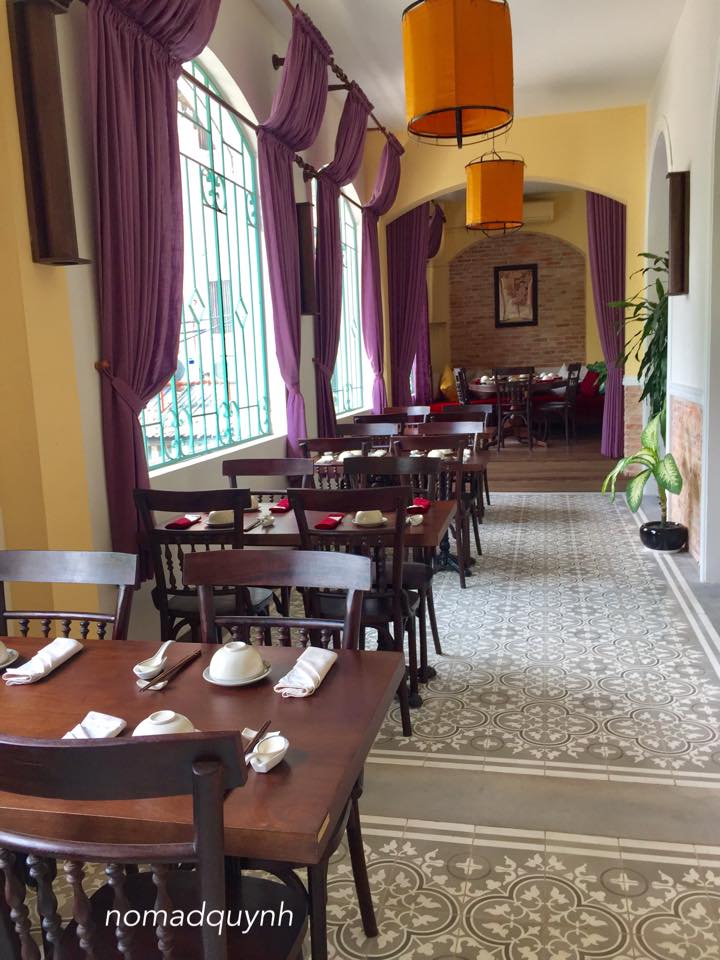 The second floor full of sunlight
A pretty waitress showed us to our table and gave us the a la carte as well as set lunch menus. VNĐ180,000 per person gets you a starter, a salad, a main course with soup and rice, and a dessert. A good offer, especially when you get to choose from many options. We decided to take two different sets.
For starters, he chose the crab spring roll, while I went for the shrimp and pork one with fried vermicelli. He also got the green mango salad with dried shrimp, while I opted for the pomelo salad with chicken. These dishes were brought to us on the same plate, with two spring rolls in each portion, which made it easy to share. My shrimp and pork roll was very tasty – the outer layer of fried vermicelli was perfectly crispy and not too thick, while the inside tasted fresh and flavourful. My partner's crab rolls were also good, but I would prefer their crust to be a bit less thick.
I preferred my partner's choice of salad, however. The pomelo chicken salad was not bad, but not as good as the mango with dried shrimp, which was very fresh and tasty with several different, complimenting flavours.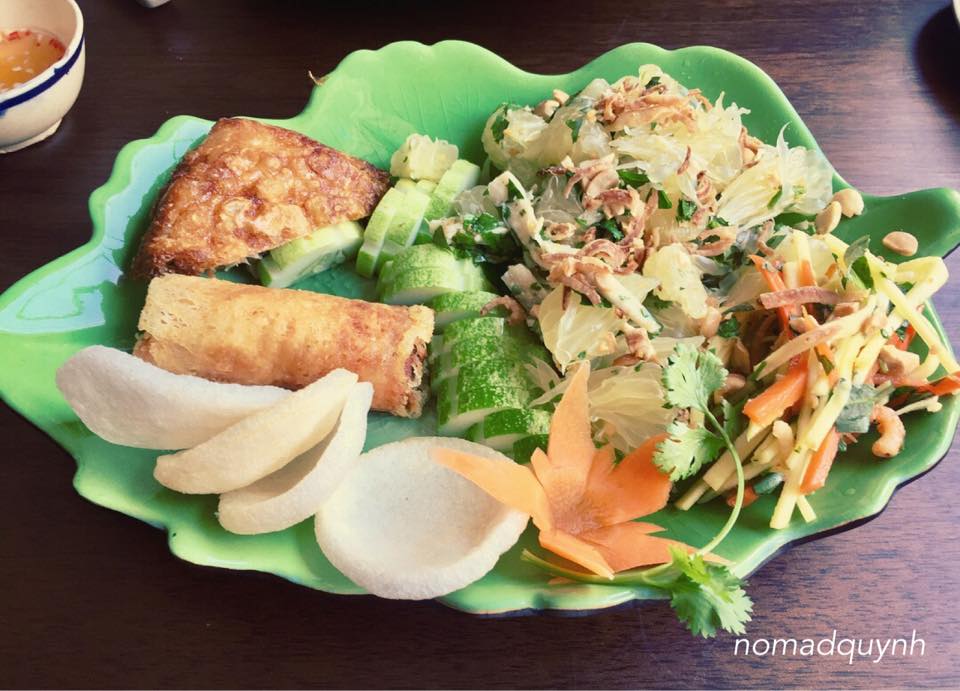 Off to a good start – a mixture of starters from two different lunch sets. Clockwise from top left: Crab spring roll, pomelo chicken salad, green mango salad with dried shrimp, and shrimp and pork spring roll with fried vermicelli
For the main course with soup, I chose braised basa fish in clay pot and sour soup with pork ribs, while he got the caramelized pork plus spinach and crab soup. Both main courses were really good. I am normally not a big fan of fish, but this is definitely one of the best fish in clay pot dish I've had in a Vietnamese restaurant, flavourful with just the right balance of different spices, not overdone, like it is at many other places. When I invited my partner to try it, he was reluctant at first, saying he was already quite full. After taking a bite, he asked me if he could finish the rest.
The caramelized pork in clay pot was also very good and is a safe option if you don't like fish. The soups were tasty as well, but if you're not a fan of ribs with bones, the spinach and crab soup would be a better choice.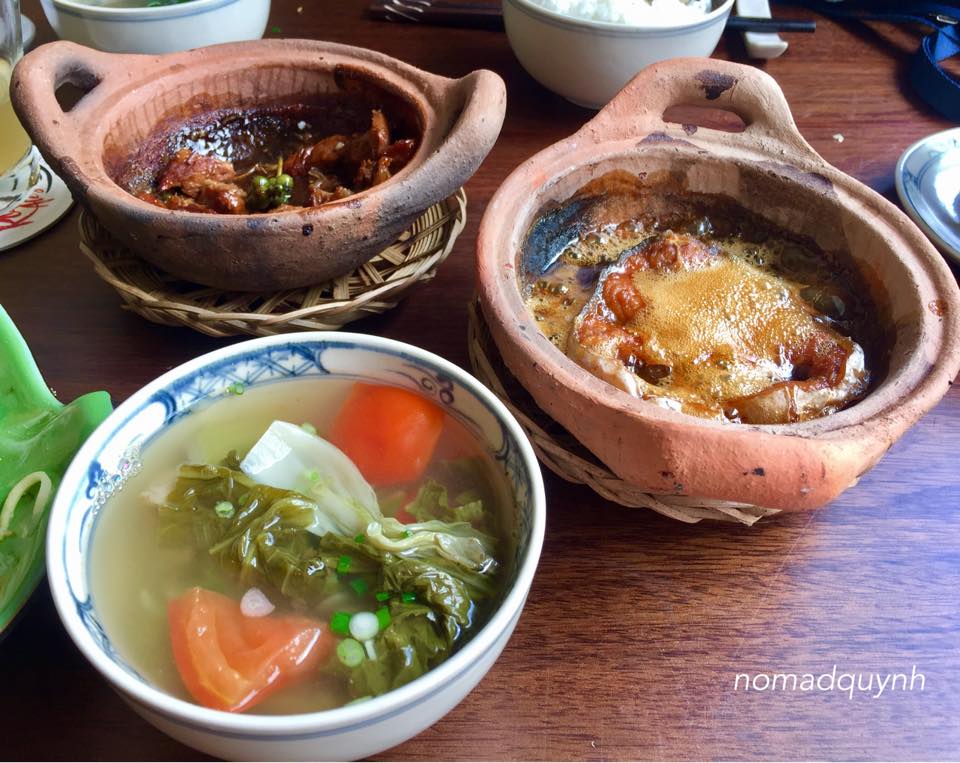 Clockwise from top left: Caramelized pork, braised basa fish in clay pot and sour soup with pork ribs
We were both very full, but I managed to persuade my partner to try their dessert – passion fruit mousse. We didn't regret it. The mousse was nicely presented inside a real passion fruit. It was delicious, just sour enough to make you feel less full after a big meal. We finished it in no time.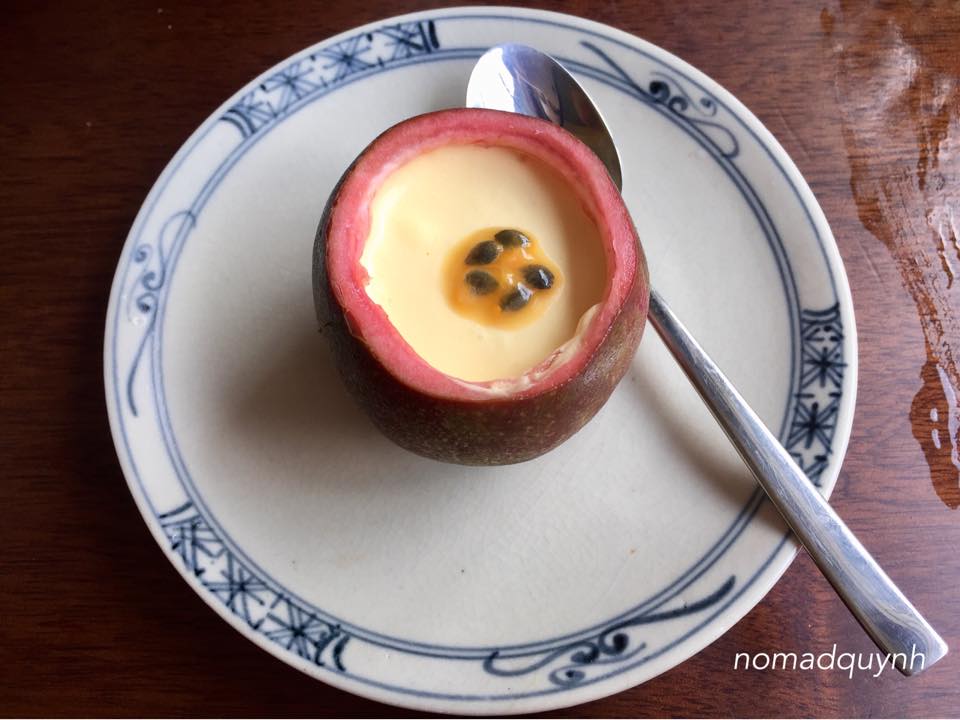 The dessert – Passionfruit mousse
The drinks are also worth a mention. We both had kumquat tea with no sugar. For VNĐ35,000 it is a refreshing, reasonably priced drink There are many other alcoholic and non-alcoholic options in the menu.
The meal was made more enjoyable by the professional service of well trained staff.
We chatted with one of the owners, Ms Hồng. She said she opened this restaurant with two other partners from France and Hong Kong. She and Pierre – her French partner, also own the B3 Steakhouse&Craft Beer – a nice, reasonably priced steakhouse in HCM City.
"We have always liked this French colonial venue, so when their contract with the previous establishment ended, we thought why not open a Vietnamese restaurant here since we all love Vietnamese food. As you probably can see, both the decoration and the food here somehow reflect all our different tastes as a Vietnamese, a French and a Chinese. Our menu is a combination of our most favourite Vietnamese dishes, and we try to provide the healthiest food with the freshest ingredients. We use no MSG in our cooking."
She also told us that they are planning to launch a new menu with a lot of new, interesting dishes next month. This beautiful and spacious venue is also a good choice if you want to host a large group of customers.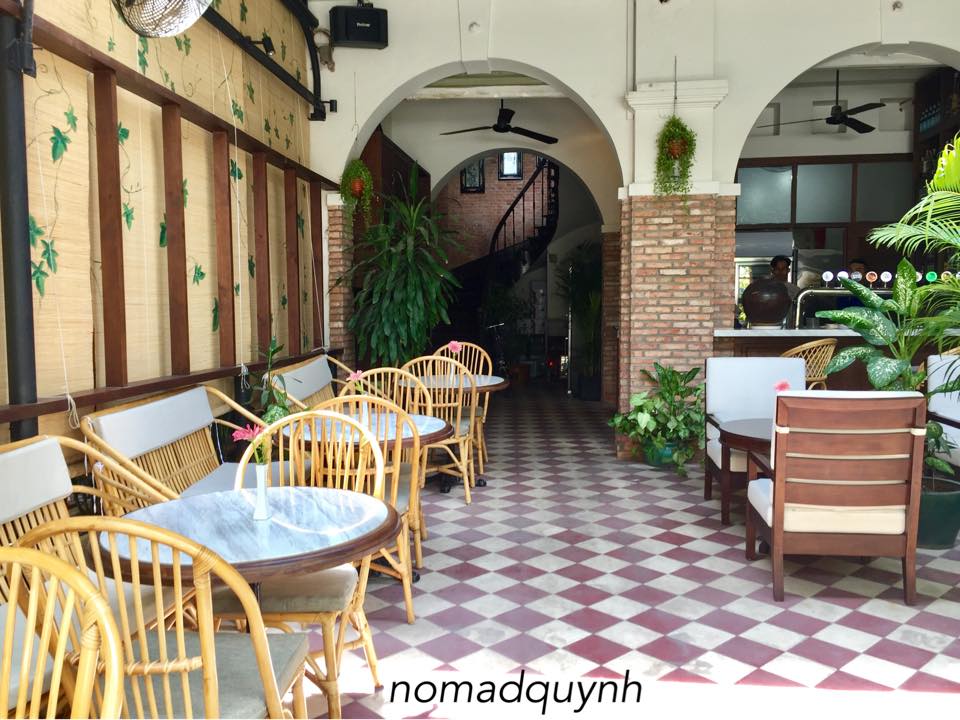 Old world charm: View of the outdoor area on the ground floor
My foreign partner was so happy that he took down the address so that he could return here on his next business trip. In a city full of Vietnamese restaurants, I must say that Citadel Saigon has succeeded in displaying its own flair.
Citadel Saigon
Address: 74/7 Hai Bà Trưng, District 1, HCM City
Tel: 0163 278 1770
Opening hours: Everyday from 11am – 11pm
Facebook: https://www.facebook.com/citadelsaigon
Comment: Lovely Vietnamese restaurant located in the heart of HCM City in an old French colonial building that was once a citadel. Food is made with fresh ingredients using no MSG.
The Nomad Quynh