Anan Saigon – a creative take on traditional Southern Vietnamese food
If you think you already know dishes like bánh xèo, bánh tráng or nem nướng too well, Anan Saigon's creative versions might surprise you. Plus, their unique location is a bonus!
Opened just over a year ago in April 2017, Anan Saigon has quickly made its mark in the Saigon food scene.
Peter Cuong Franklin – the chef, founder and the face behind Anan – is an award-wining Việt Kiều chef who has worked at famous establishments all over the world, not to mention founded two restaurants before returning to his motherland Vietnam to open Anan, so yes, he knows what he is doing. In case you are wondering how to pronounce this name, it is "ăn ăn" meaning "eat eat" in Vietnamese.
Before coming here I already heard about the restaurant's unique location, and indeed it is. Anan is located on Tôn Thất Đạm Street inside Chợ Cũ (Old Market) – one of the oldest wet markets in HCM City. I find this part of HCM City very special and charming by itself: On one side you have the Bitexco Tower – the current highest building in the city, a symbol of the new and modern, but on the other side there is this Chợ Cũ – the symbol of the old and traditional which has been standing there through decades, with hundreds of vendors and street shops that are known to provide some of the best quality ingredients in the city, some of them are famous even among the foreigners living here. Therefore, going to Anan isn't simply just a trip to any restaurant, it's a sightseeing tour by itself for you to see a very special part of the old Sài Gòn.
This location is perhaps one of the reasons why Anan has quickly become very popular since it was opened, that and of course the food too. At Anan, under Chef Peter's talent and creativity, you will find dishes you might not see anywhere else in HCM City. Just like the location, the food is also another fusion between the old and the new, the local and the foreign, the traditional ingredients and the modern cooking techniques.
I have been here with my friends several times, and even on weekdays Anan still seems almost packed. If you come in a taxi, ask them to stop outside at the corner of Hàm Nghi and Tôn Thất Đạm, and take a stroll in for just a short distance so you can have a look at the wet market. If you come by motorbike, let the staff point you to the small parking lot nearby.
The restaurant is spread over several floors of a typical but renovated Vietnamese house, with a cool rooftop where you can come early to enjoy the sunset and the view to Bitexco during happy hour (when they provide Vietnamese brewed beer, aka. bia hơi at only VNĐ10,000 per glass), or come up after dinner to enjoy a few glasses of wine or cocktails from their interesting drinks menu.
We started with a portion of betel leaf beef, aka. bò lá lốt (VNĐ125,000) which was creatively presented on a grilled mesh and clay pot plus some salad on the side. For this price the portion is probably a bit small, nonetheless it was delicious. The meat was of high quality and the taste was flavorful, with just the right amount of seasoning.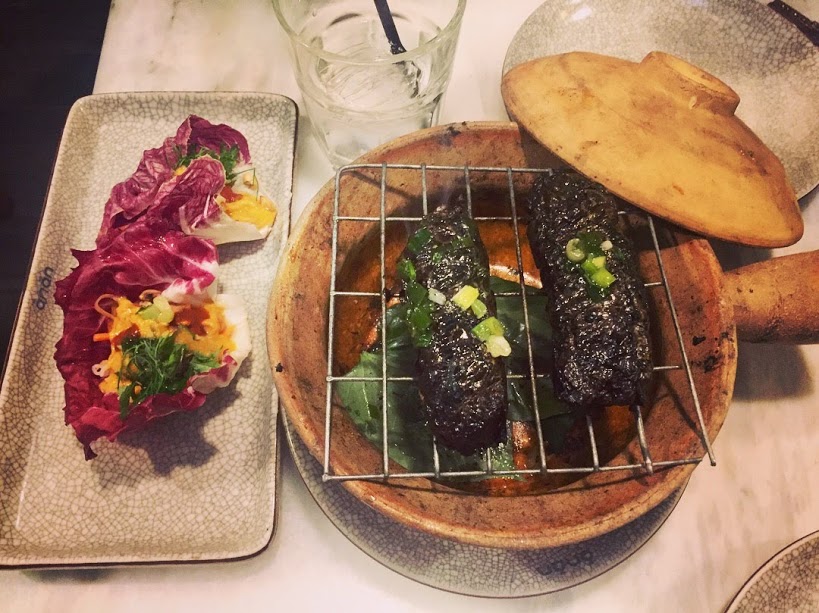 Our second dish and first main course – Lemongrass bone-in pork chop (VNĐ350,000) – is another beautifully presented dish and easily one of my favorites here. I usually am not a big fan of pork chop because of their high fat content, however the pork chop here has the right balance and is perfectly grilled.
Furthermore, the addition of lemongrass and cucumber herb salad creates a very interesting and wholesome flavour, setting it apart from most pork chops that I've tried in restaurants here. The portion is also quite adequate to be shared among two people. This is a dish I would definitely order again on future visits, as well as recommend to other guests.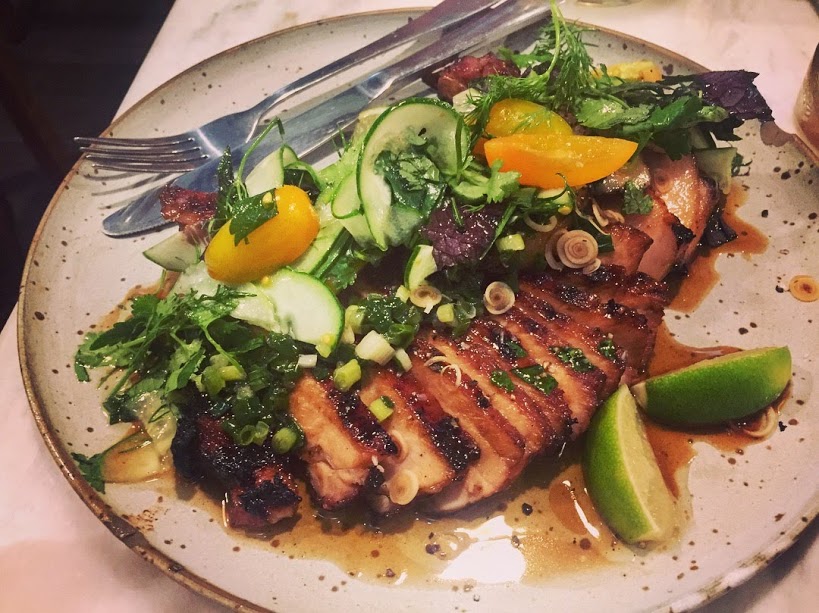 Our second main course – Crab fried rice – comes in quite a big portion to share, and very reasonably priced at VNĐ95,000. Again, it arrives elaborately presented with the crab in a shell on the side and a poached egg on top, all of which you're supposed to mix together.
Again, I love the addition of fresh herbs here. It was a delicious dish, and a good choice if you want something tasty that can keep you full.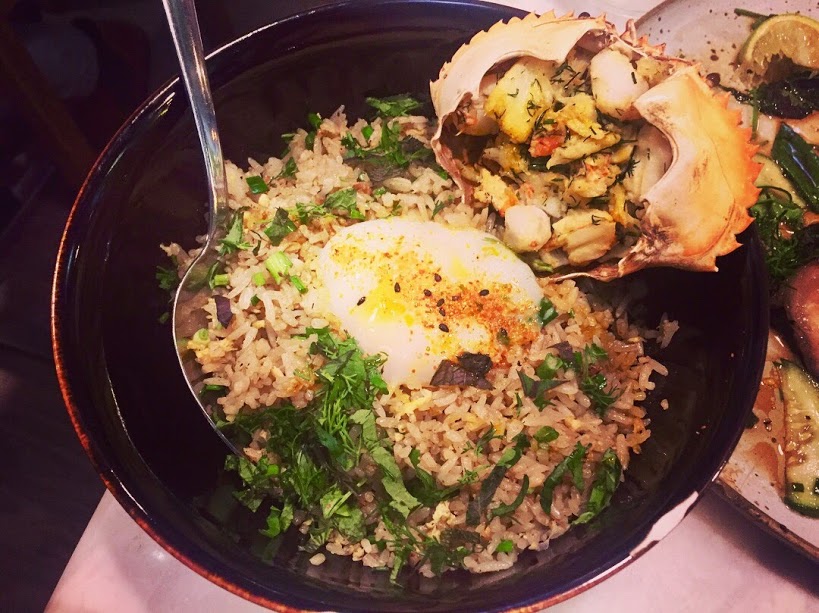 Another one of chef Peter's signatures and also a must-try dish here is bánh xèo tacos. As the name suggests, this is a very unique blend between tacos and the famous Southern Vietnamese dish bánh xèo, the result being a crunchy exterior with a mixture of bánh xèo ingredients inside including vermicelli, herbs and shrimp, pork, beef or fish depending on which type you choose. Alternatively if you want to try all, opt for the Ba Tacos (Three Tacos) which consists of all three choices for VNĐ175,000.
As if having an award-winning chef, an interesting location and some creative food isn't enough, Anan is also well-known as the place that offers US$100 bánh mì and phở. Yes you heard me, one-hundred-dollar for the types of dishes you typically get at any street corner for $1 or 2. So what are the secrets in them? Foie gras, truffle, caviar, premium meat, you get the idea. Be advised that these one-of-a-kind treats are not on the usual menu, you have to order one day in advance for them to prepare. If you ever feel bored of the normal bánh mì and phở and feel like splurging once in a while, then why not?
On the other hand, if going through all the options in the menu gives you a headache, check out their 4 tasting menu options which offer you all their specialties. Each of them has 6 to 8 dishes, with price ranging from VNĐ390,000 to 490,000 per person. Vegetarian menu is also available.
Drinks is another special part of Anan's menu as well. Besides the usual suspects, there are interesting signature cocktails such as Trà Đá (a very refreshing one made from gin-infused Đà Lạt black tea, honey, lime and soda), Saigon Sunset (made from dark rum, sugarcane juice, ginger and calamansi), Phojito (from fragrant sticky rice wine and phở herbs), and many others. They also offer premium Vietnamese rice wine and spirits, in case you want to try.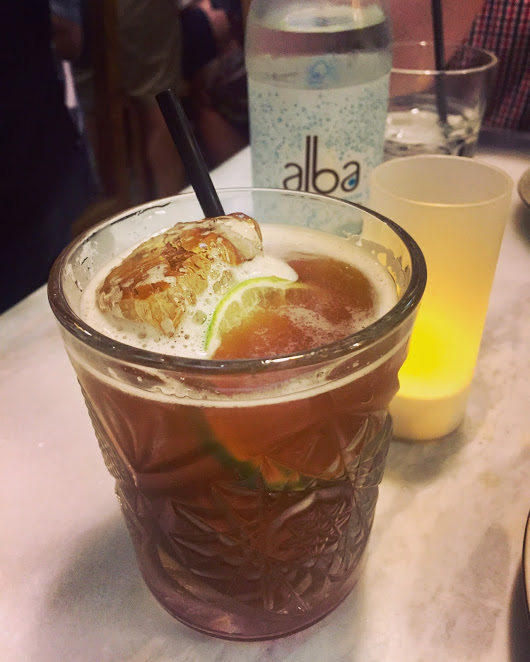 The very refreshing signature Trà Đá cocktail
The staff here are quite friendly and professional, which justifies the 15% service charge on top of the above mentioned prices. It is indeed not a cheap place, but bear in mind you are going to experience unique and creative versions of the usual Southern Vietnamese dishes that probably no other places are able to offer.
This explains why Anan is very popular especially among the expat community living in HCM City. Give it a try if you like Vietnamese food with a twist!
Anan Saigon
Address: 89 Tôn Thất Đạm, District 1, HCM City
Tel: 0904 792 920
Opening hours: Tuesday – Sunday from 5pm until late; Monday closed
Facebook page: https://www.facebook.com/anansaigon/
Comment: Interesting place that offers a creative take on traditional Southern Vietnamese cuisine in a unique location. Reservation recommended during weekends or if you want to get a seat on their rooftop.
The Nomad Quynh