Bếp Mẹ Ỉn – rustic bistro serving home comforts
Concealed down an alley next to one of the most iconic symbols of HCM City is a simple unassuming Vietnamese eatery popular to many locals and foreigners.
The area in District 1 around Bến Thành Market is one full of history and culture, with plenty of old buildings, street vendors and various shops that have been here for generations. Our country is changing day by day, but this area remains one of those left that still reminds the old Saigoneses about the past.
In this area lies one alley commonly known among local women as the "nail alley" – number 136 Lê Thánh Tôn street. This name is derived from the fact that there must be at least a dozen nail salons along this tiny lane, and they are always packed. Their pricing might not be exactly cheap, but some of my Saigonese girlfriends swear certain salon staff there make the best manicures in town. Whether this is a topic that interests you or not, the fact remains that these shops are one of the reasons which make the alley become very interesting to travellers.
However, these nail salons aren't the only thing that makes the trip here worthwhile. If you continue deeper into the lane, where it's relatively quiet despite the nearby hustle and bustle of the market, you will find some of the most popular local and Western restaurants in town. One of them.is a rustic and homey Vietnamese bistro called Bếp mẹ Ỉn.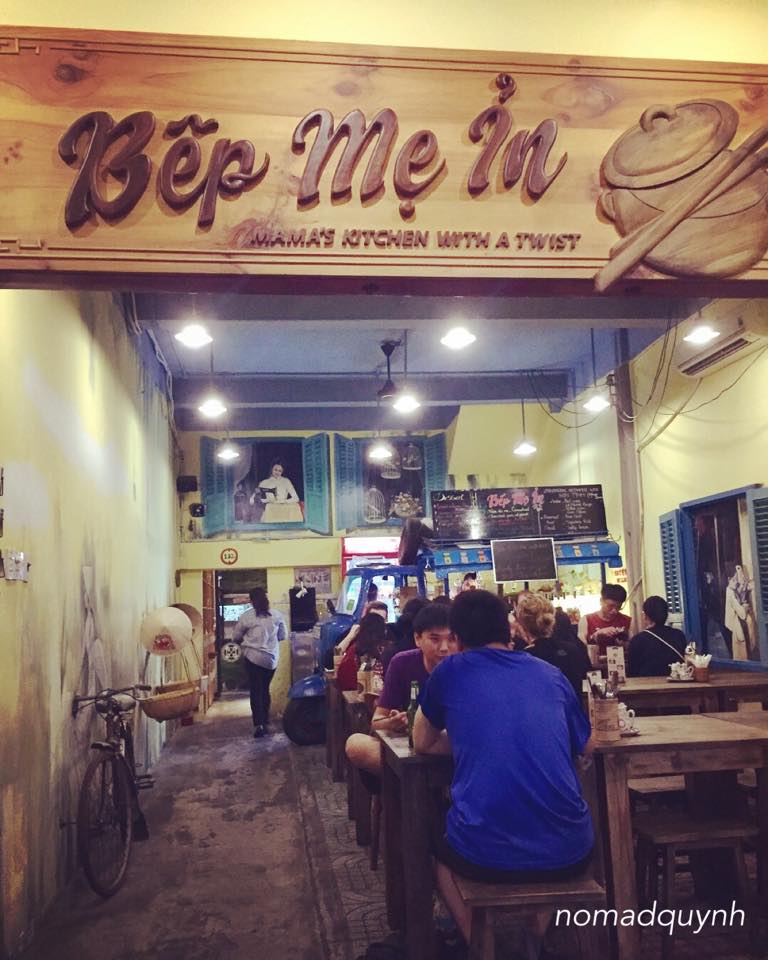 First floor in the style of a humble street food eatery
In Vietnamese, this name means "the kitchen of Little Piggy's Mama", with "little Piggy" being a common loving nickname that mothers use to call their children. As the name suggests, the concept here is home-made food from a mother with love. Just like their sibling – French bistro Cocotte next door, Bếp mẹ Ỉn is owned by the foreigner experts in Vietnamese F&B business, which is why their success was to be expected from the beginning.
Indeed, the setting gives you a cosy and homey feeling right after stepping in, with their rustic wooden furniture, blue-painted windows and cool decorations including quirky paintings and a drinks counter in the shape of a tuk-tuk style van. While the first floor has a more simple and humble look of a street-food diner, I prefer the upper floor because of its brighter and more modern design. Their menu features a selection of home-style rural Vietnamese dishes plus some popular Saigon street food.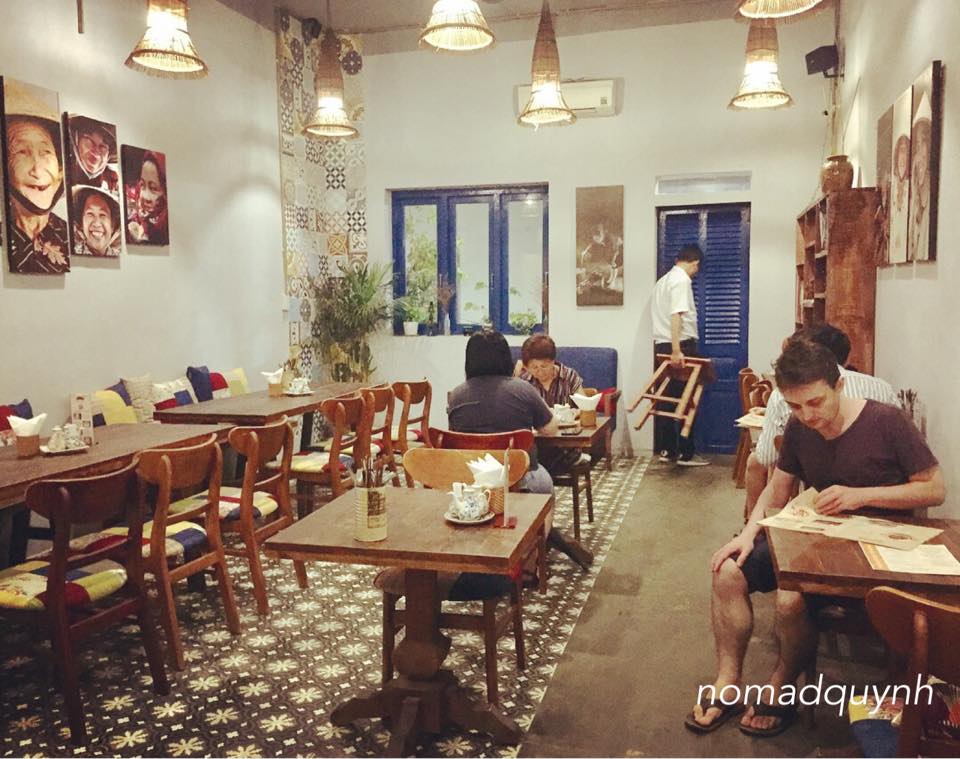 Second floor with a more contemporary look
We tried one of the signature dishes – Bánh đập thịt nướng (Vietnamese style pizza on sesame rice cracker with grilled pork, quail eggs and shrimp sauce (VNĐ65,000). This is a traditional dish originated from the central of Vietnam, around Quảng Nam to Khánh Hòa province but most famous in Hội An. Its base consists of two parts – a crispy grilled rice cracker called bánh tráng nướng and a soft, steamed rice layer called bánh ướt – both of which are actually separate dishes famous on their own. On top of this base are various toppings including grilled pork, well seasoned with different spices and herbs, plus quail eggs and peanuts. The accompanying sauce is a complex one by itself – a mixture of stir-fried shrimp and onion, oil, chilli, etc.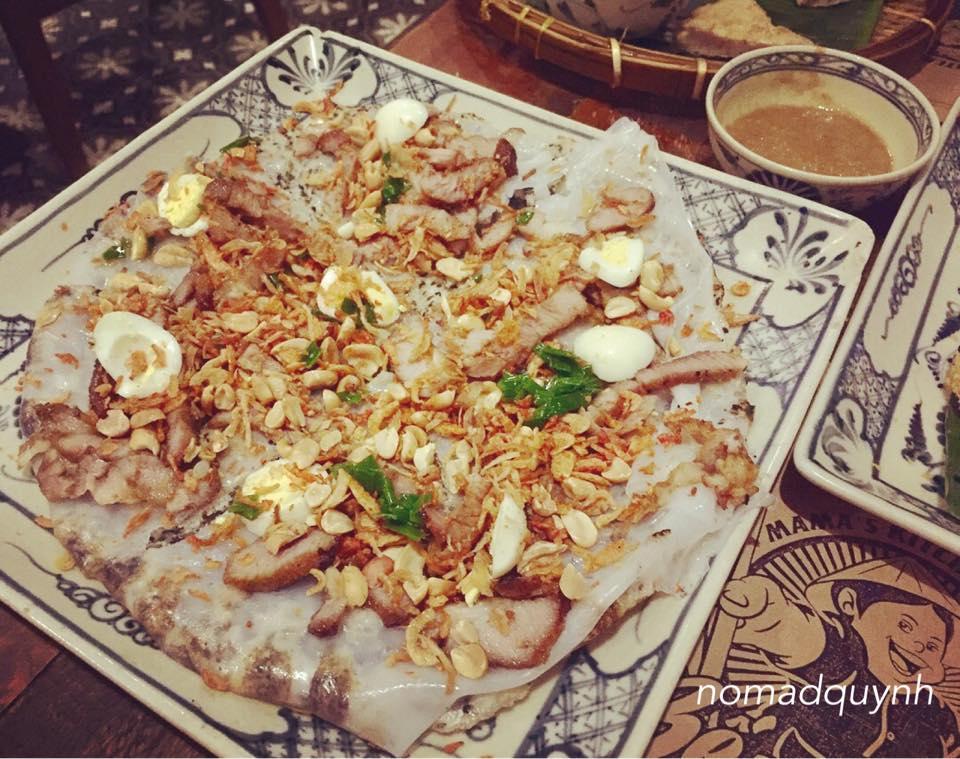 This dish is eaten by first taking a piece of the "pizza", dip it into the sauce and enjoy. The flavourful taste of grilled meat and shrimp, together with the richness of stir-fried onion, the crispiness of the cracker and the softness of the steamed rice paper, all create a deliciously wholesome taste. If you think the shrimp sauce is a bit too strong, ask for fish sauce which is a lighter version.
Our next dish was fried egg tofu with sesame (VNĐ75,000). It was soft, silken and well-cooked, a nice and safe choice if you like tofu.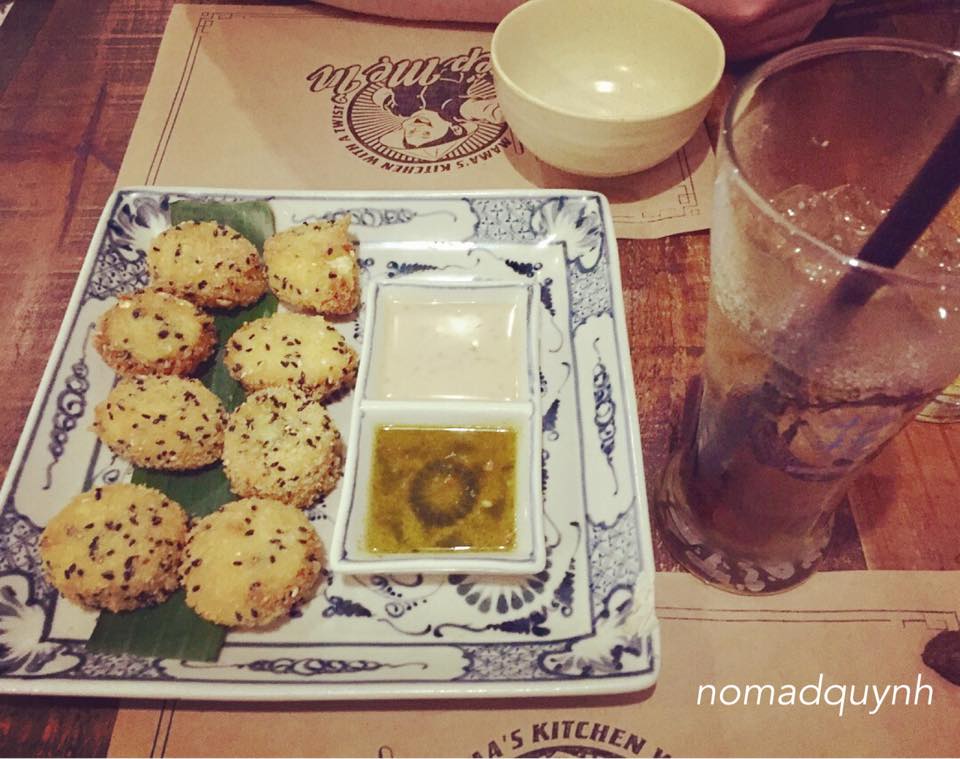 However, my favourite this time was the next dish – fried fish cake with dill (VNĐ95,000). Dill is a common herb in Vietnam and goes especially well with fried fish. Here at Bếp mẹ Ỉn, the fish cakes were slightly crispy yet juicy at the same time and very flavouful. It makes for some perfect munching both by itself or with some steam rice on the side. I will definitely order this dish again next time.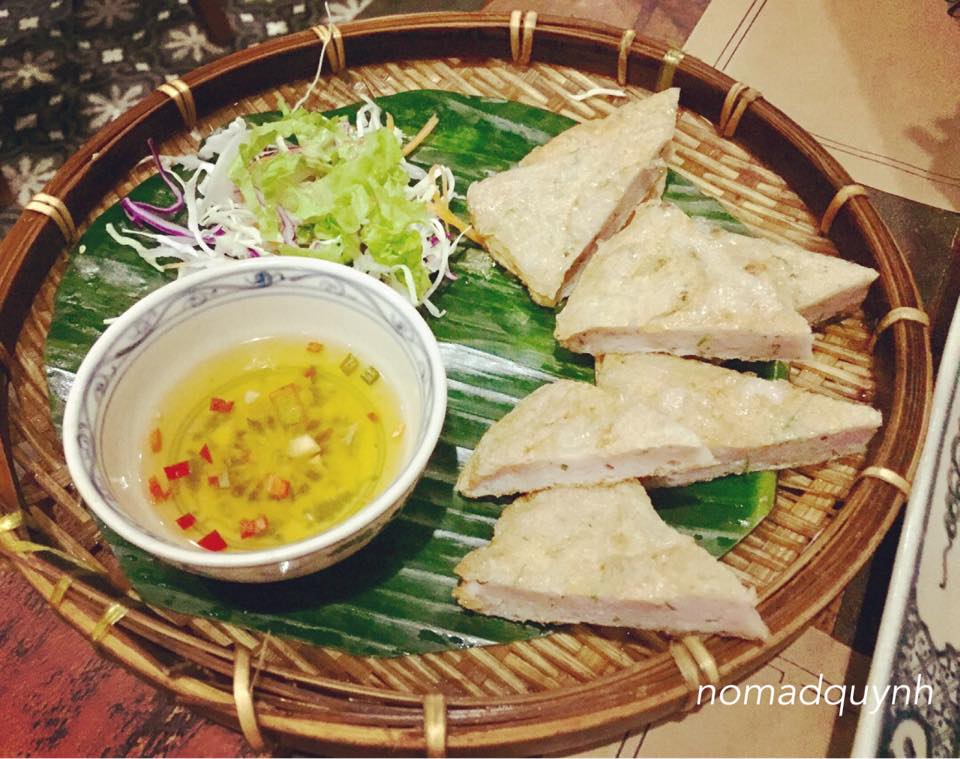 Other popular dishes here include Gỏi củ hủ dừa tôm thịt –  an interesting salad with young coconut shoot, shrimp, pork and peanut (VNĐ95,000); Đùi gà nướng mía lau – grilled chicken legs in sugarcane juice and lemongrass (VNĐ115,000), served with bread on the side: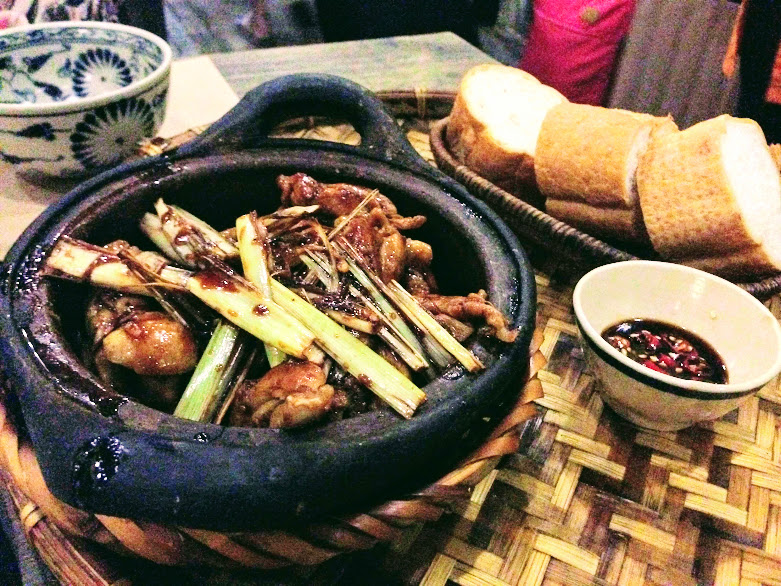 or Cơm chiên trái dứa – fried rice in coconut juice with shrimp and egg, creatively served in a coconut shell itself (VNĐ85,000), a good choice for main course and can be shared among several people: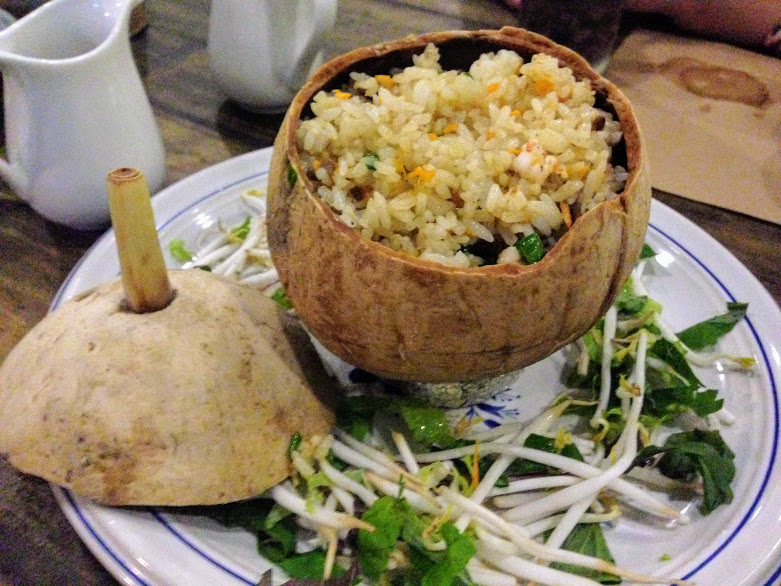 For somebody with a sweet tooth, there are a few dessert options such as coconut and pandan flan cake, banana and coconut homemade icecream, or sweet soup with lotus seed and dried longan, all are priced reasonably from VNĐ35,000-40,000.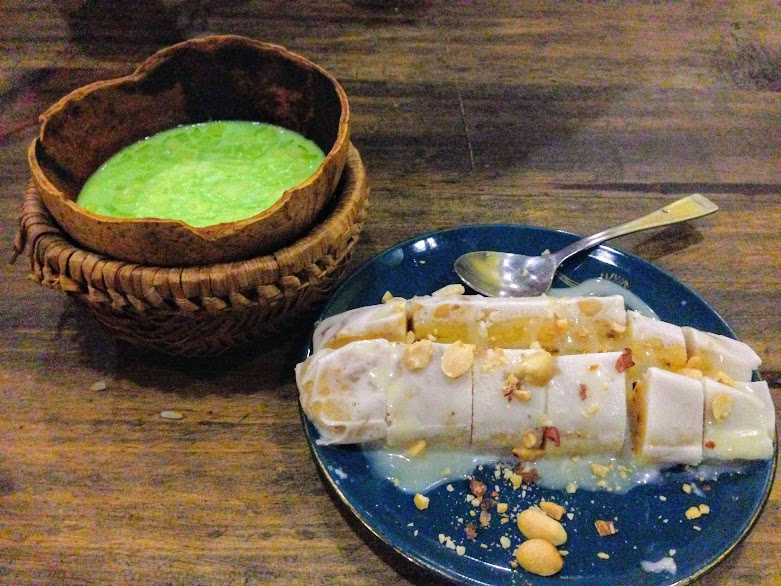 Coconut & pandan flan cake, with banana & coconut homemade icecream
On the other hand, the drinks menu offers interesting traditional drinks from different Vietnamese regions such as táo mèo – preserved condensed rose apple juice (specialty of Sapa Highlands), soda sữa hột gà (soda, fresh egg yolk and milk), coconut coffee…There are also a wide range of local rice spirits as well as special cocktails. This various offers will give you a glimpse into part of Vietnamese village culture.
Roasted black bean juice
The service is generally fast and professional, as they are used to handling big groups of customers.
On another note, if you are interested in trying other specific local food, for example Huế cuisine from the central of Vietnam, check out the popular old-timers Nam Giao and Rất Huế nearby. Or if you're in the mood for Western food, the above-mentioned French bistro Cocotte is definitely worth a shot, as for French homey food they probably offer the best value for money in town, with most main courses being under VNĐ200,000 and come in huge portions, not to mention the venue is nice and cosy enough for a date night.
And if you happen to be around this area on a Tuesday or Saturday evening, walk a couple of minutes further to the Ben Thanh Street food market nearby. There is a cool live band playing from 7.30-9.30pm and the vibe is fantastic!
BẾP MẸ ỈN
Address: 136/9 Le Thanh Ton, District 1, HCM City
Tel: 028 6866 6128
Opening hours: Everyday from 11am – 11pm
Comment: Popular Vietnamese diner serving homey rural and streetfood dishes in a cosy and relaxing venue.
Facebook: https://www.facebook.com/bepmein/
The Nomad Quynh