Biogarten – Another good choice for vegetarians in HCMC
I have a confession to make: I'm not really a vegetarian, I just love good food. And good food is simply the reason why I find myself coming back to Biogarten several times (besides the fact that I do like to eat a meat-free meal once in a while). To all meat lovers out there, in case you haven't known, vegetarian dishes can be very delicious too!
Situated on the one-way part of Nam Kỳ Khởi Nghĩa Street, District 3 at number 155A – not exactly right in the city center but not so far either, Biogarten is not hard to find as it occupies the whole spacious building. As a matter of fact, the restaurant is spread over the second and third floors of the building only, as the first floor is reserved to be a healthy food store that sells mainly bio-organic products imported from Germany and some other European countries.
My first time here was at peak hour on a Sunday noon. The restaurant was almost fully packed, with a good mix of both foreign and local clientele. What impressed me right at first sight was the ample sunlight and greens inside the place. They wouldn't have a problem in accommodating big groups, however a reservation beforehand would be necessary in that case.
A smiley waitress in uniform ushered us to the only available table left and gave us the menu, which offers a wide range of choices for both Asian and Western style vegetarian dishes. There are photos accompanying each which show how the dish looks like and thus make it easy for customers to order, but on the other hand everything looked so good that I also found myself struggle to decide.
For starter, I went first with the Lentil Roulade, which was a mixture of braised lentils, sweet basil, mozzarella, mixed nut salsa and cream tomato sauce (VNĐ135,000). The dish arrived artfully presented and full of interesting flavours. I thoroughly enjoyed the combination of all these ingredients, especially with a touch of the rich cream sauce which complimented the whole taste very well. This was a good starter which I highly recommend.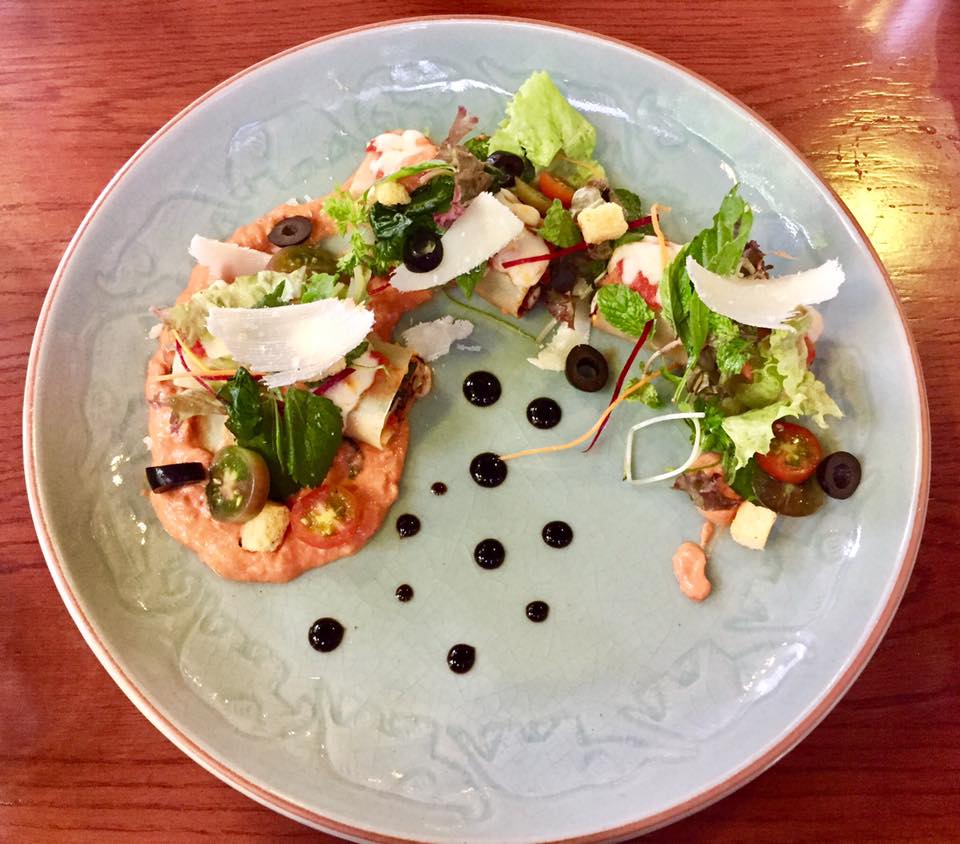 The Braised lentil tower salad (VNĐ115,000) – a new protein-rich creation from the chef – is another interesting option for starter which my friend ordered. Here the lentils are slowly cooked with herbs, celery, parsley and apple. I would say compared to the Lentil Roulade mentioned above, this one is probably not as easy to eat as the taste of celery, parsley and other herbs might be a bit too strong. Be as healthy as it seems, I'm not sure I will order this one again next time.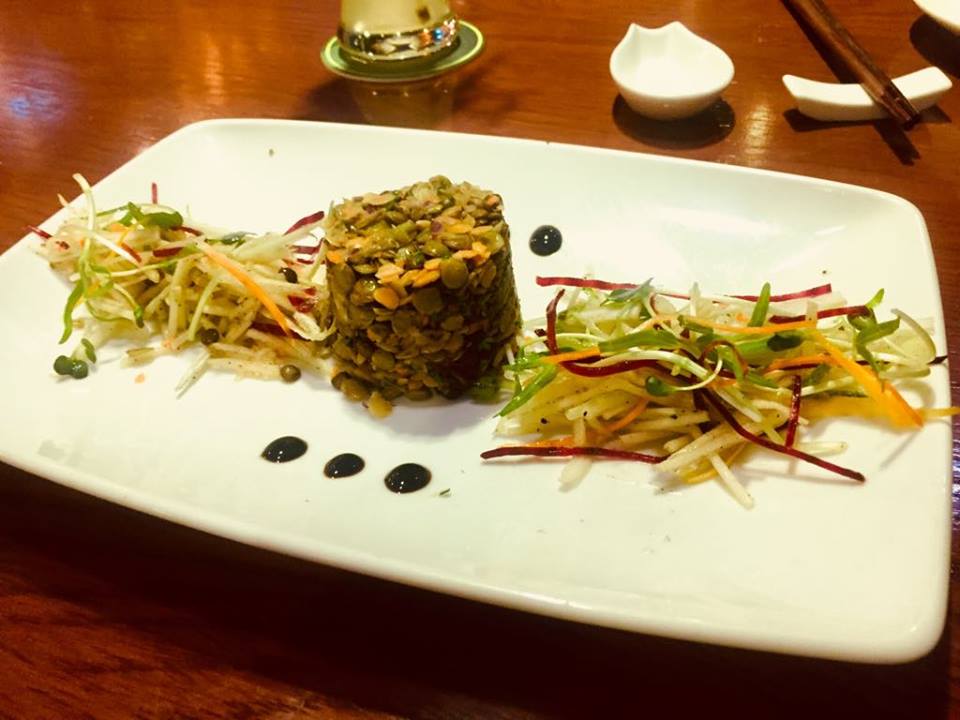 Our first main course that arrived was Couscous pilaf, slowly cooked with broccoli, cauliflower, mushroom and smoked eggplant relish (VNĐ110,000). Couscous – the ingredient which originated from North Africa, eggplant and mushroom are all my favorites, and here Biogarten's version didn't disappoint me. The dish was very nicely seasoned, and its fresh taste was so satisfying that I did not feel any meat was missing at all. This is another choice I would definitely recommend.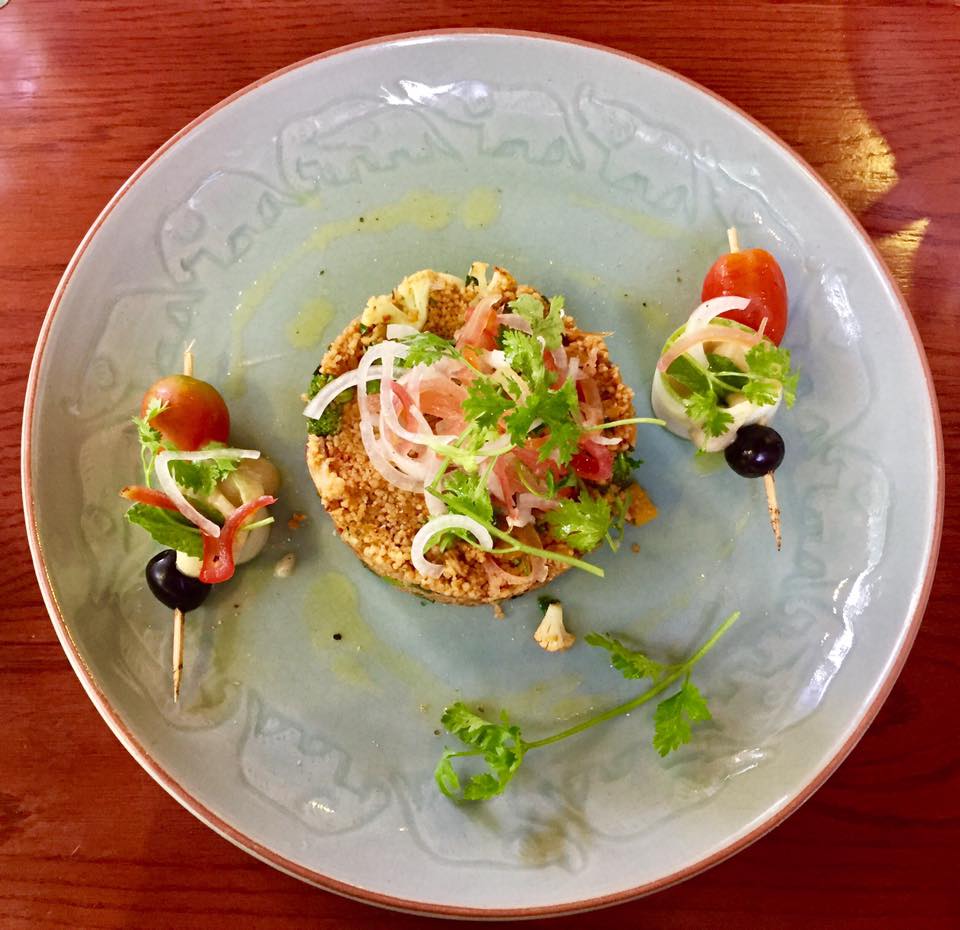 Our meal was followed by another impressively presented dish – Stir-fried green beans with tofu, mushroom and herbs cooked with spicy satay sauce, all served in an elaborate "basket" made from crispy fried rice paper (VNĐ105,000). The best way to eat this dish would be to put a spoonful of everything inside the "basket" to a piece of the rice paper itself, then add a little bit of the accompanying spicy sour sauce on and enjoy. You will be surprised at how well all these ingredients combine together to create a fully balanced and delicious taste. Satay is a must-have here as it adds to the overall flavour, however if you are not so good with spicy food you can ask them to decrease the quantity.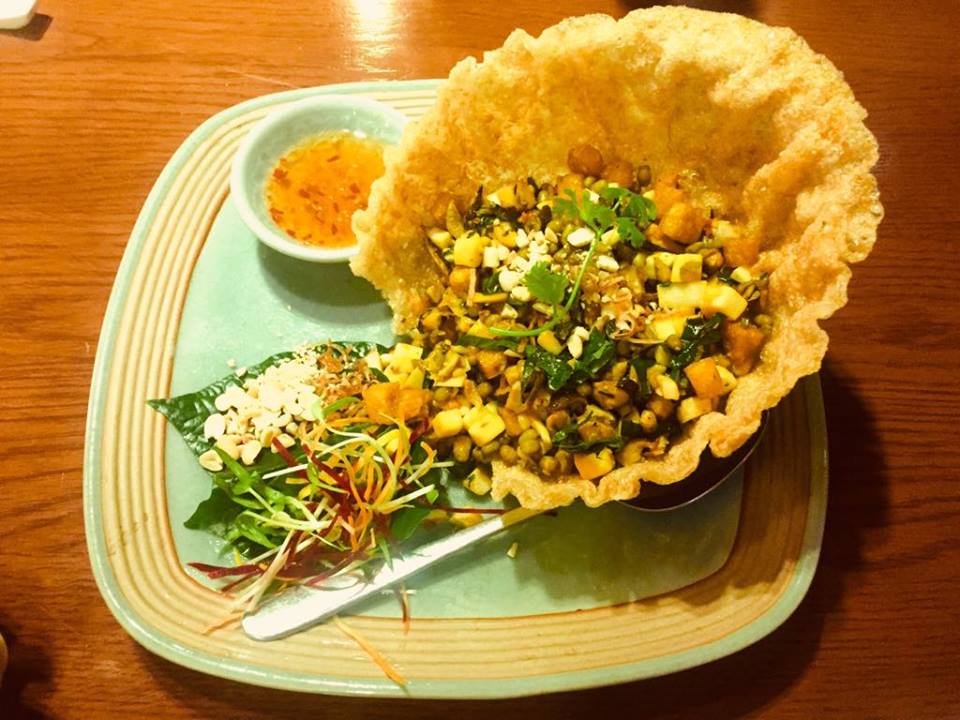 Our last dish – Lotus rice – comprises of healthy steamed brown rice pilaf cooked with lotus seeds and a mix of seasonal vegetable (VNĐ130,000). The rice is beautifully served inside a lotus leaf crafted in the shape of a flower. Brown rice is known to be much healthier than normal white rice as it contains more fiber and nutrients, at the same time less calories, which makes it a better choice for dietary purpose as well as to reduce the risk of heart diseases, diabetes and blood sugar level. While not exactly the most stand-out dish, this was still perfectly cooked and a good choice if you are a big eater, as it's guaranteed to keep you full.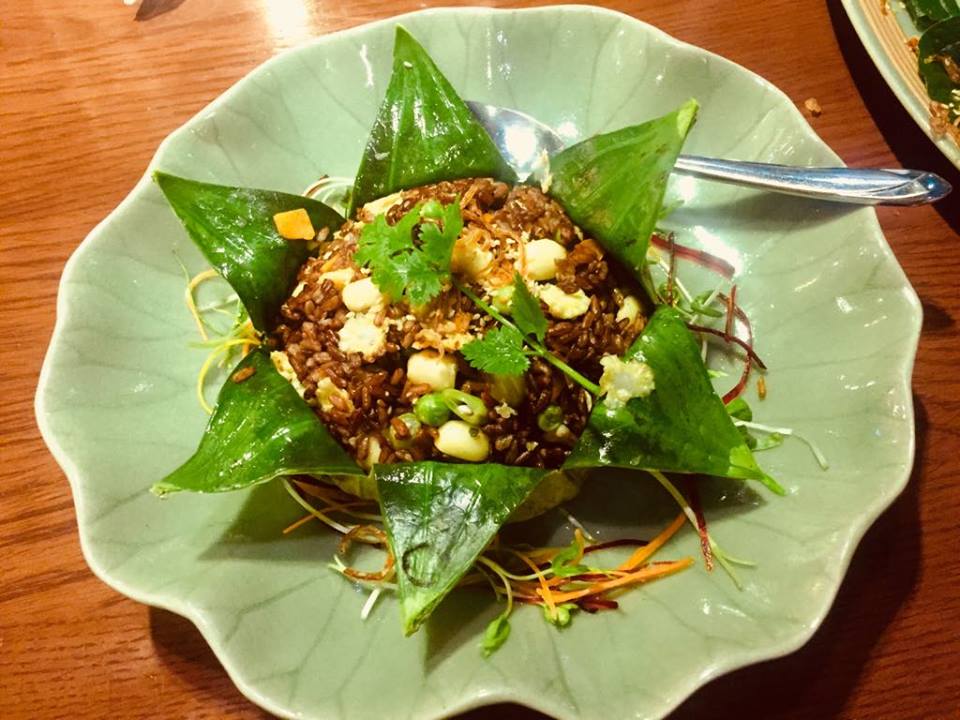 Drinks are also another part of Biogarten's menu that I really like, as there is a wide array of healthy juices and smoothies to choose from. I opted for a beetroot, ginger and honey juice, while my friend got the detox made from grapefruit and celery (VNĐ85,000). Although these drinks might be deemed a bit pricey by local standards, I loved their taste especially the beetroot one. Many Vietnamese people like to add sugar to their drinks, so if you prefer no sugar added, make sure to convey that to the staff in advance.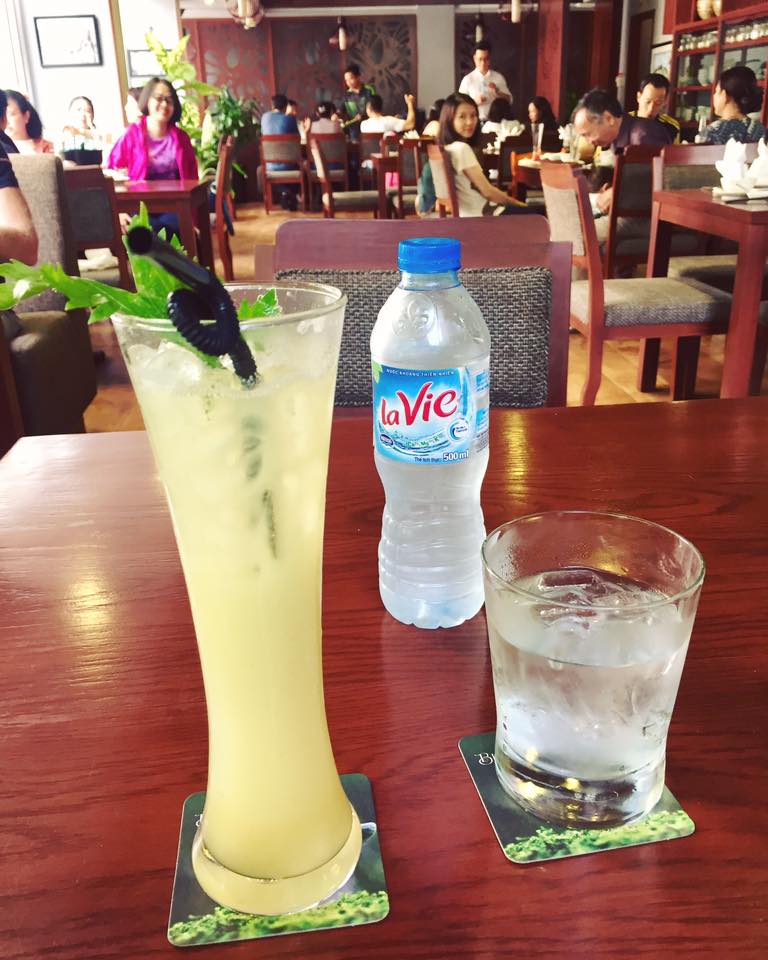 If I have to offer a constructive criticism, I would say some of the dishes arrived a bit slow, however that might be understandable as it looks like they are prepared really fresh. Just keep in mind to not be in a rush if you plan to come here. And they seem to be quite popular so it can get a bit loud sometimes because of big groups. On the other hand, their service was very good, the staff was polite and attentive, and I can see they do care about customers' opinions as at the end of the meal, we were asked nicely to fill in a feedback form to help them improve.
Overall, I enjoyed the delicious food at Biogarten very much and certainly will be back again in future when I feel like having a healthy meat-free meal.
Biogarten Restaurant
Address: 155A Nam Kỳ Khởi Nghĩa, Ward 6, District 3, HCM City
Tel: 028 3930 8740
Opening hours: Monday to Sunday from 8.00 to 22.00
FB page: https://www.facebook.com/Biogartenrestaurant
The Nomad Quynh