Cugini – A taste of authentic Italian cuisine in Hanoi
In Italian, Cugini means "Cousins", and if you are familiar with the Hanoi food scene, this name might ring a bell. Yes, Cousins is a popular Western restaurant with already a few branches established in the city, and following this success, their owners have teamed up with Chef Nico Ceccomoro to open Cugini, with the intention of bringing a fresh take of Italian bistronomy to Hanoi food lovers. The idea sounds great – after all, we can never have enough of good Italian food, can't we?
Tucked away in a small quiet lane on Tô Ngọc Vân Street in the expat area of Tây Hồ, it took us a bit of time to find the restaurant at first as the street numbers around here are not exactly organized. In the end, we finally made it thanks to the instruction on their Facebook page which mentions "in front of Công Đoàn Hotel".
Upon arriving, the fairly grand building with its nice exterior design – deep red brick walls, white balcony and luscious green trees – immediately caught our eyes. A smiley waitress quickly showed us where to park our vehicle, and then graciously ushered us to the second floor where our reserved table was. The ground floor hosts a small bar area and a number of seats, however the main dining area is on the second floor, and the third floor is reserved for private functions and events, with a private balcony.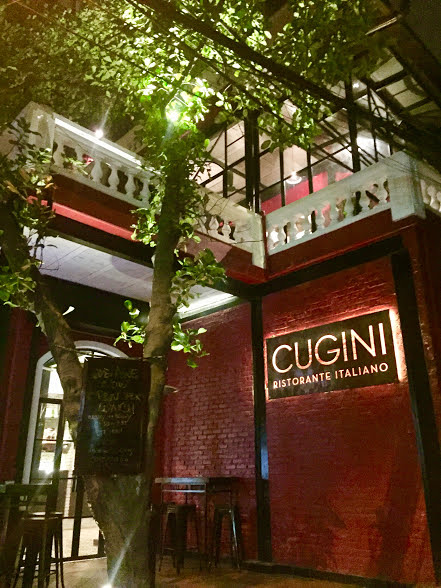 It was a cold winter night, and we were happy to be seated next to a cosy fireplace. I also noticed their lovely balcony outside which would be perfect on a warmer evening. The interior of the restaurant is decked with black wooden furniture and red-and-white tiles which deliberately match the colours of the plates and napkins, giving it a classy yet homey feel.
My companion and I were then offered a look at the menu. All the dishes are addressed by their original Italian names, which gave us the first glimpse into the team's serious efforts to maintain authenticity. The usual suspects of pasta, pizza are available next to mouth-watering seafood and meat choices for main course. Of course, there is no lack of options for starters and salad either.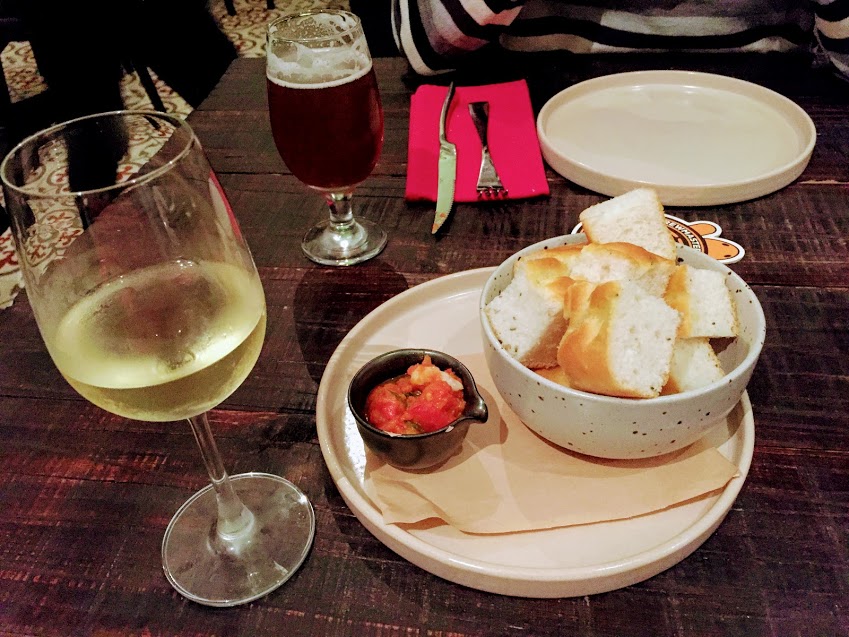 Off to a great start with complimentary brioche bread
We decided to go first for an antipasto, aka. appetiser, of mixed wild mushroom paté, truffle oil, rocket salad and cherry tomatoes served on rustic brioche bread (VNĐ100,000), which was brought to us soon after a generous portion of complimentary bread and basil tomato sauce. This was a good choice for starter – the mushroom was nicely molded into the form of paté and perfectly cooked, while the added truffle oil brought more richness to the taste and the slightly-grilled brioche gave the dish a nice touch as well. For mushroom fans like me this was thoroughly enjoyable, and a good start for our first dining experience at Cugini.
Next, for the main courses, we opted for Tonno Grigliato, which is 180gr wood grilled tuna steak served with asparagus, eggplant and other vegetables (VNĐ290,000), as well as Agnello Scottadito, which is 250gr of wood grilled milk lamb chops, artichoke tempura and buttered green beans (VNĐ550,000).
The two dishes were brought out together at the same time, both beautifully presented. My companion is a tuna fan and totally approved of his dish. The steak was nicely seared on the outside thus maintaining its inside softness and freshness, while the accompanying grilled vegetables did not only add balance to the whole taste but also dutifully serve their decoration purpose.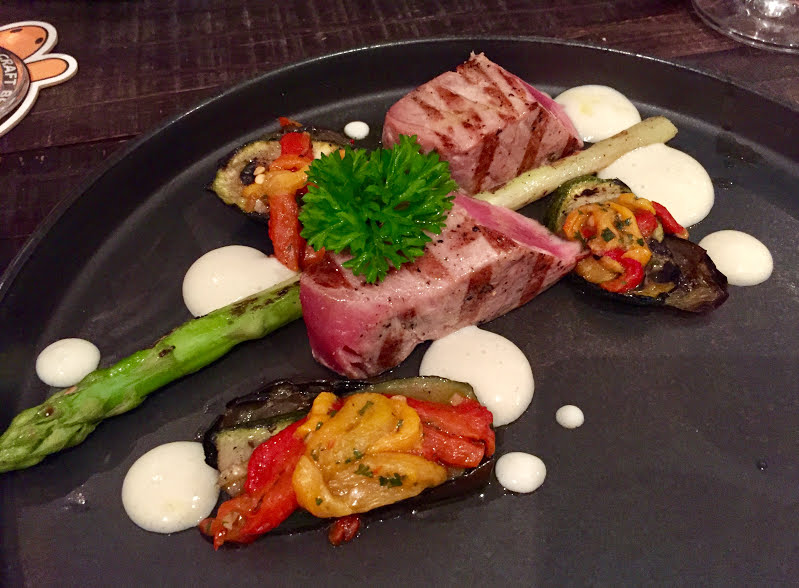 On the other hand, our other main course – the milk lamb chops – deserves to be the most expensive item in the menu as we could tell it was made with top quality ingredients. The lamb, being done perfectly medium-rare as we asked, was amazingly juicy with a melt-in-your-mouth tenderness, not to mention aptly seasoned, while the artichoke tempura was such a nice addition that it deserves special recognition by itself.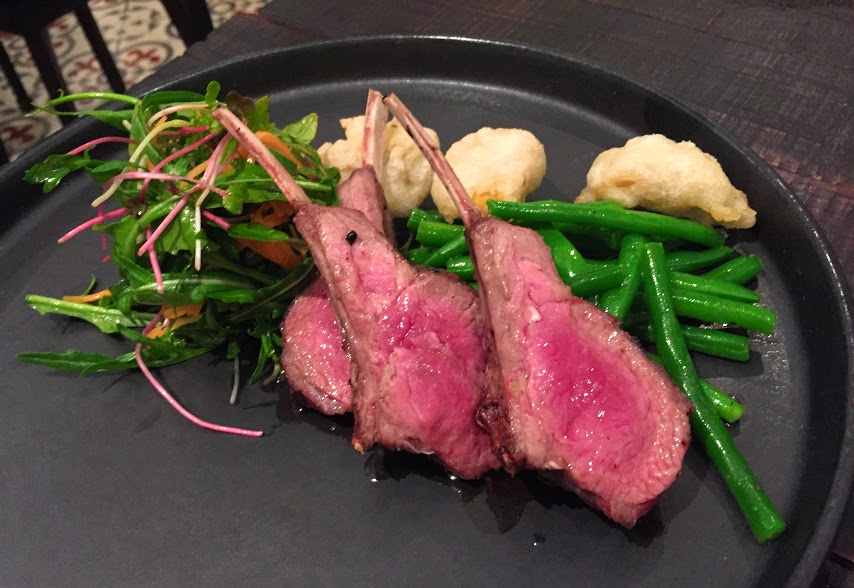 If you prefer something more traditional Italian with a creative twist, Cugini's menu also features some interesting choices such as duck ragu Lasagna (VNĐ230,000), or Risotto with goat cheese and hand-carried cured horse meat, which is freshly made upon order and comes in a portion for two at VNĐ650,000. I'd be keen to try the risotto next time I'm here. On the other hand, their wood-fired pizzas sound equally tempting. For the main course, if you are not a fan of tuna or lamb that I ordered above, there are also other options of seafood and meat.
To wrap up the lovely meal, we took a second look at the menu for desserts. They serve artisan gelato from the popular Gelato Italia nearby (VNĐ50,000) as well as a few other interesting choices. We decided to go for a Panna cotta made with cinnamon and red wine reduction (VNĐ80,000), and Tiramisu (VNĐ90,000) – my all-time favourite Italian dessert. While the tiramisu was good, we actually preferred the panna cotta which was exceptionally tasty thanks to the addition of cinnamon and red wine. I think I will order this one again on my future visit.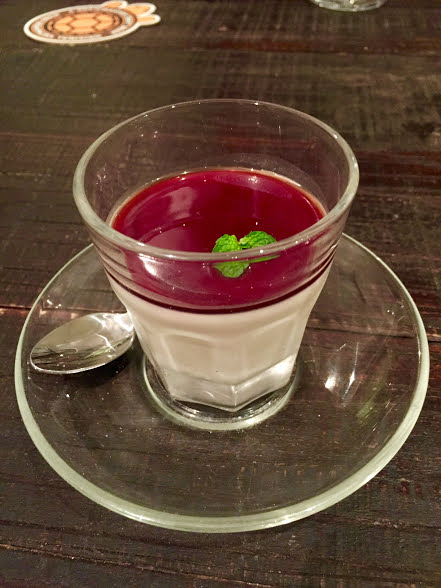 Panna cotta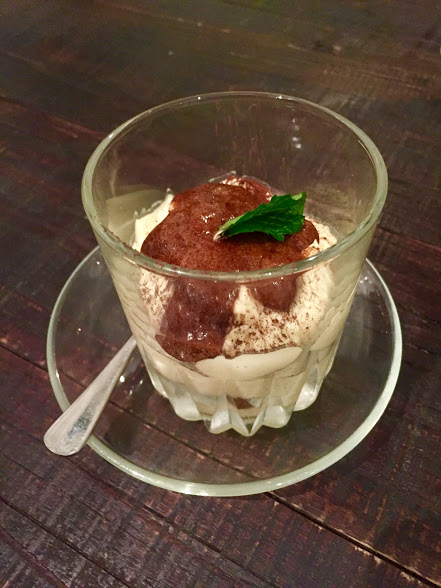 Tiramisu
Last but not least, the restaurant's professional service is also worth mentioning. Their staff are always smiley, friendly and helpful, while foreign managers are also around and will be happy to assist should you have any specific requests.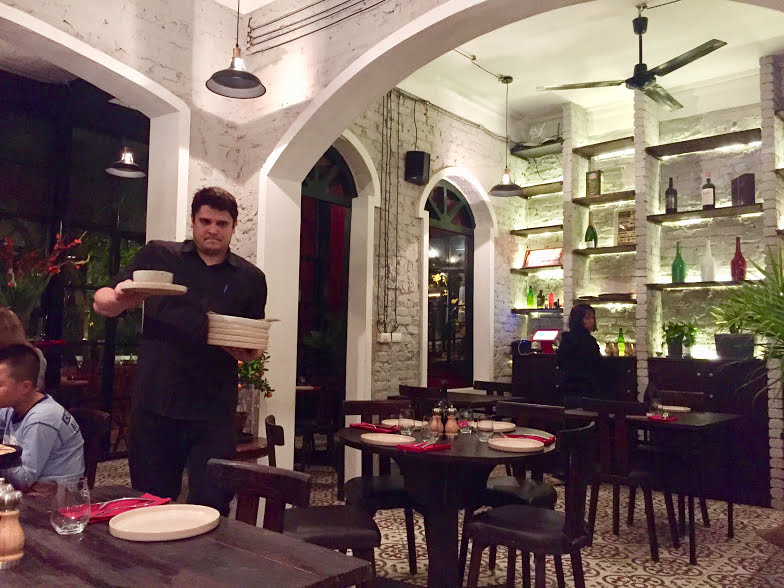 At the end, after a delightful meal plus a few glasses of wine, our total bill came to around VNĐ1.6 million. It is also noteworthy that during weekdays, set lunch menus are available and priced at VNĐ280,000 and 320,000 for two and three courses respectively. These sound like good options for a business meal.
Overall, I would say Cugini is a nice choice for either relaxing group gatherings or romantic occasions, if you do not mind a bit of travelling outside the city center. You could easily tell this place is run by professionals who are serious and passionate about what they do. The food is delicious, the venue is elegant and cosy, and the service friendly and professional. I myself will certainly be back to sample more of their mouth-watering dishes.
Cugini Ristorante Italiano
Address: Lane 67 Tô Ngọc Vân Street (in front of Công Đoàn Hotel), Quảng An, Tây Hồ, Hà Nội
Tel: 088 811 6654
Opening hours: Tuesday to Sunday: 11.00 to 14.00 and 18.00 to 22.30;
Monday closed
FB page: https://www.facebook.com/cugini.tongocvan
The Nomad Quynh