La Badiane – a Hanoi staple for French cuisine
This year, La Badiane will proudly celebrate its 10th birthday anniversary in Hanoi, Vietnam. Founded in 2008 by three French friends, the restaurant remains successful until now in upholding its famous reputation as one of the best French restaurants of Hanoi, besides also being listed among the Top 500 restaurants in Asia.
Chef Benjamin Rascalou – one of the founders – is one with a special love for fusion food. After being trained in many prestigious establishments in France and having travelled to exotic lands all over the world, Mr. Rascalou finally settled in Vietnam – the paradise of fresh spices and herbs – where he found endless inspirations to create his best fusion dishes. His love for spices is also reflected in the restaurant's name – La Badiane, which means "star anise" in French.
I still remember my first time coming here. It was around 2011, when there were still relatively few independent Western restaurants in Hanoi. I remember stepping from the bustling streets outside into their peaceful patio and feeling like it was a different world. I remember being so impressed with the food – the complexity of flavours, the elaborate presentation – which was like nothing else I had tried in Hanoi before.
Then, after years of being away from my hometown, I finally had several chances to return to La Badiane within the last few years, after it underwent a big renovation in 2015. There it was, still modestly tucked away in a quiet unassuming lane, amidst all the small buzzing local street food shops serving bánh đa and phở.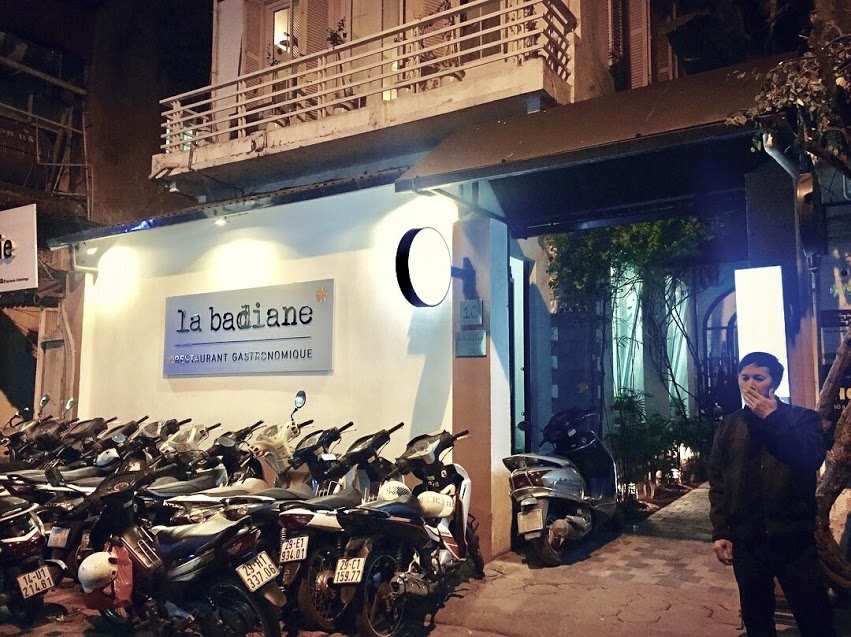 The restaurant is almost always fully packed
Inside, the renovation has given La Badiane a whole fresh look. A glass ceiling has been added to the entrance corridor which highlights their luscious green trees, and the patio on the first floor is now fully covered. Upon entering, guests will pass by the open kitchen where chef Rascalou and his team perform their amazing work. The main dining area is on the first floor, while the second floor is reserved for private events and functions. The interior's main black and white theme adds to the restaurant's classy and elegant look.
Our most recent visit here was in March 2018. Even though it was a weekday evening, the restaurant still seemed quite fully packed. My companion and I were greeted at the door and ushered to our reserved table by a gracious hostess, before being offered the menu which features mouth-watering choices of a la carte as well as set meals.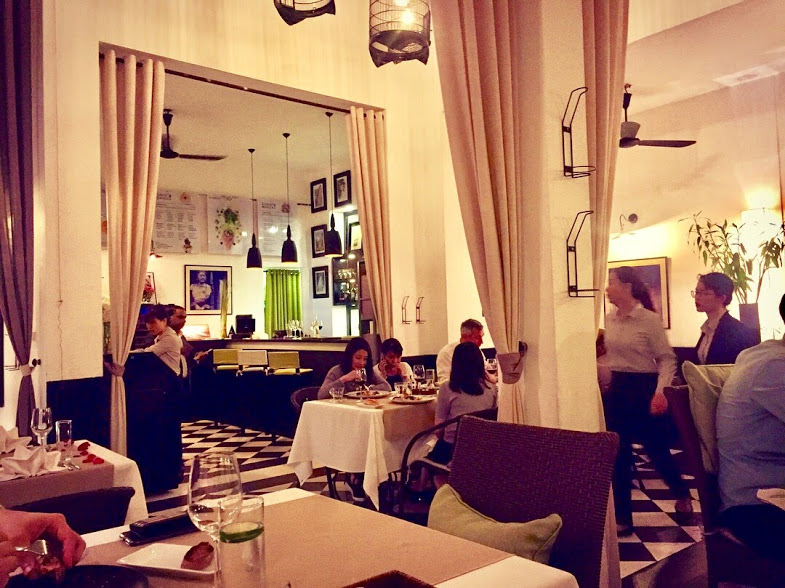 Cosy and elegant decor inside 
As usual, I opted for a set menu as from my personal experience those at La Badiane offer the best value and are too good to pass. We took two Bistro menus at VNĐ895,000/pax (net), each came with four dishes: Amuse bouche (appetiser), starter, main course and dessert.
First for appetisers, we were served with two portions of seafood quiche topped with saffron emulsion and paprika. This Amuse Bouche (meaning "mouth amuser" in French) usually offers the first glimpse into each chef's individual culinary style, and here the quiche with its rich, creamy and well-balanced taste, further accentuated by the addition of saffron and paprika, was a nice introduction. This appertizer varies everyday depending on the chef.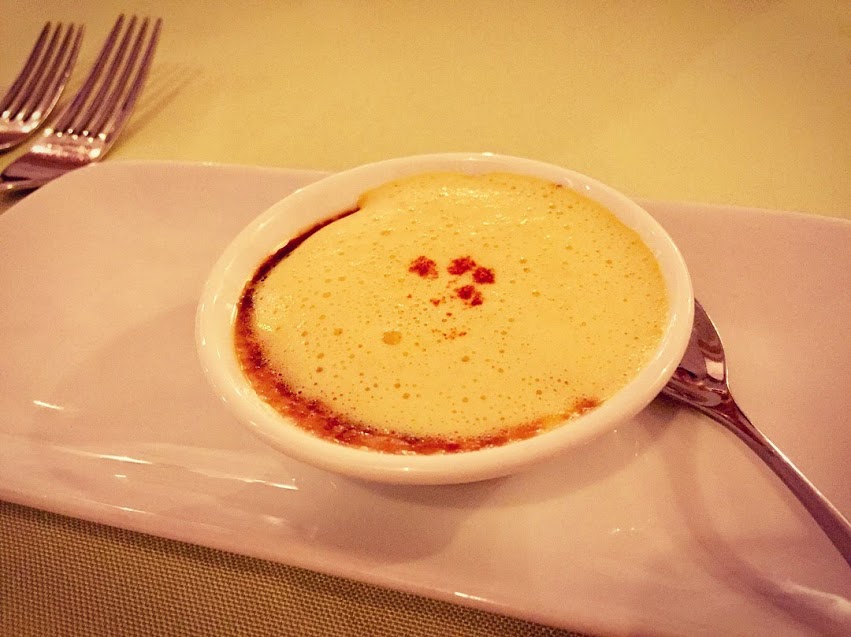 Appertizer: Seafood quiche topped with saffron emulsion and paprika
Next came the starters. The menu offers two options and we opted for one of each to share: Beef carpaccio (with pomelo and candied onions in ginger, soya wasabi dressing and crispy parmesan), and Salmon glavlax (with beetroot and asparagus mimosa, idodized Chantilly, passion fruit and citrus dressing). What I've always liked most and found most impressive about La Badiane is chef Rascalou's talent in putting together all kinds of spices, herbs, fruits, vegetables of different flavours, and then somehow just magically whipping up incredible dishes. These starters were the perfect examples – all ingredients were fresh, of high quality and blended in together very well, creating an explosion of taste. I can't tell which one I prefer as they were both equally tasty.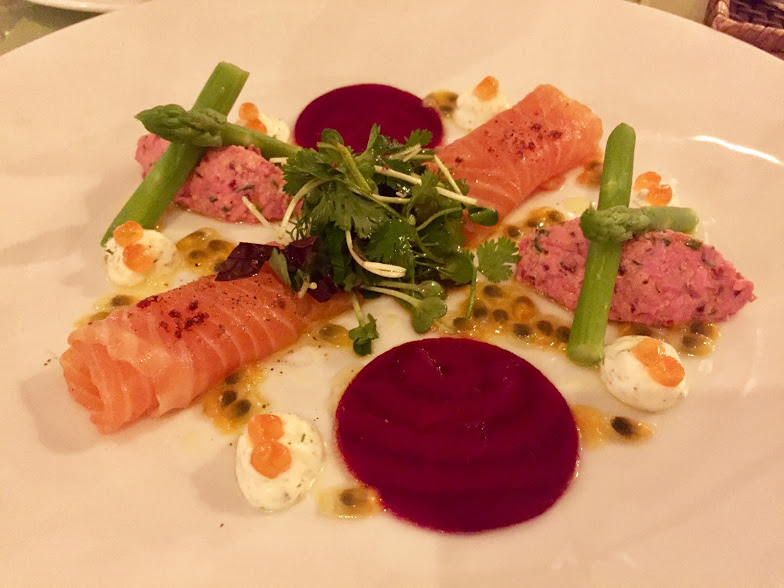 Salmon glavlax with beetroot, asparagus mimosa, idodized chantilly, passion fruit and citrus dressing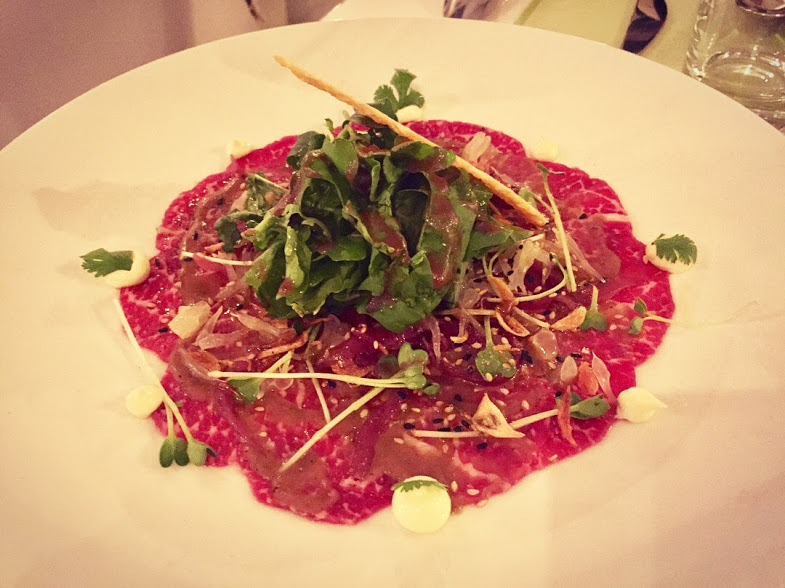 Beef carpaccio, with pomelo and candied onions in ginger, soya wasabi dressing and crispy parmesan
Our main courses were served next, and again we took two different ones to try. The first was Crispy crab and mushroom risotto with Cognac flamed bisque and parmesan emulsion, and the second being Grilled goose steak with sweet potato mousseline flavoured with basil oil, roasted lychees and cocoa red wine sauce. It was one of the rare occasions that I try a goose steak, and while it was decent, the fact that it had to be cooked well done for safety reasons somehow made it less enjoyable for me, even though I loved the additional flavours of sweet potato and roasted lychees. For this course, the risotto was hands down the winner. The dish was cooked perfectly, the crispy crab making it more interesting and a bit of Cognac with its strong flavour did its part in adding complexity to the whole taste.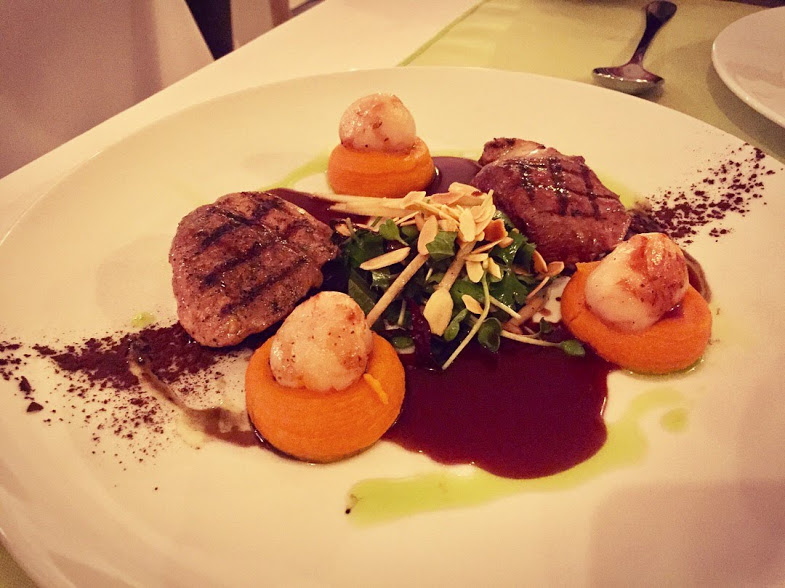 Grilled goose steak with sweet potato mousseline flavoured with basil oil, roasted lychees and cocoa red wine sauce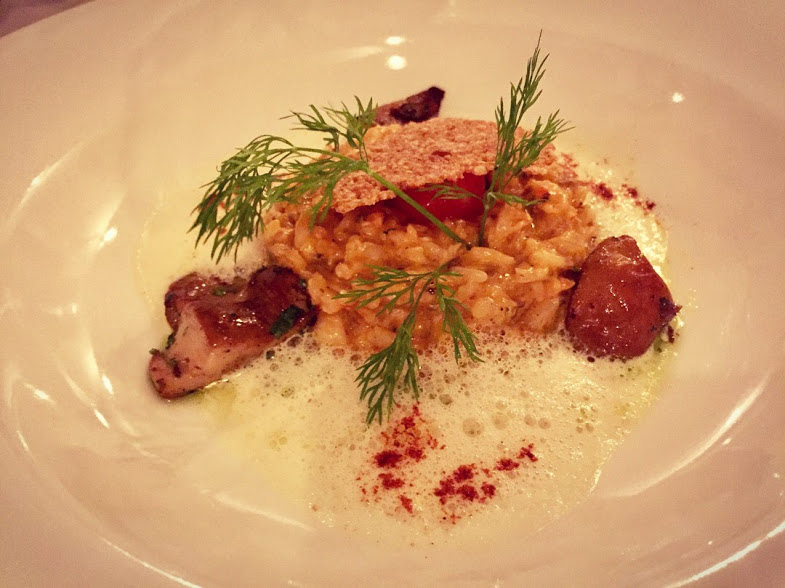 The amazingly crispy crab and mushroom risotto with Cognac flamed bisque and parmesan emulsion
To wrap up this satisfying meal, a selection of dessert from the chef was brought to us each, including a raspberry tiramisu, a fruit salad bowl with Chantilly on top and a sweet chocolate spring roll with honey sauce. While the tiramisu and fruit salad were decent, the item that stood out the most for me was the sweet spring roll, which was such a decadent guilty treat that I wouldn't mind another serving even though my stomach was already very full by then.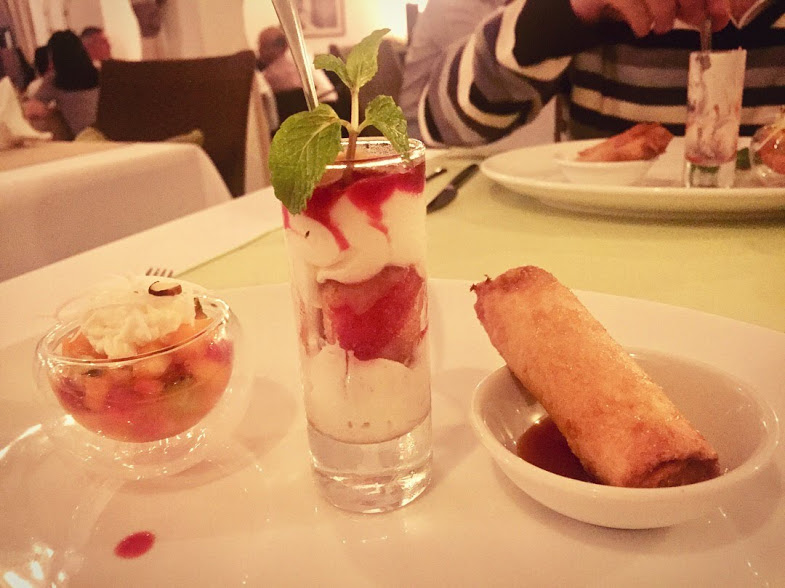 As mentioned, La Badiane's menu offers both options of set meals and a la carte. For dinner, besides the above Bistro menu, there is also the Degustation set at VNĐ1,690,000/pax (net) in which one more cheese course is added. Meanwhile for lunch, besides a 2-course menu at VNĐ350,000/pax and a 3-course one at VNĐ395,000/pax, every week there is a special lunch set at VNĐ695,000/pax that features 4 courses plus a glass of house wine. These sound like wonderful options for a nice business lunch, if you are looking to impress your partners.
No French meals would be completed without good wine, and La Badiane's wine list is certainly no less impressive. You can find here some of the best from Bordeaux, Tuscany or Napa Valley, and besides the Old World red wines from France, Italy or Spain, there are also interesting New World ones from Australia, New Zealand and South America. And of course, wine pairing options for each set menu are also available, feel free to ask the restaurant staff to assist you in this.
Ten years is a big mark in any restaurant's lifetime. It proves their level of dedication as well as the loyalty and love they receive from customers. I believe that La Badiane, with such a talented and professional team behind, will never stop striving for excellence and will continue to remain one of the best dining experiences Hanoi has to offer.
La Badiane
Address: 10 Nam Ngư Street, Hoàn Kiếm District, Hà Nội
Tel: 024 3942 4509
Opening hours: Monday to Saturday: 11.30 to 14.00 and 18.00 to 22.00;
Sunday closed
Facebook page: https://www.facebook.com/labadiane/
Note: Reservations highly recommended.
The Nomad Quynh