Spice Bistro – simple yet delicious traditional Vietnamese food in HCM City
If you are in the mood for some good Southern Vietnamese home-cooked style dishes in a humble and relaxing open-air setting, Spice Bistro would be a great option to put on your list
On the small, quiet yet very central Thi Sách street near the Saigon River in District 1 lies a simple unassuming Vietnamese restaurant called Spice Bistro. The exterior design is not really eye-catching, however you might be surprised to know that this is quite a popular place to both locals and expats living in HCM City. The reason is simple – their food is good.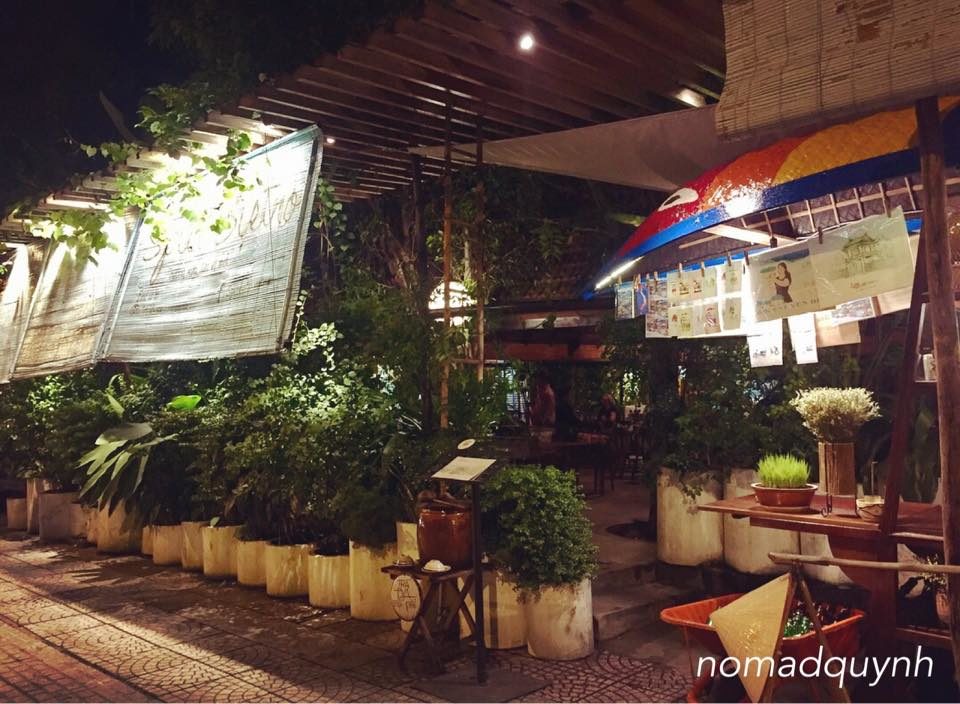 For some reasons, it took me quite a while to finally give this place a try even though I have heard many people recommend it. Perhaps in my mind at first it was just another Vietnamese restaurants among so many in town. But when I finally did, I wished I had gone there sooner.
The bistro is designed in a humble Vietnamese countryside style, with bamboo roof and crude wooden furniture. Greeting customers at the entrance is a street-style stall serving various versions of Saigon street food.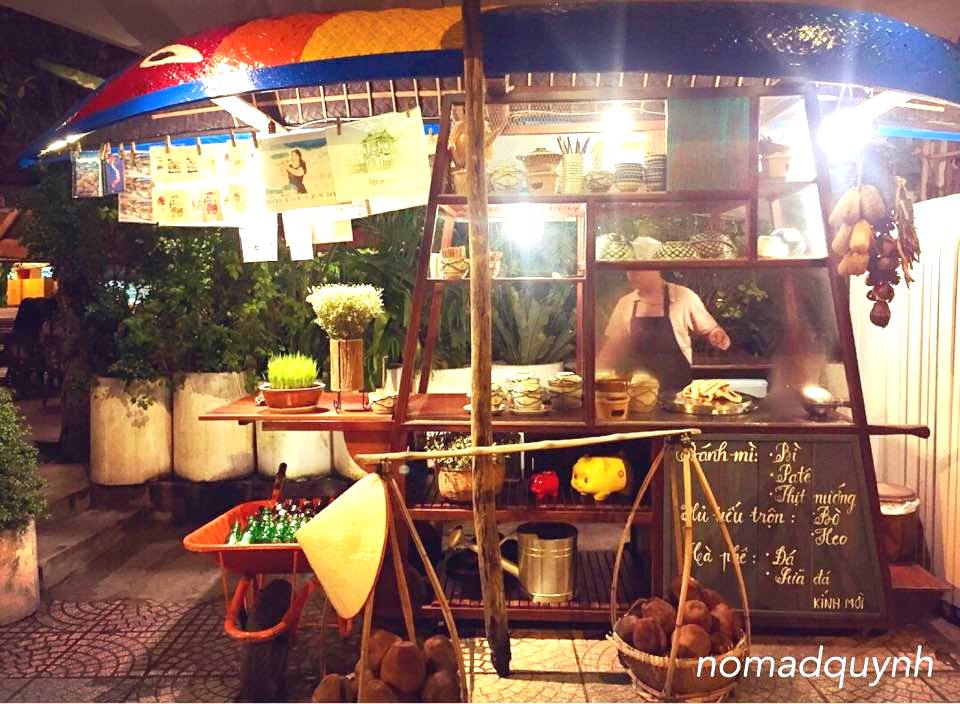 Upon arriving, my companion and I immediately liked the relaxing open air setting. We were ushered to our table by a lovely waitress in traditional clothes of girls from the village. It looked like they have a good mix of both local and foreign customers which is quite a good sign.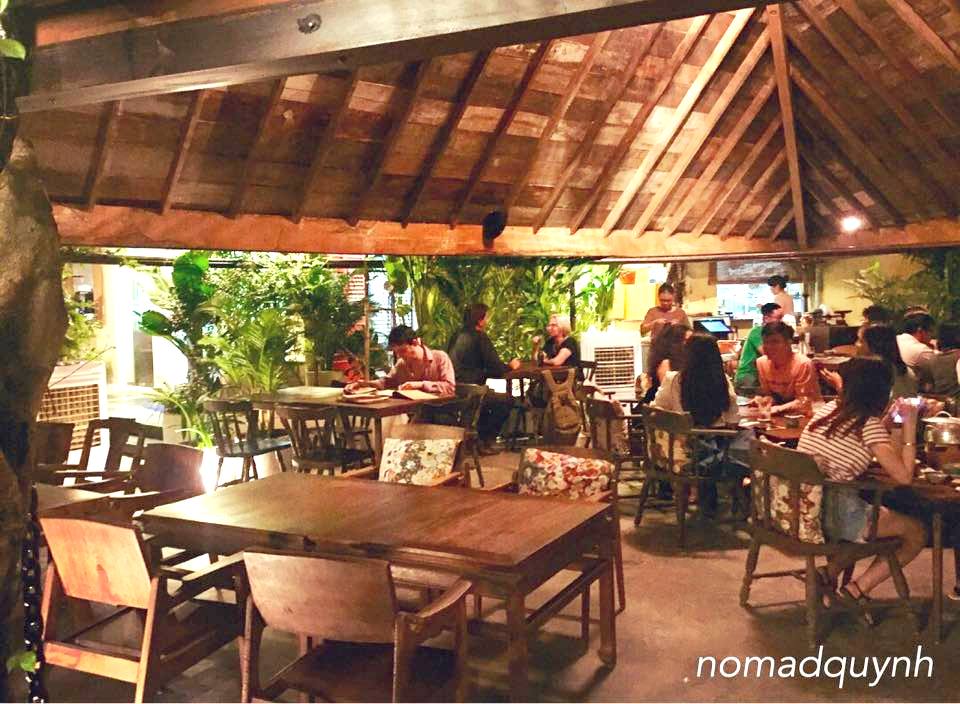 The menu is full of options, ranging from various kinds of starters to main dishes, hot pot, platters and set meals, with some interesting ones that set Spice Bistro apart from others.
My friend and I decided to order different small dishes to share. Our first starter was fried chicken wrapped in pandan leaves (VNĐ100,000++). The meat was very soft, juicy and meant to be eaten with the accompanying sweet and spicy sauce in order to bring out the full taste. The sauce was a bit too hot for me though since I am usually not good with spicy food, but my partner enjoyed it. The dish was also nicely presented which is a bonus point.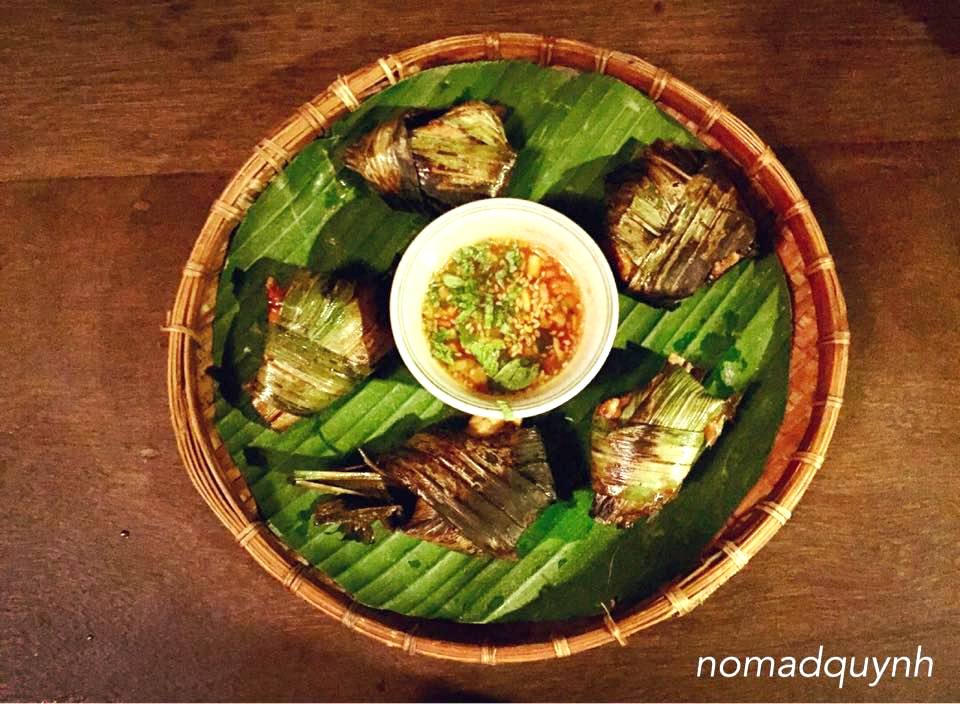 Our next starter was Thai-style fried fish cakes with salted egg (VNĐ90,000++). This was quite well done as well, being flavourful on its own but tasted even better with the accompanying sweet, sour and spicy sauce. It is a good dish for sharing.
Fried fish cakes with salted egg, and Grilled pork skewers with sticky rice
The star of the show, however, is our next dish – the main course. For less than VNĐ100,000 you can choose a meat or fish dish eaten with a particular kind of rice of your choice, among three options – cơm nắm (rice balls), cơm nếp (sticky rice) and cơm nướng (slightly grilled rice). We opted for sticky rice eaten with grilled pork skewers (VNĐ80,000++). The meat was flavourful and perfectly grilled, and suit very nicely with the sticky rice. Again, similar with other dishes, for this one the accompanying herbs and sauce are the secrets for an even better taste. The skewers came in decent size which made the price quite reasonable. This is definitely a must-try which I myself always order every time I come here.
We also got a salad with banana blossom and fried crispy eel (VNĐ100,000), served with grilled rice paper aka bánh đa. It was also decent, however in my opinion for this price the portion could be bigger .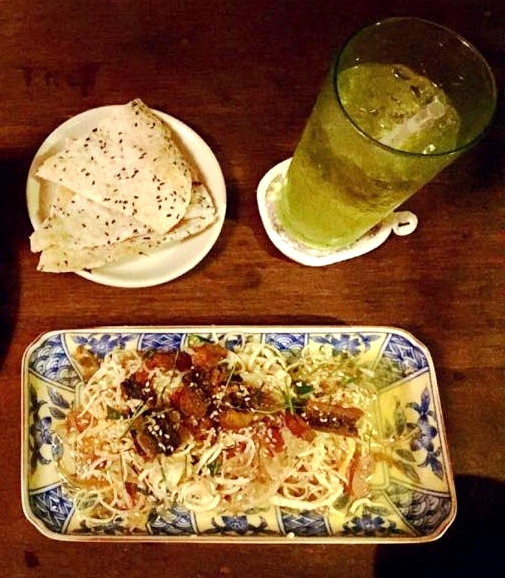 Banana blossom salad with fried crispy eel, plus radish and red apple juice
Other signature dishes at Spice Bistro include hủ tiếu (a type of rice noodle served with beef or pork, very popular in the south of Vietnam), bún trộn (noodle mixed with meat, peanuts, various kinds of herbs and eaten with hot soup on the side), as well as set meals served in the traditional Vietnamese style with a bowl of rice plus meat, vegetable and soup on the side.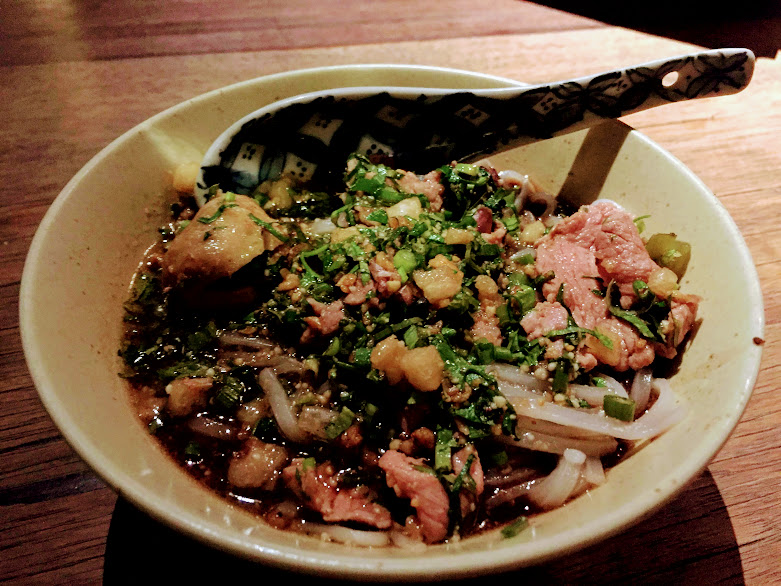 Hủ tiếu trộn (mixed noodle with beef)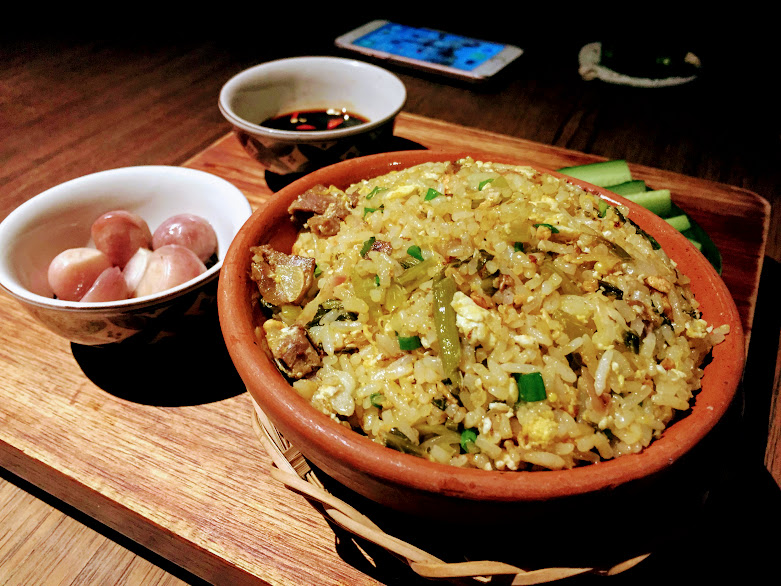 Beef fried rice
As for the desserts, Spice Bistro offers a few choices, among which are hot tofu sweet soup with ginger, homemade icecream and yogurt black sticky rice pudding, each around VNĐ50,000. I decided to experience the hot tofu sweet soup for the first time, as in Vietnam tofu sweet soup, aka. tào phớ or tàu hũ, is known to be a perfect summer dessert and thus usually served cold. It surprised me how yummy their hot version is – the rich yet delicate taste of the tofu, the slightly spicy taste of ginger and the sweetness of sugar syrup all combine together so nicely.
I loved it, can't say that enough, will definitely order it again 😀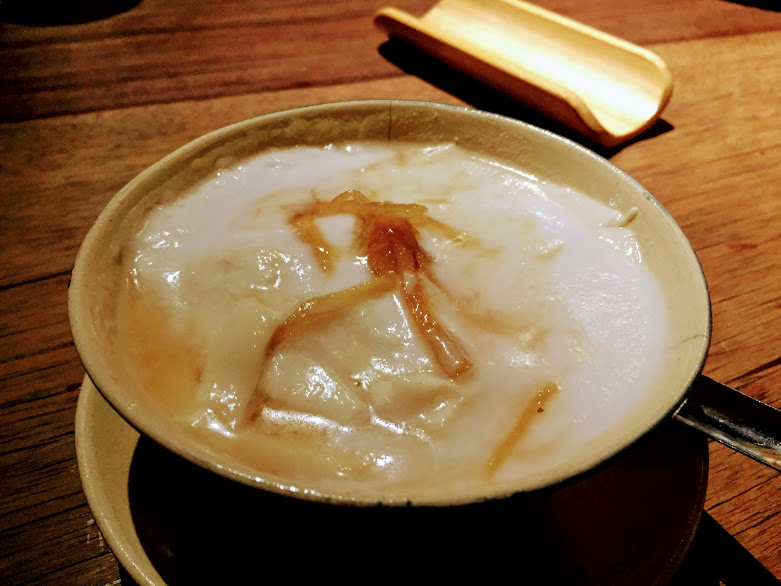 Regarding drinks, their menu also offers quite a few interesting healthy herbal ones. I opted for a radish and red apple juice (VNĐ40,000) which was really delicious. Another noteworthy option is cà phê vợt – Vietnamese coffee prepared the old style, when the coffee powder is mixed with boiled water first using a strainer before pouring into cups. Sitting here in this relaxing space, sipping a cup of this special coffee will somehow give you the nostalgic feeling of being transported back decades to the old Sài Gòn – Gia Định.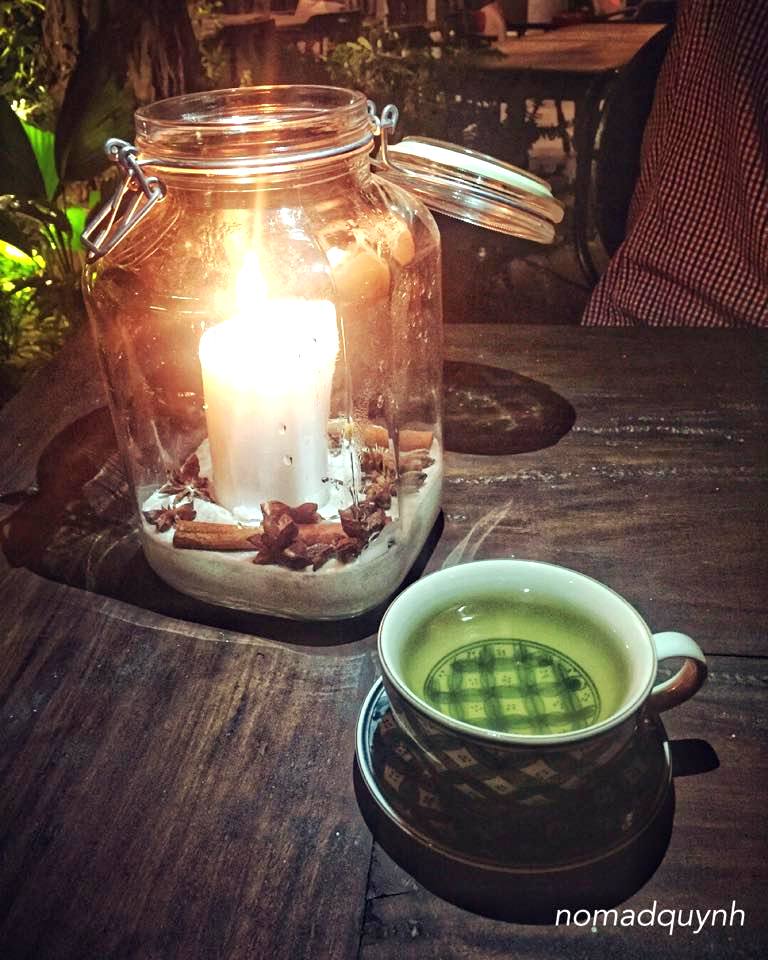 Sugarcane tea
Service was very fast, and the staff were friendly which is another bonus point. The venue is casual and relaxing, but it does have a drawback, which is the fact that it might get a bit noisy if big groups are present. Moreover, it is an open space with fans only and no air conditioning, so while sitting here in cool evenings is very nice, keep in mind that it might not be so ideal during hot summer days.
Recently Spice Bistro has just opened one more branch in the expat area of Thảo Điền, District 2. While this location cannot be compared with the first one in terms of close proximity to the city center, it makes up for that by being much more spacious with an overall nicer design and a lot of greens around.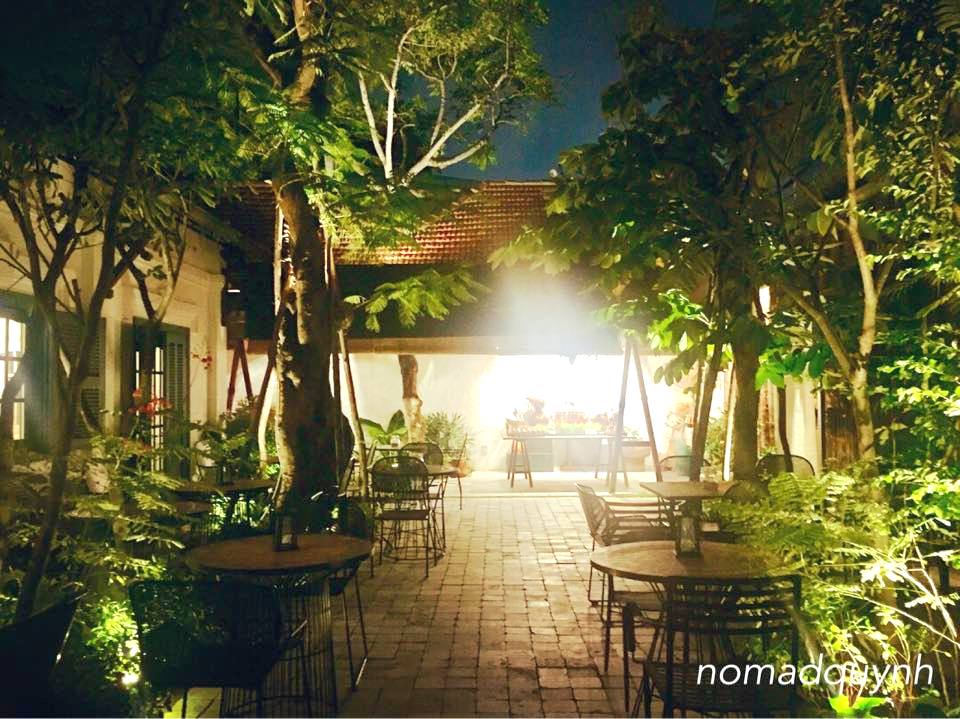 If you are a vegetarian, also note that both branches of Spice Bistro are located next to …hum – their sister vegetarian restaurant which is also one of the nicest and most popular vegetarian restaurants in the city. In the District 2 branch, both restaurants are even connected in the same big venue, and should you choose to sit at one place you can still order food from the other.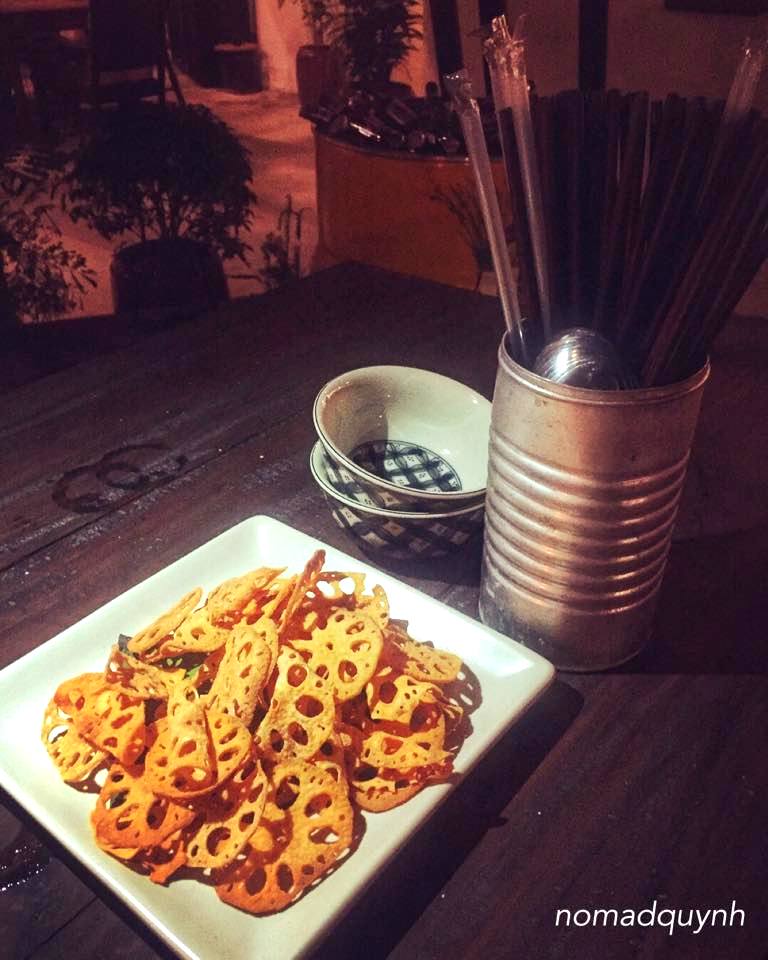 Crispy lotus roots with cheese 
Overall, Spice Bistro is a good choice for casual business meals or friendly gatherings, if you like traditional Southern Vietnamese food done right in a nice relaxing outdoor setting. It has earned a spot in my Top 5 favourite Vietnamese restaurants in HCM City list, and I will certainly be back again in the future.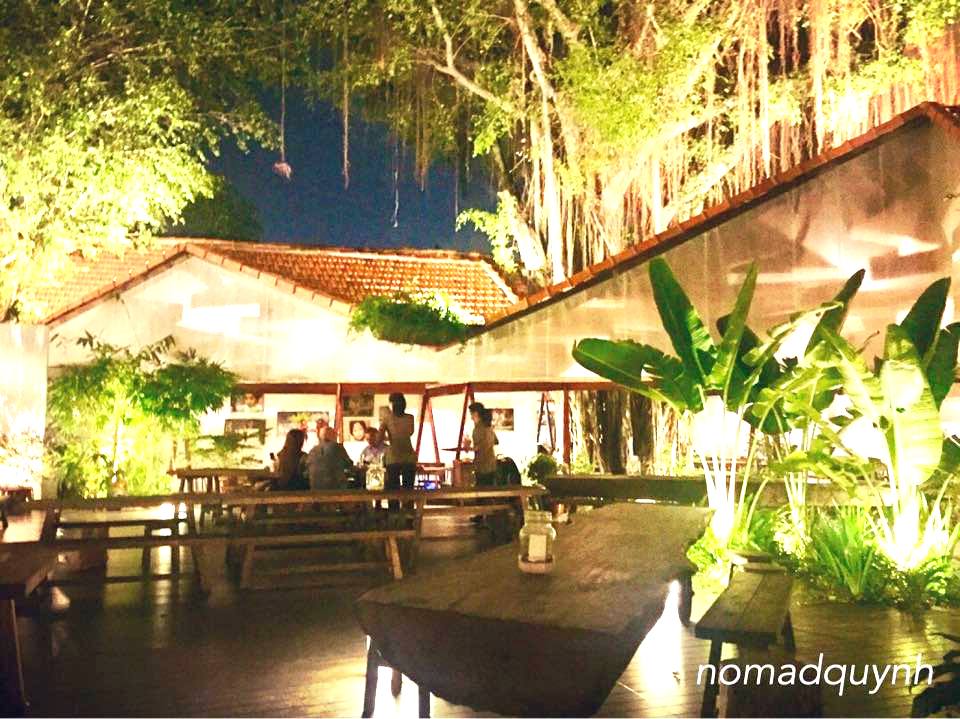 Spice Bistro
Address in HCMC:
District 1: 2 Thi Sách – Tel: 028 3914 7278
District 2: 32 D11 Road (behind Masteri Complex) – Tel: 028 3519 0106
Opening hours: Everyday from 7am – 10pm
Comment: Delicious traditional Vietnamese food in a nice relaxing outdoor setting.
FB Page: https://www.facebook.com/spicebistro.vietnam/
The Nomad Quynh