The Organik House – A vegetarian bistro that will charm even the non-vegetarians
In Vietnam nowadays when the quality of life is being improved, people are starting to become more and more aware of the importance of eating healthy food. Meat is consumed less, and vegetarian restaurants, together with organic products have become more popular than ever. Either you're already a vegetarian, or if you just want to give it a try, The Organik House is one of your best current options in HCM City.
In the past, there weren't many choices of restaurants for vegetarians and vegans in Vietnam. There were not many "real" vegetarians, and most of the time these restaurants were only busy on the 1st and 15th day according to the lunar month, which are the dates when people who loosely practise Buddhism choose not to eat meat. As a consequence, not only the choice of restaurants was limited, but the variety was also not great either. I myself tried them a few times and as a non-vegetarian, the food wasn't that impressive to make me really eager to come back.
However recently, with the number of foreign expats increasing in Vietnam especially in big cities like HCM City, customers have been introduced to more Western style vegetarian dishes. The number of vegetarian restaurants has also increased with a lot more variety, and there has never been a time when you have so many choices. Among them all, The Organik House stands out as one of the best.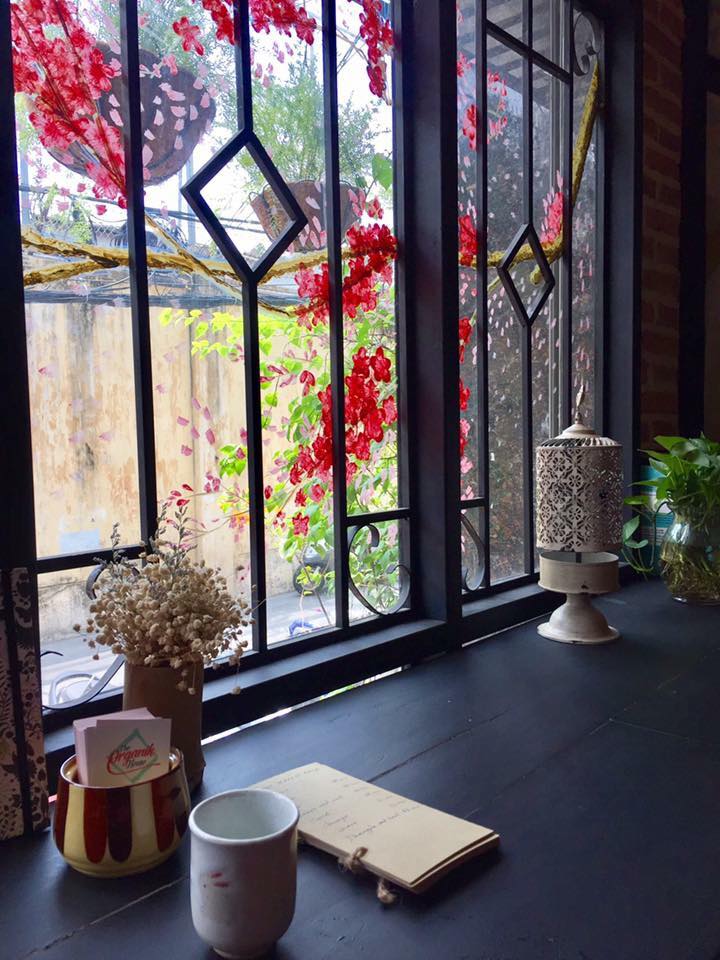 A small but friendly and cozy venue
Opened just over a year ago by Italian chef Ale Sorti and his Vietnamese partner Quyen, it's a small cosy vegetarian bistro tucked away in a quiet lane on Nguyễn Thị Minh Khai street, District 1, just behind Vietnam Television Centre. Since day one, they have been very dedicated in providing customers with healthy vegetarian food made from safe, organic and biodynamic ingredients.
They do not try to offer too many dishes but decide to focus on quality instead. The menu changes quite often depending on the chef and the availability of the ingredients, and usually includes a few starters, soup, main course and dessert.
One of my favorite dishes here is the mixed salad with fruits and nuts (VNĐ190,000). It was huge and definitely one of the best salad I've ever had. If you think salad is boring, this one might change your mind. There are many kinds of fresh ingredients in it that blend in together very well and make the whole dish very delicious and interesting. Both my partner and I loved it, and it has become one of our regular orders since the first day.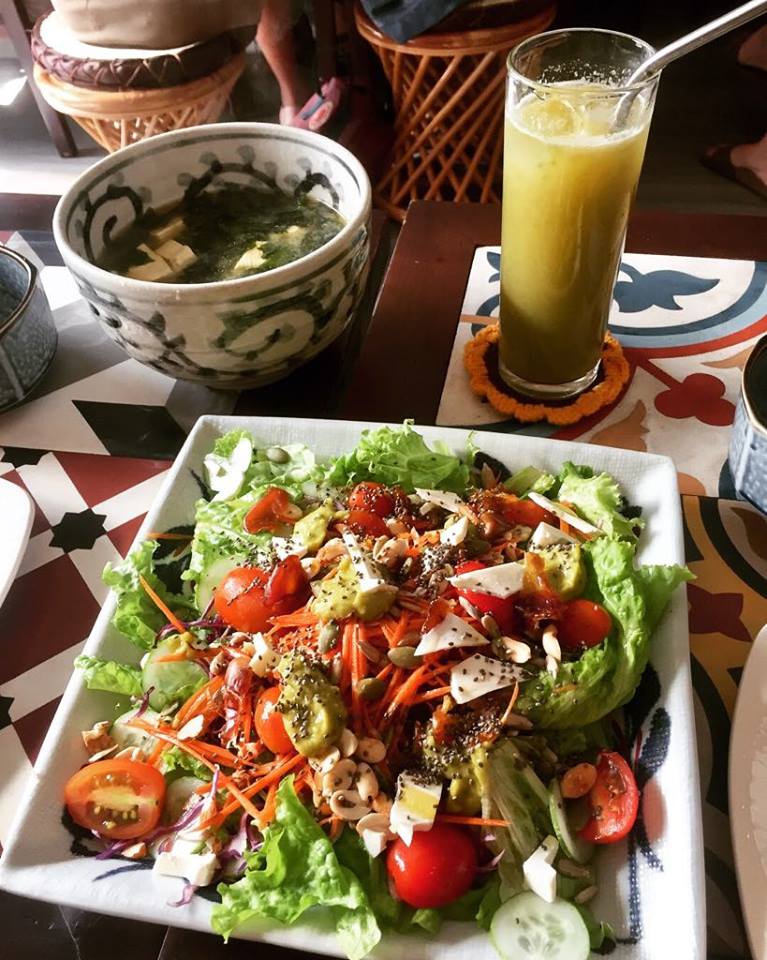 My favourite salad with my favourite drink made from lettuce, apple, celery and honey
The soup is another nice and healthy choice. I opted for potato soup with vegetable, while my partner got miso soup with tofu and seaweed (VNĐ100,000).  They both came in big bowls which could be easily for share. Both were delicious as well with nicely balanced taste.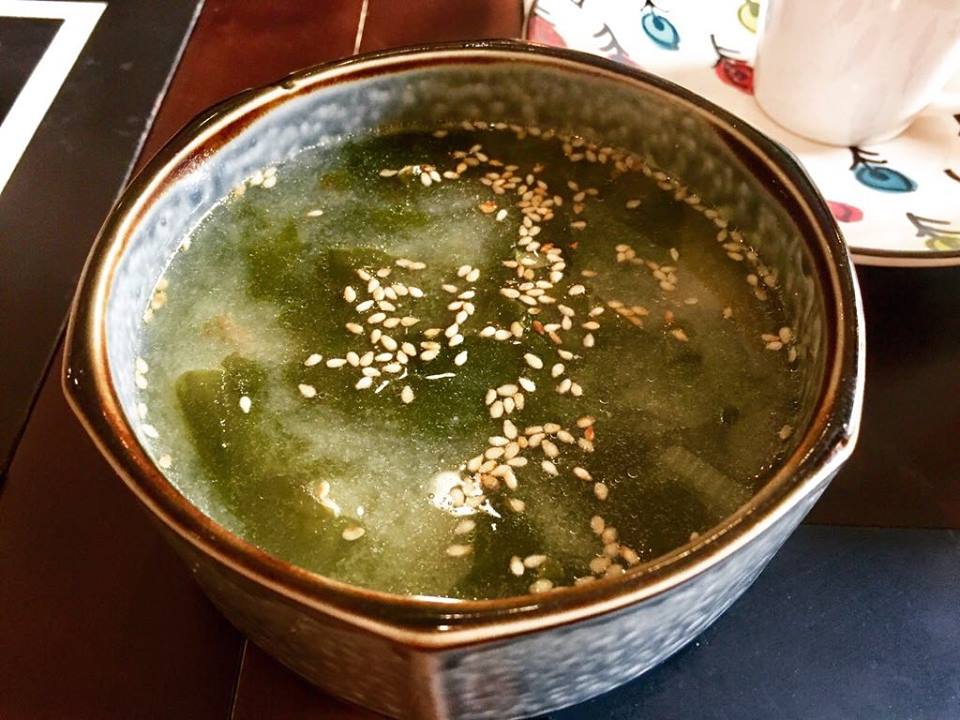 Miso soup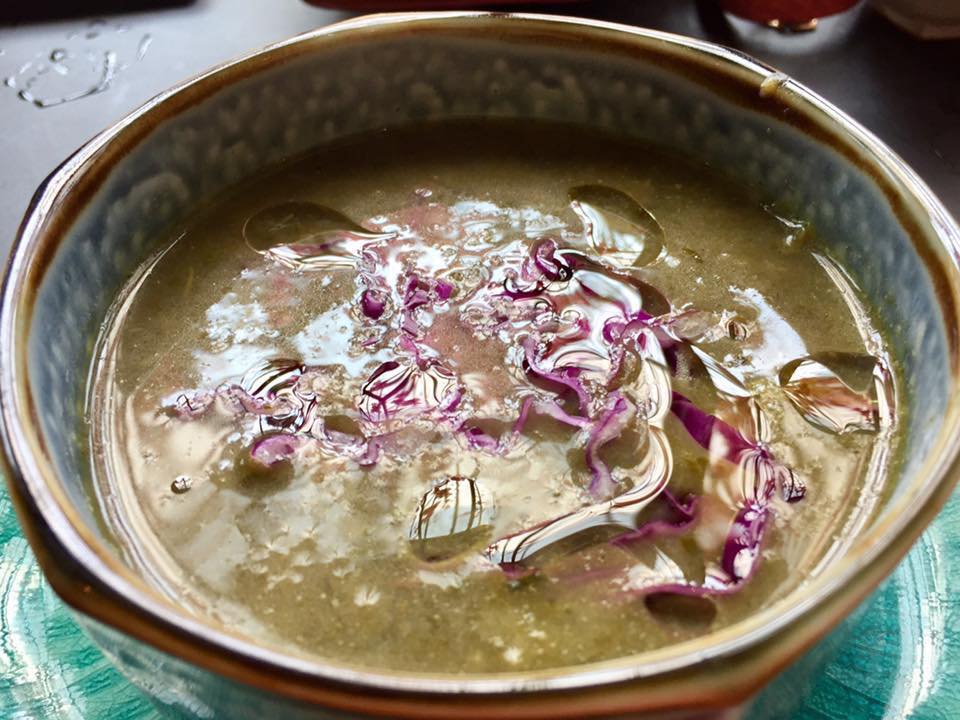 Potato soup
Pasta is another good option here. We got a plate with cream and cheese. It was rich, creamy and so tasty we didn't feel like the meat was missing at all. I have to admit if all vegetarian dishes are this good, people will not hesitate to eat them more often for sure.
Once in a while fresh homemade pasta is also available, you can check with the restaurant beforehand.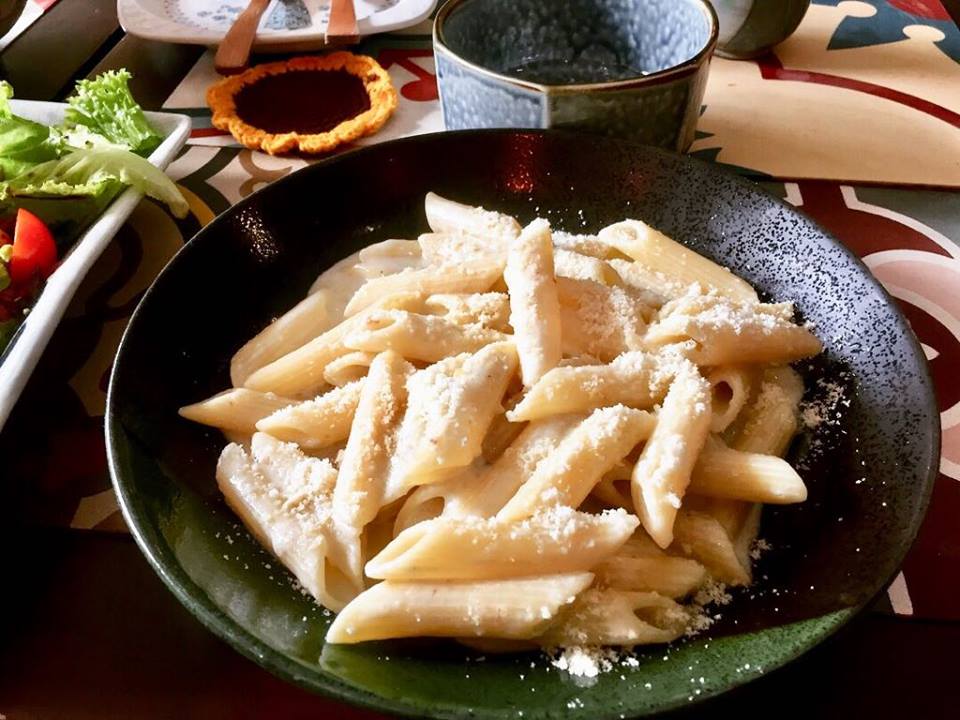 It would be a serious lack if the drinks are not mentioned, as they are a big part of what I like about The Organik House. There are so many choices for healthy drinks here. My personal favorite is "Detox" juice made from lettuce, apple, celery and honey (VNĐ60,000), which was surprisingly easy to drink and so delicious. There are also a lot of original smoothies made from vegan milk with no added sugar, as well as non-GMO bean milk naturally sweetened with organic brown sugar or palm sugar. If you prefer something else, you will be happy to know they also serve very nice coffee and infused tea made from fresh herbs. And just in case you are a fan of local craft beer, Te Te is available.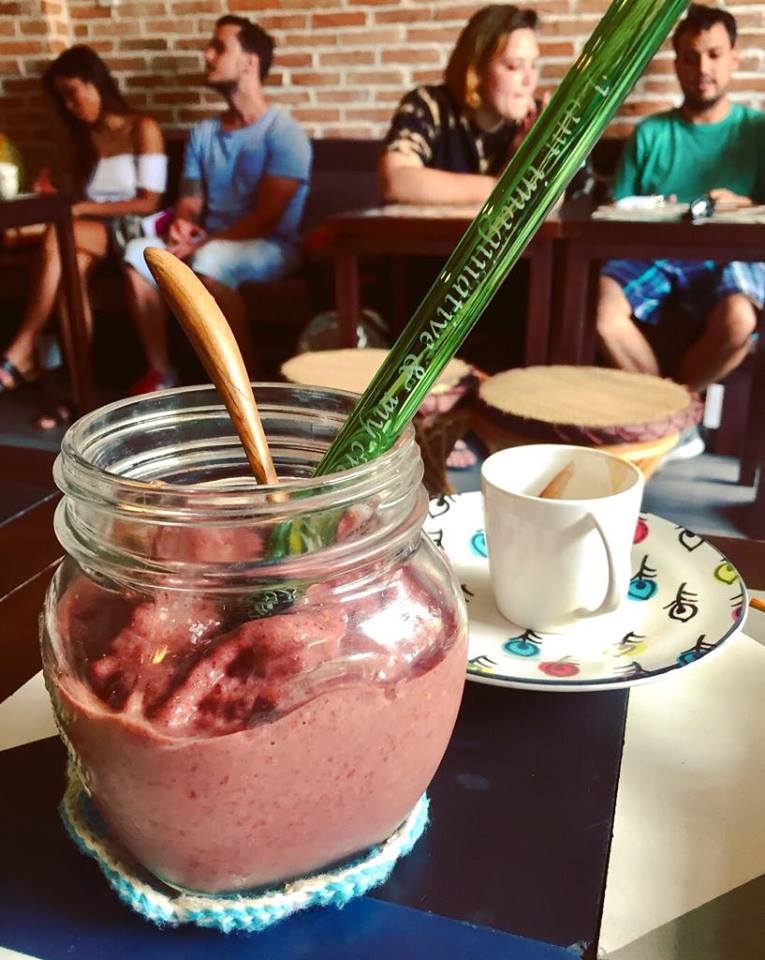 Goji Joy smoothie made from Goji berries, mulberries, banana and honey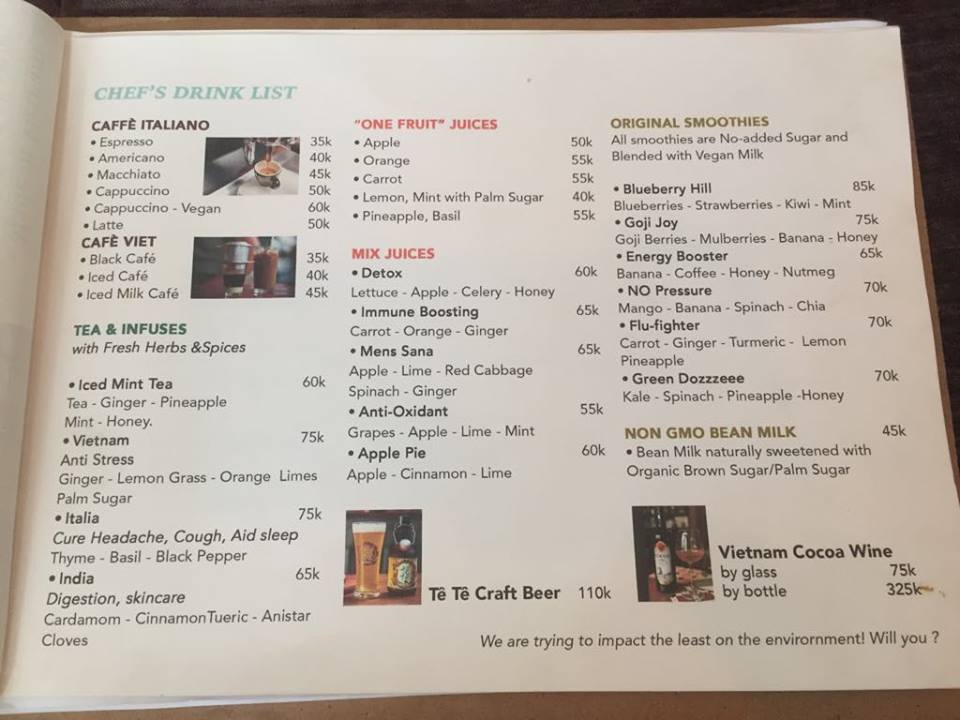 A great drinks list
On Sunday, a special brunch menu at VNĐ189,000 per person is often served from 10am to 5pm. The menu will vary every week, which usually includes a creative selection of many different kinds of vegetarian dishes, plus soup and a glass of iced tea or water on the side. Just last week, we had a great brunch here with tofu miso soup, salad with daikon and mushroom, bread and vegan salmon, vegetable skewers with creamy cashew, kale and rosemary crackers and sweet corn soup with coconut juice.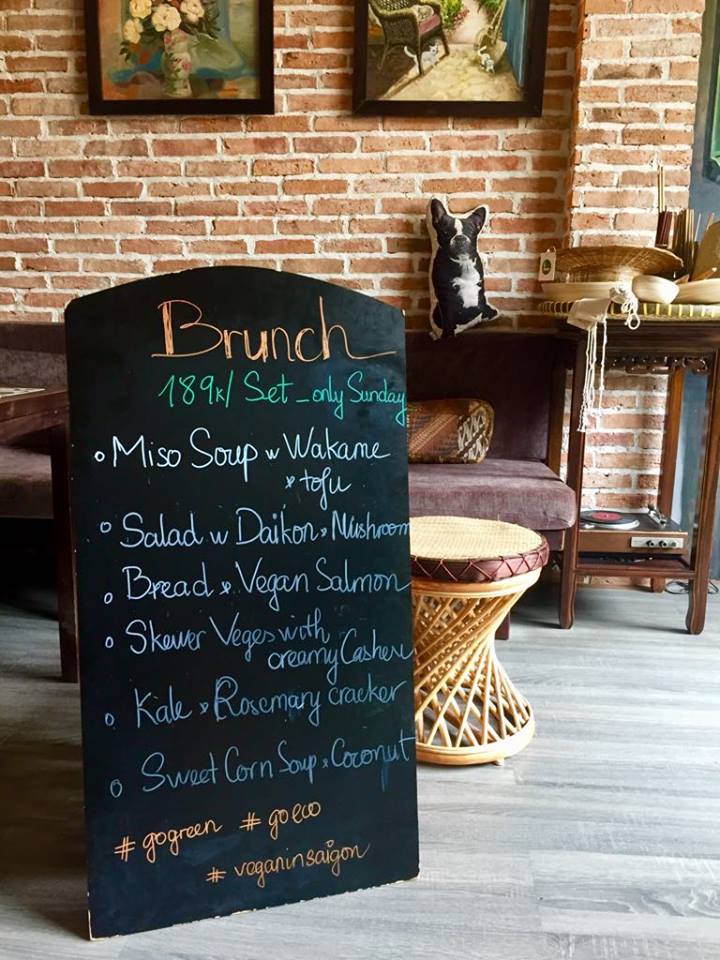 Everything was good but I found the vegan salmon and kale rosemary crackers particularly interesting.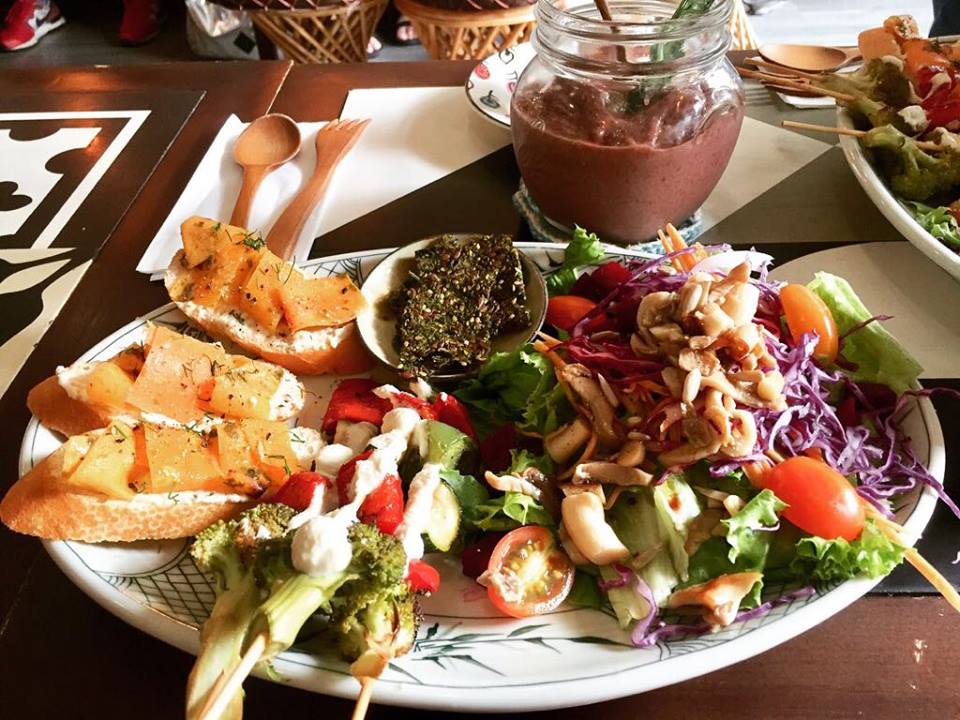 The sweet corn soup was nice too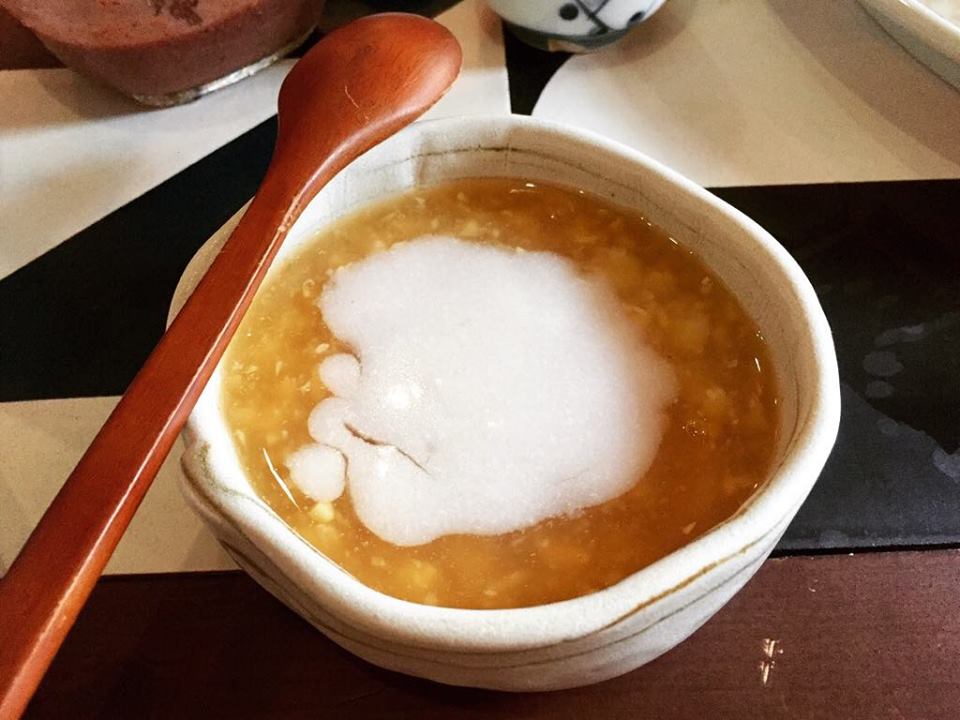 In addition, a few weeks ago we had another brunch here that included entirely different dishes: Fresh spring rolls, potato soup, hummus with black sesame pita bread, omelette with vegetable herbs, quinoa and turmeric flan. It was a huge portion and will definitely keep you full. Among these, the stars were the hummus and the quinoa. The cauliflower and turmeric flan was also a very interesting and original dish. Overall, the availability of this Sunday brunch depends on the restaurant, so please check with them before coming.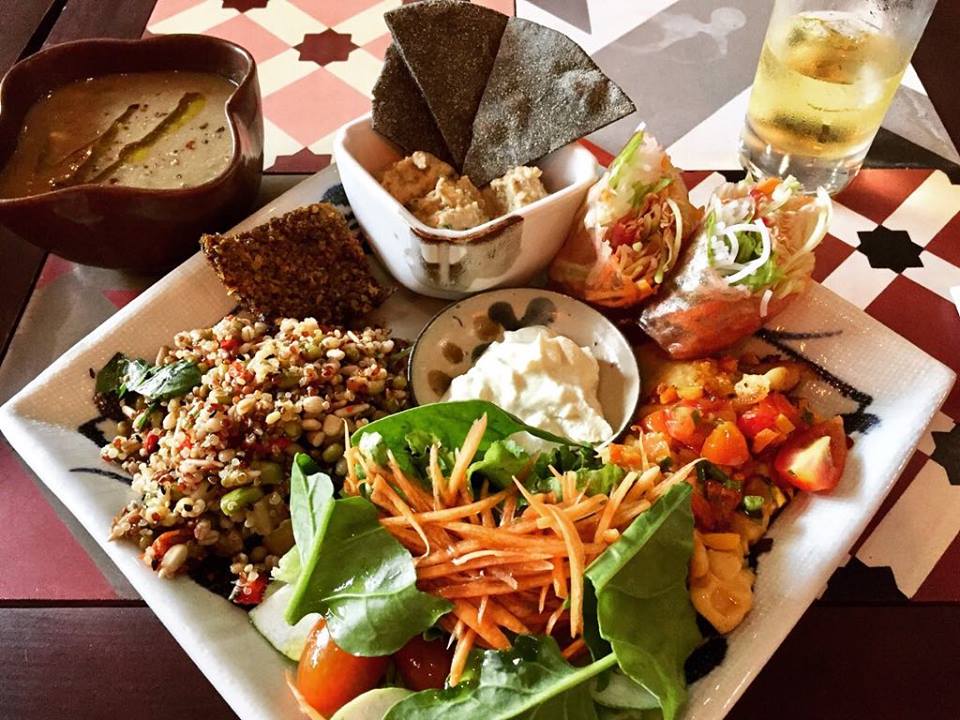 Last but not least, The Organik House is also one of the pioneers and among the few restaurants in HCM City that are really active in an effort to protect the environment by completely saying no to the use of plastics and promoting the use of biodegradable products among other food and beverage establishments. These products, for example kitchen utensils, straws are entirely made from sugarcane, bamboo, palm trees, etc. Hopefully their efforts will make more and more people aware of our own social responsibilities. If each of us just contributes our part, we can make the earth become a nicer place for future generations.
  Bio-degradable products being displayed on the shelf
The Organik House
Address: 7F Nguyễn Thị Minh Khai, Bến Nghé Ward, District 1, HCM City
Tel: 0909 576 898
Opening hours: Tuesday to Saturday from 10.00 to 22.00
Sunday from 10.00 to 17.00. Monday closed.
FB page: https://www.facebook.com/TheOrganikHouse
The Nomad Quynh