5 popular Vietnamese restaurants in HCMC to bring guests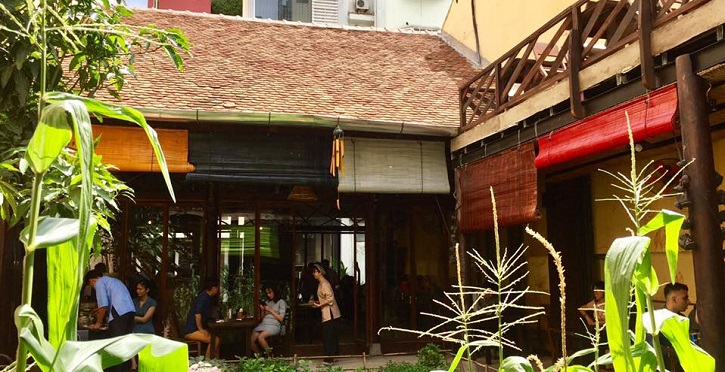 Five, six years ago, everytime I came to HCMC for a business trip and needed to find a good Vietnamese restaurant to take partners and customers to, it was always a headache as I didn't know where to go. At that time, online reviews and Facebook were not so popular yet. One day a local partner suggested this restaurant called Hoang Yen to me, and from then on that was where we always headed. To be honest the food there was quite decent at that time, but it was not the best choice to bring guests as the place could get really noisy and crowded.
Perhaps many of you might be facing the same issue as me before, so I'm making this list in order to make it easier for you especially if you're new to HCMC. These are some of the most popular Vietnamese restaurants in town with decent food that are suitable for bringing guests, especially foreigners. You almost can never go wrong with these options. The food here is traditional Vietnamese cuisine, sometimes with a creative touch.
1. SECRET GARDEN: on the rooftop of an old apartment building in Lane 158 Pasteur Street, District 1
FB page: https://www.facebook.com/secretgarden158pasteur/
As the name suggests, the location is kinda "secret". When you arrive at Lane 158, tell the parking guy you want to go to Secret Garden, and they will point you to an old building a bit deeper into the lane on the left. You will see a sign telling you to go up the stairs. Venturing up the small old staircase to the 4th floor and you will be pleasantly surprised to see a cool rooftop restaurant opened in front of you.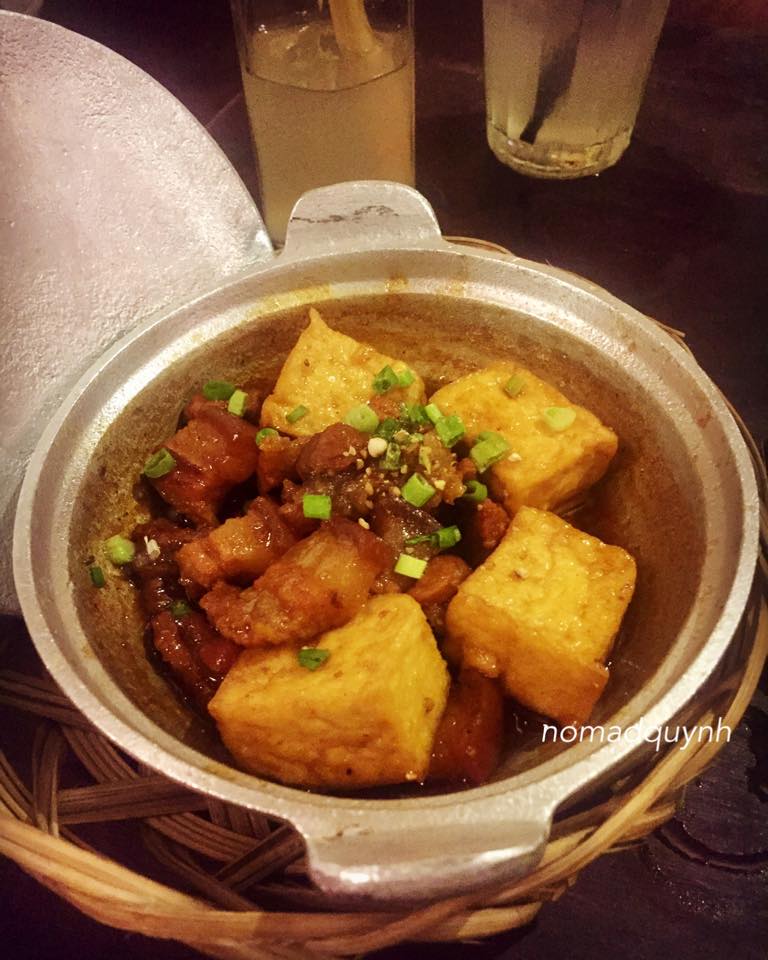 This is perhaps my most favorite Vietnamese restaurant in the city due to many reasons:
– The food is good, even for someone originally from Hanoi like me. Most of the dishes I've tried here are delicious. My friends and guests whom I have taken here all seemed to like it.
– Nice ambience and decoration: It's a very cool rooftop with a rustic countryside flair to it. Furthermore, the old building that hosts this restaurant is also very interesting and a city heritage by itself.
– Reasonable pricing, around VND200,000/person. Suitable for bringing both guests and friends or family.
– Professional and friendly staff.
Just a few notes:
– Although the restaurant itself is nice, the staircase leading up to it might not be as much since the building is quite old. You will need to keep in mind that you're exploring an old part of Saigon.
– Since you will have to climb up the stairs, this might not be the most ideal choice if you have small children or some health issues.
– They can get quite full during weekend evenings, so remember to make reservation in advance, and ask for a table outside as it will be nicer.
2. SECRET HOUSE: 55/1 Le Thi Hong Gam St., District 1
FB page: https://www.facebook.com/secrethousevn
This is the younger sibling of Secret Garden above which was just opened this August. It's not a rooftop, however if you don't want to climb stairs, this will be a better choice. The food and the decoration of both places are quite similar.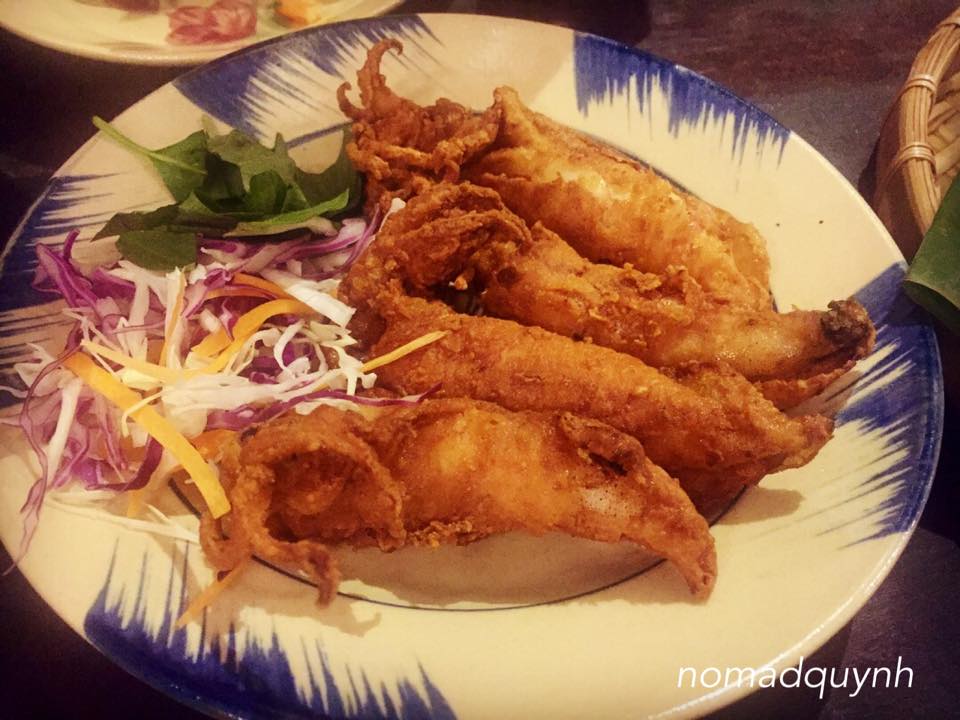 Fried meat-stuffed squid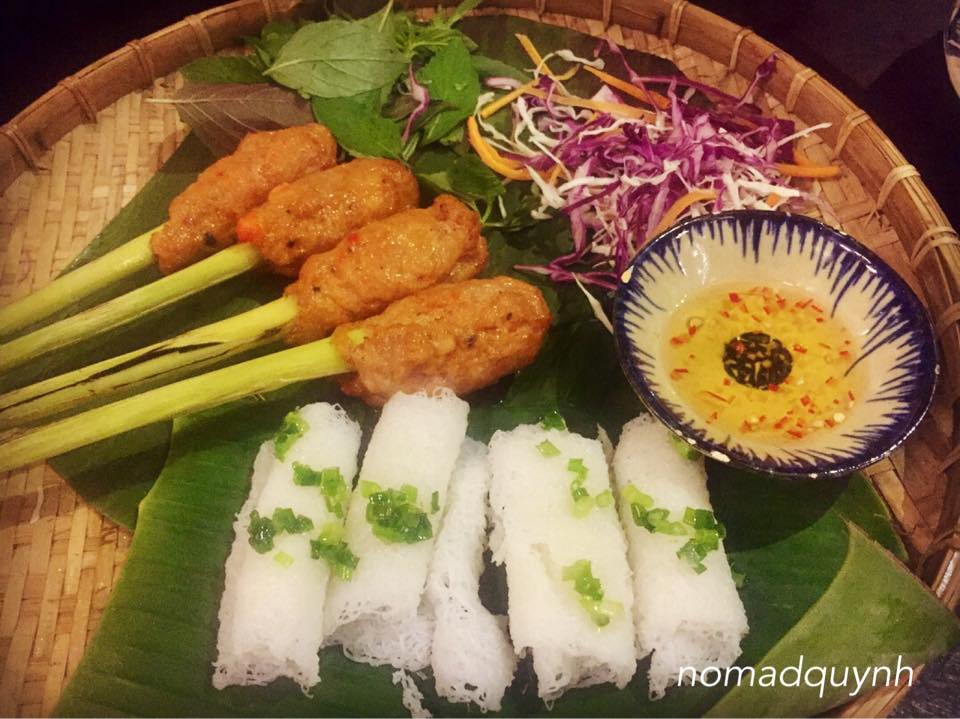 Chạo tôm, aka grilled shrimp with lemongrass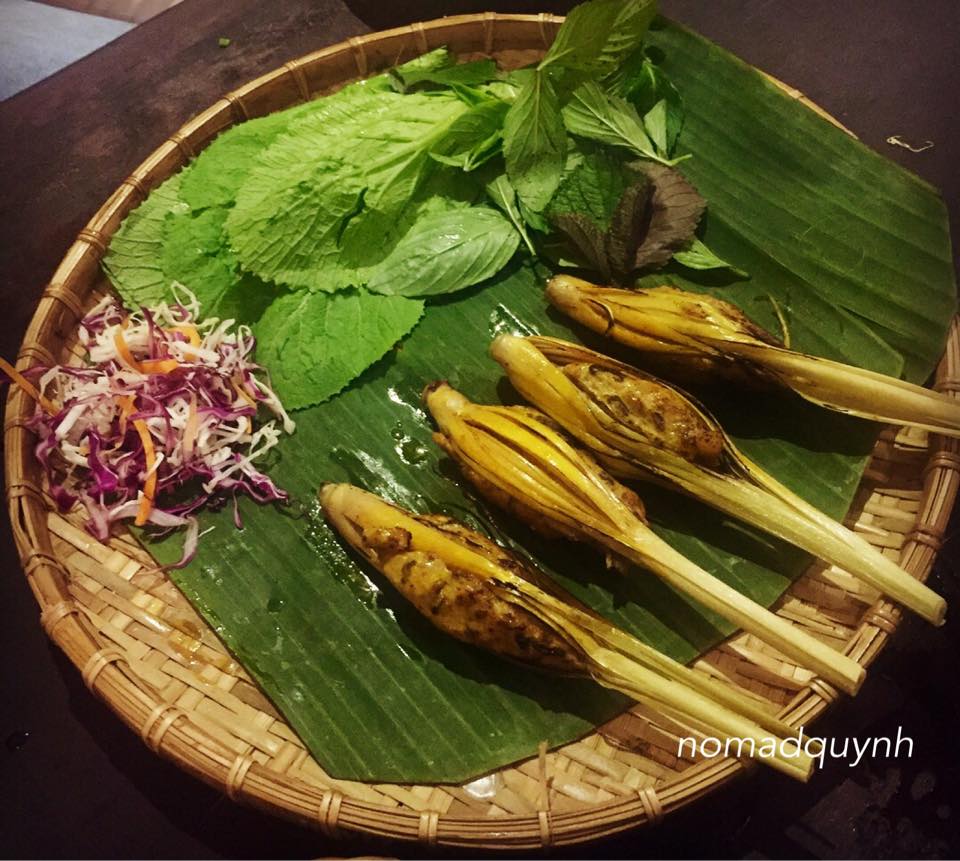 Grilled pork sausage with lemongrass
3. CỤC GẠCH QUÁN – No. 9-10 Đặng Tất St., District 1
FB page: https://www.facebook.com/CucGachQuan/
This is perhaps one of the most publicized Vietnamese restaurants in HCMC, due to the fact that Angelina and Brad Pitt chose them during their stay in Vietnam years ago (similar to the "bun cha Obama" in Hanoi). They have two restaurants opposite each other (hence number 9 and 10), so if this is your first time here you can check out both places and then decide where you prefer to sit. The food is the same.
The owner is an architect so the looks of the restaurant is almost perfect. In Vietnamese "Cuc Gach" means brick, which gives you a little hint about the style here. A bit different from Secret Garden/ Secret House, but also with some countryside flair. They have intentionally chipped bowls/plates and straws made out of morning glory vegetable, talk about creativity! Also, around the place and on the walls you can see many interesting old artifacts and black-and-white photos of the old Saigon – Gia Dinh.
The food here is also decent, with most traditional Vietnamese dishes available. However the price level is a bit higher than Secret House/Secret Garden, and the service can be a little slow as the restaurant is always quite packed.
4. QUÁN BỤI – 17A Ngô Văn Năm, District 1 and 55A – 55B Ngô Quang Huy, District 2
FB page: https://www.facebook.com/quanbuivietnam/
This is another safe choice to bring guests to. Also one of the most popular Vietnamese restaurants in the city, the food here has never failed me. The D1 branch is at city center hence more convenient, however the newer branch in D2 is nicer and much more spacious, with a children's playground as well. Price-wise it's around the same level with Cuc Gach.
5. CITADEL SAIGON – 74/7 Hai Bà Trưng, District 1
FB page: https://www.facebook.com/citadelsaigon/
This is one of the newest Vietnamese restaurants in town, owned by three partners from Vietnam, France and Hong Kong. It's located in one of the most famous French colonial foodie areas here, and the building that hosts the place is a wonder by itself. I really like their good valued set lunch – with only VND180,000 you will get a starter, a salad, a main course with soup and rice, and a dessert. I took a foreign partner here and he loved it so much he saved the address in order to return on his next trip.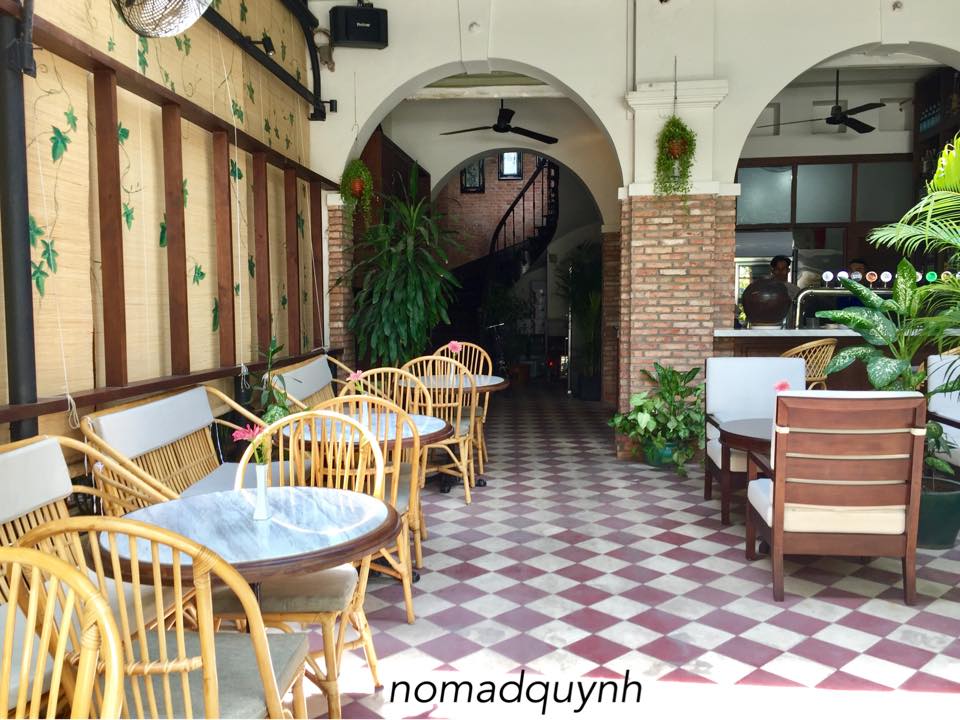 Citadel Saigon – Ground floor
So that's my current top 5 of Vietnamese restaurants in HCMC to bring guests to. Of course there are many other choices, but I have never gone wrong with any of these 5 places. So check out one of them next time you want to bring someone out for Vietnamese food, and do let me know your opinions of them!
The Nomad Quynh