Secret House – a Vietnamese hideaway corner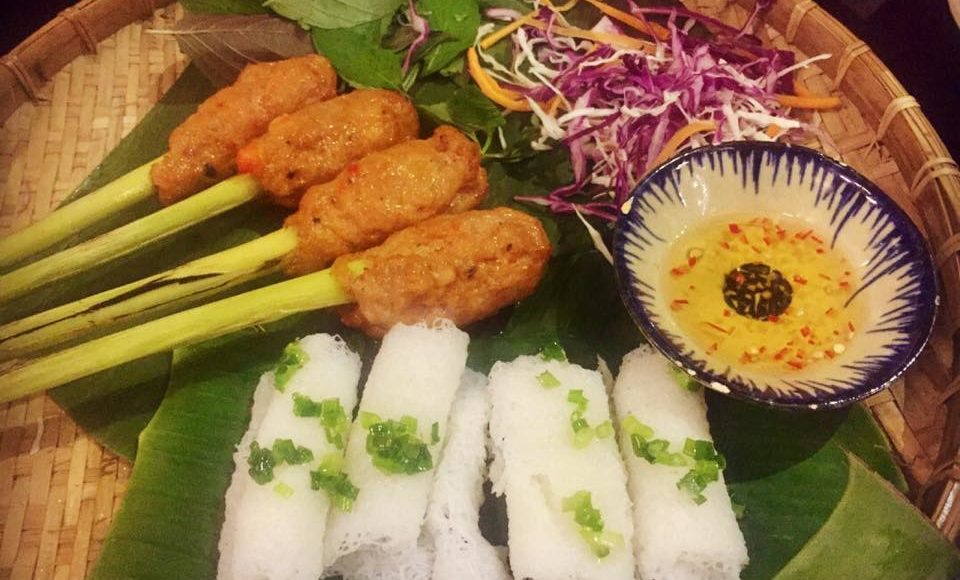 Gone are the days where it was so hard to find a nice, modern yet casual Vietnamese bistro in HCM City with an interesting menu, good food, good service and reasonable pricing. Nowadays customers are spoilt with choices. However among them all, Secret House stands out from the rest and is now perhaps one of the most popular new destinations for food lovers.
When it first opened its door, I was eager to try as I had always been a fan of their older sibling Secret Garden – one of HCM City's staple for Vietnamese home-cooked food. Secret Garden has a very unique location – on the rooftop of a seven-floor old apartment building – which is one of its best charms but could also be a disadvantage, as there is no elevator and climbing up all those stairs might not be ideal for everybody. That problem, fortunately, has been solved when the owner introduced its sister Secret House.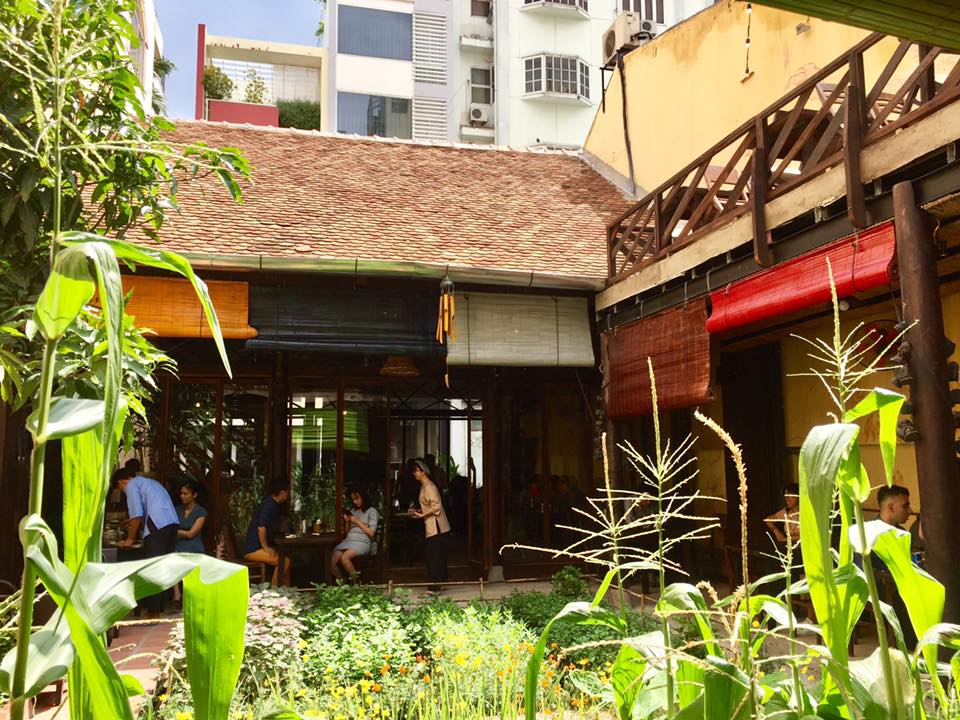 Tucked away in a small quiet street just a few hundred meters away from Bến Thành market – one of the famous symbols of HCM City, Secret House does offer some elements of "secrecy" as the name suggests. The entrance is carved with vintage wooden pallets, and upon stepping in, you will feel like being transported to another tranquil world, away from all the hustle and bustle of the city center.
The restaurant occupies a fairly spacious area. The dining space spreads mainly on the ground floor, and there is a cute rustic attic with a few more tables. Outside there is a terrace which would be perfect to sit at when the weather is nice, next to a small garden where the owner grows their own fresh vegetables and herbs.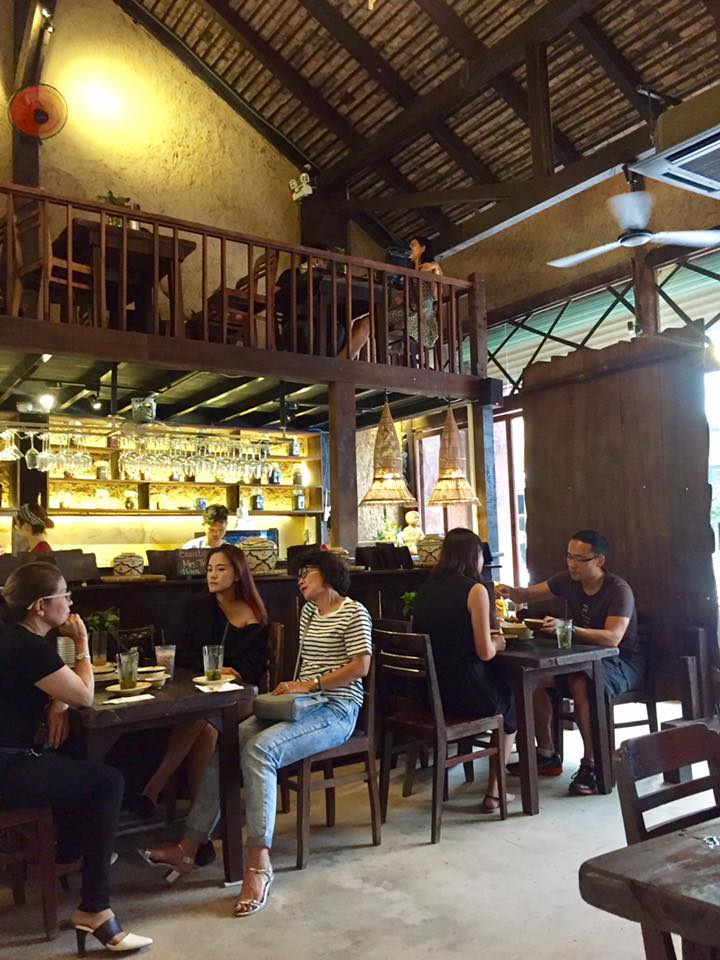 Similar to its sibling, Secret House's menu offers a fairly wide range of Vietnamese home-cooked dishes, regional specialties as well as popular street snacks. The traditional Vietnamese music playing in the background is minimum and relaxing, while the dark rustic furniture and simple yet welcoming décor will make you feel at home.
A smiley waitress dressed in Vietnamese village women's traditional clothes ushered our group to a table I had reserved in advance. One of the perks of coming in a group is that you will have the opportunity to try several dishes in the menu, and that was exactly what we did as everything looks delicious.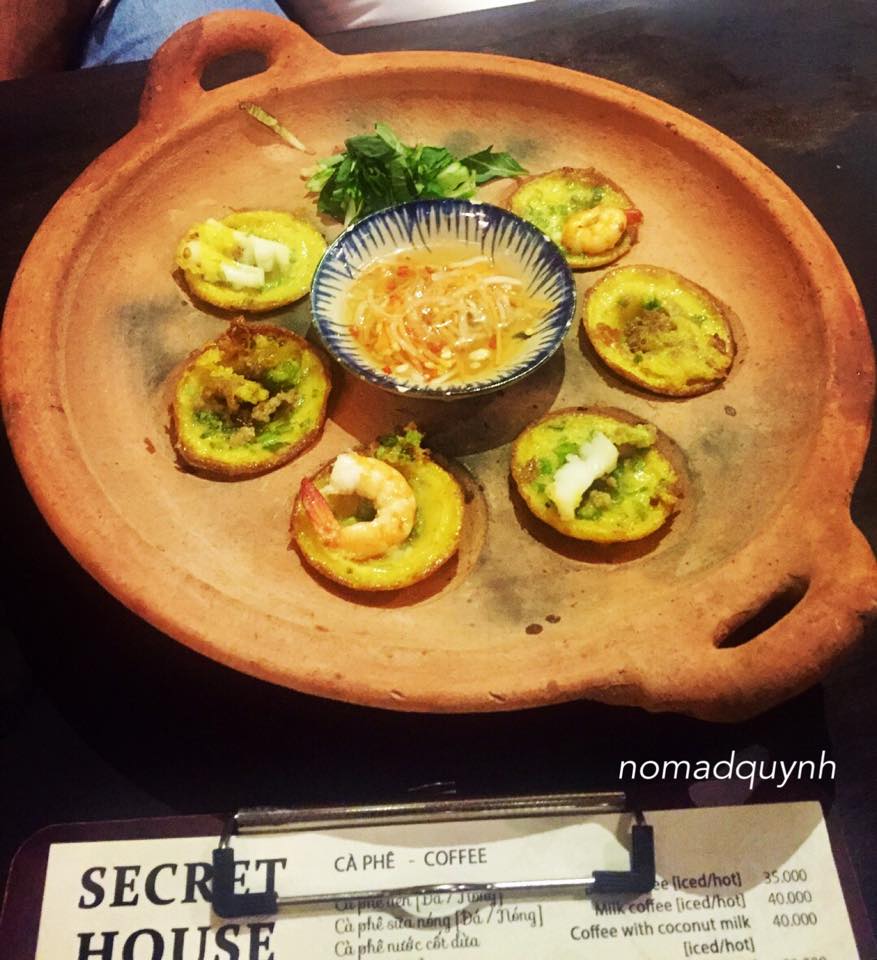 Banh khot – a traditional dish from Central and Southern Vietnam
Our first dish was one of the signatures – mini savory pancakes called bánh khọt (VNĐ85,000). This dish comes from the central and southern of Vietnam, with a fried base made from rice flour and many different toppings such as pork, seafood, stir fried onions, etc. Among many interesting regional Vietnamese dishes, bánh khọt is one of my favourites because of the nice combination of flavours created from its slightly crispy base, its rich fillings and the additional sweet and sour sauce with various vegetables on the side. And Secret House makes a perfect version of it.
Our next dish was Grill pork sausage with lemongrass, aka. nem lụi nướng sả. The pork meat, mixed with mushrooms and seasoned with herbs and spices, tasted wonderfully when grilled with lemongrass. Again, the additional herbs on the side add even more depth to the dish.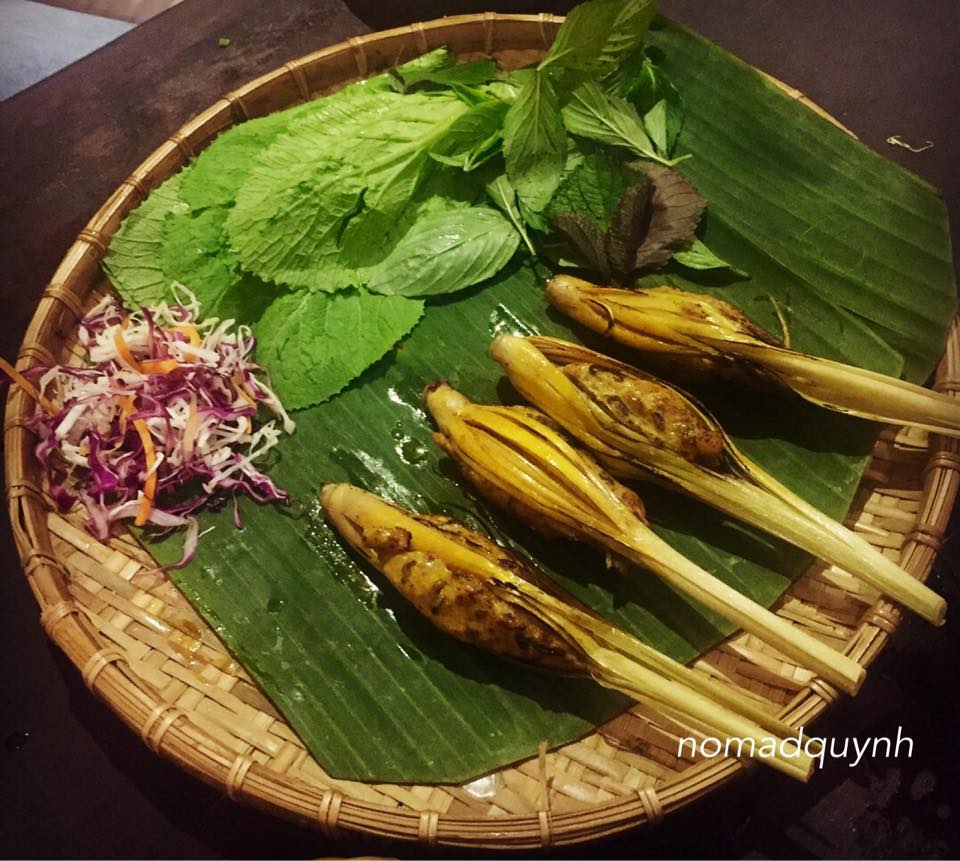 Another one on the menu that made me curious to try was deep fried sticky rice topped with pork and shrimp (VNĐ75,000), aka. xôi chiên – which I found very interesting, as at first glance it looks similar to the bánh khọt above, but instead of the soft fried base made from rice flour, this is made with sticky rice, giving it a more crunchy and unique taste. I'll probably order this dish again on future visits.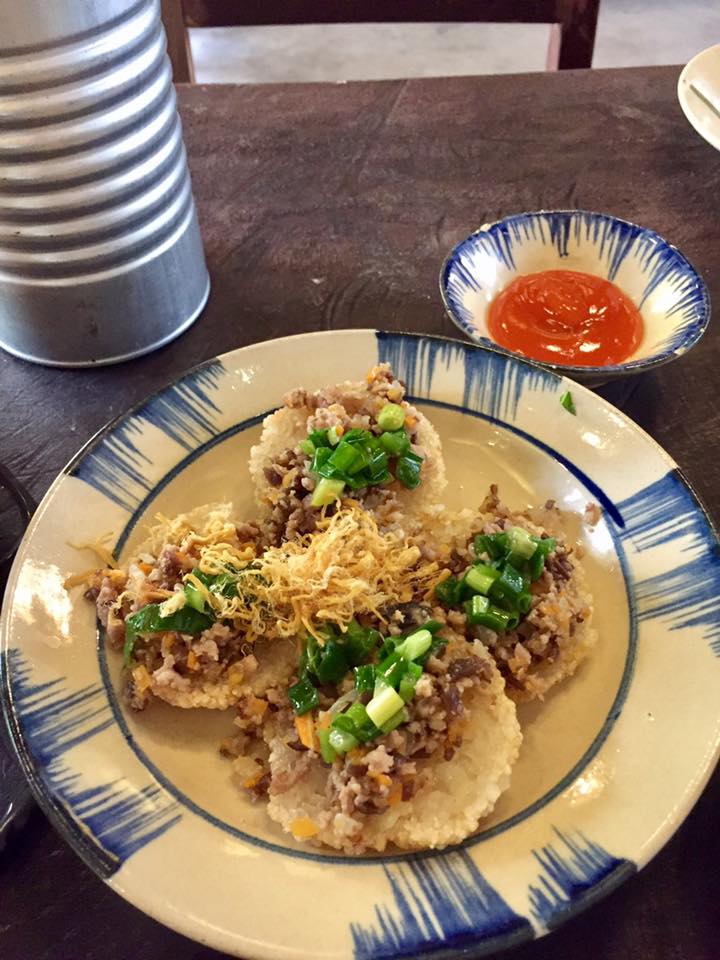 If you like squid, the meat-stuffed fried squid is another good choice. The crispiness from the perfectly grilled fresh baby squid blends in nicely with the soft meat fillings.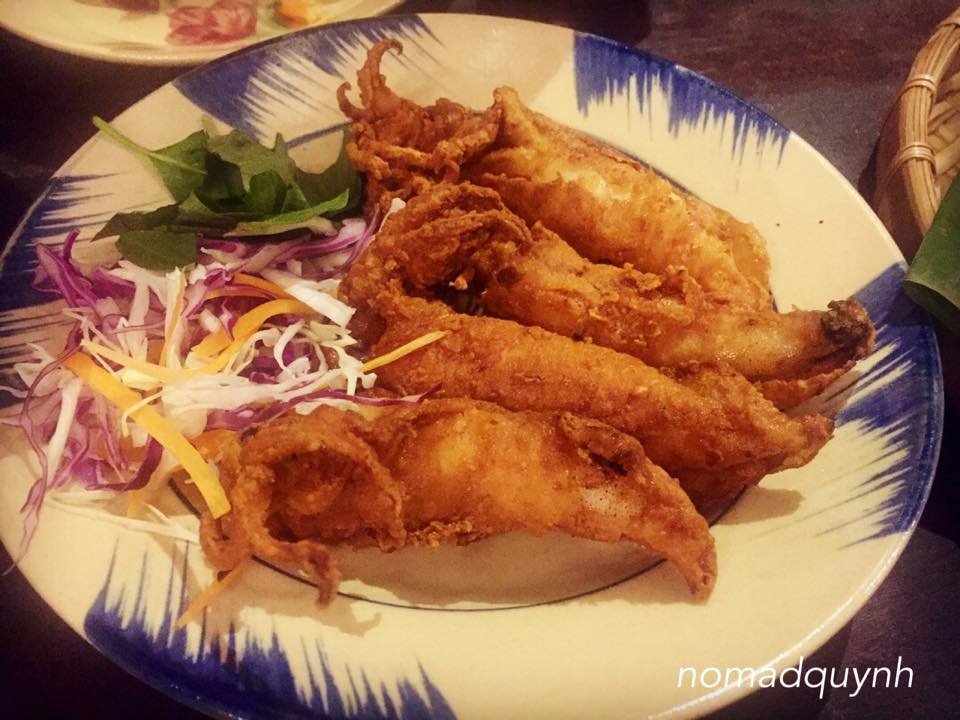 Another popular dish is grilled beef wrapped in betel leaves, aka. bò lá lốt, with peanuts sprinkled on top. It comes in several servings which are great as small bites by themselves or when eaten with rice. I would prefer it to be a bit less sweet though.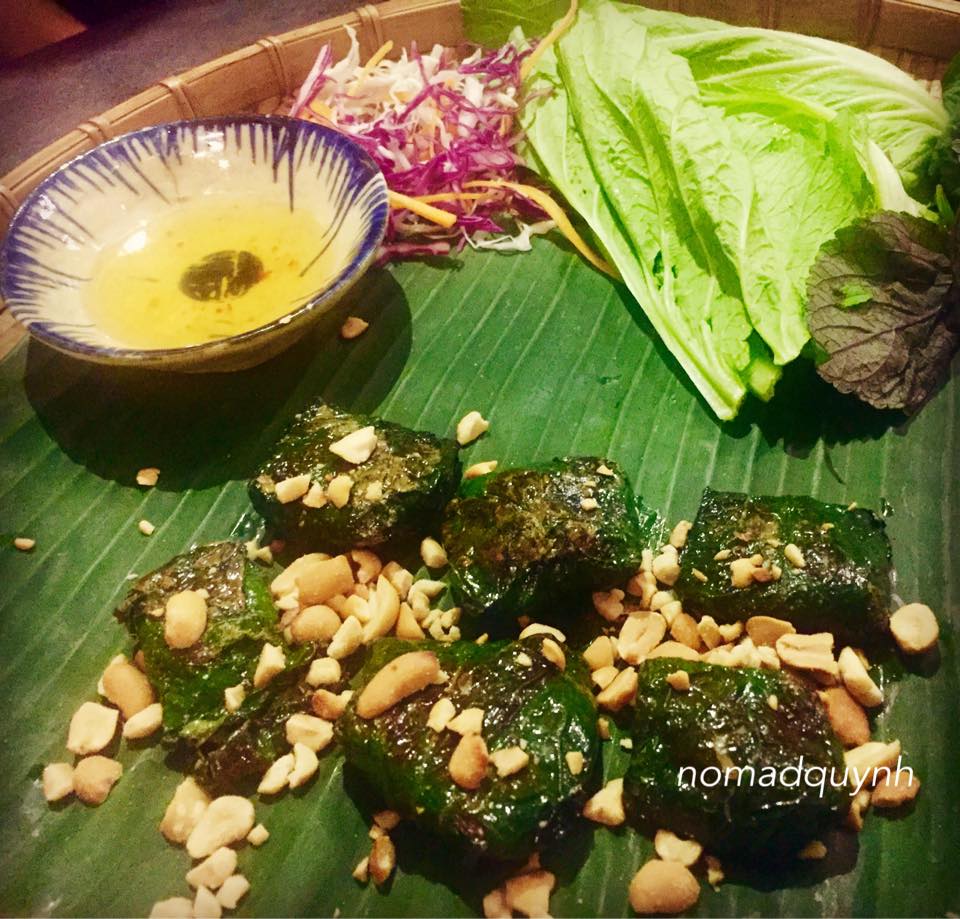 Chicken roti was another favorite dish of mine this time. The chicken has a melt-in-your-mouth tenderness and at the same time very flavourful.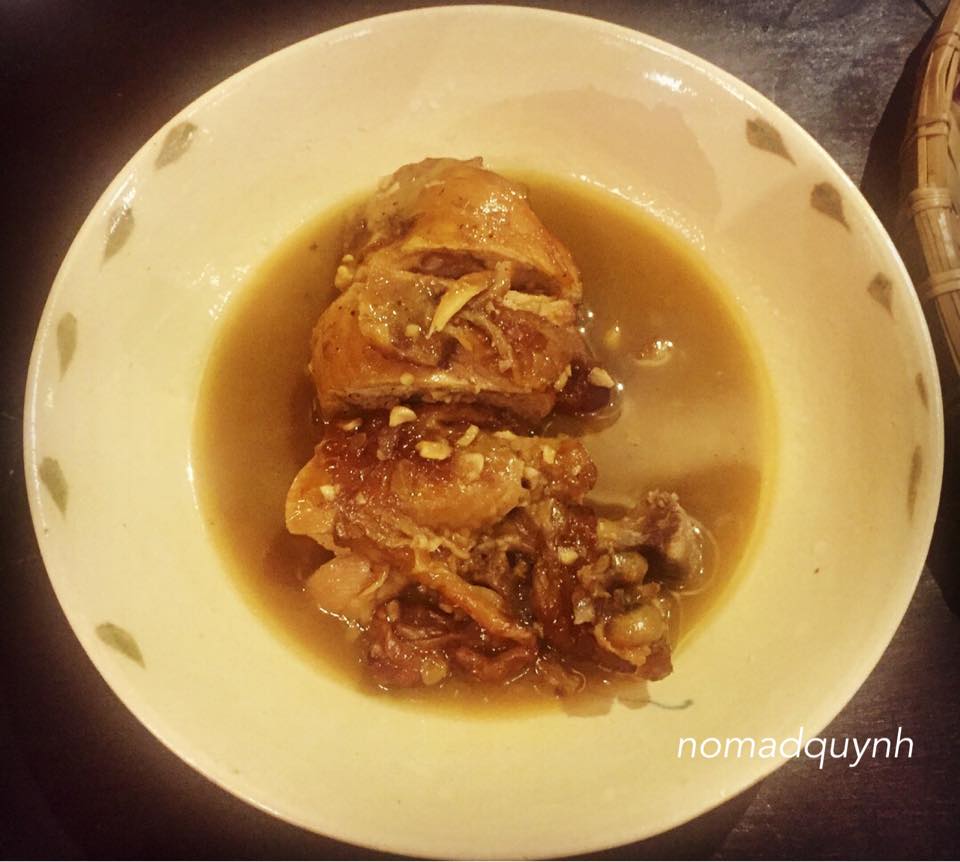 Chạo tôm – grilled shrimp sausage on lemongrass – is one dish originated from Huế, the old capital and nowadays a city in Central Vietnam that's very popular among both local and foreign tourists. What's most special about this dish is the way it is prepared and eaten – together with bánh hỏi, a specialty also from this region which is made from rice flour rolled in thin sheets with stir-fried chives on top. This is one of the interesting regional food you should try.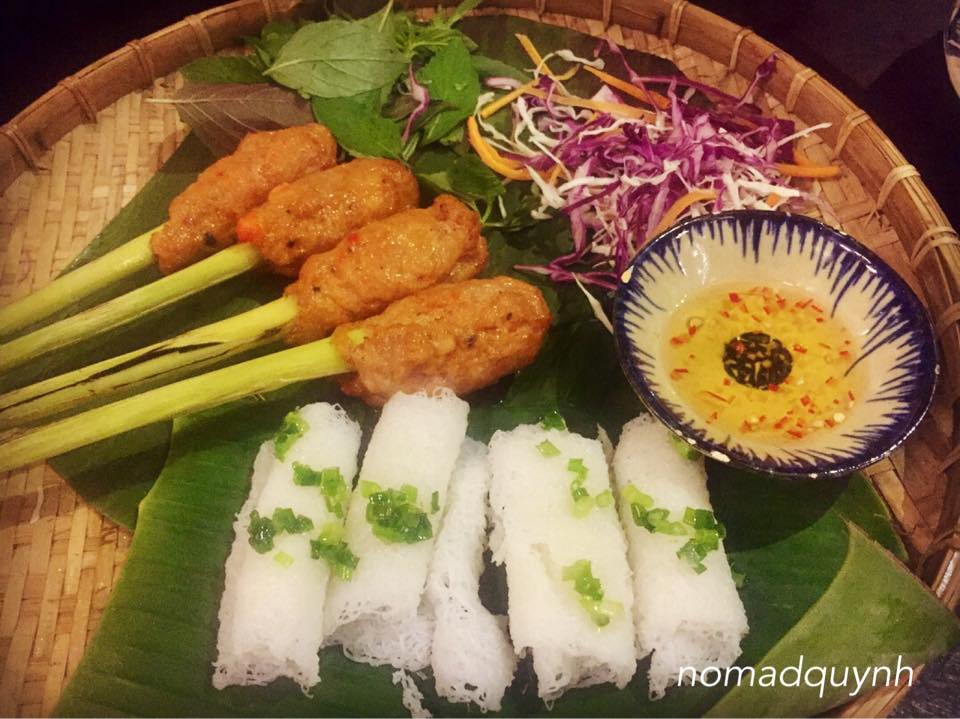 If you want something more like a main course that goes along best with rice, opt for caramel-braised pork with young coconut or tofu. Both are great choices, the pork is very juicy, tender and together with the crunchy coconut or soft rich tofu, they create a flavourful and wholesome taste.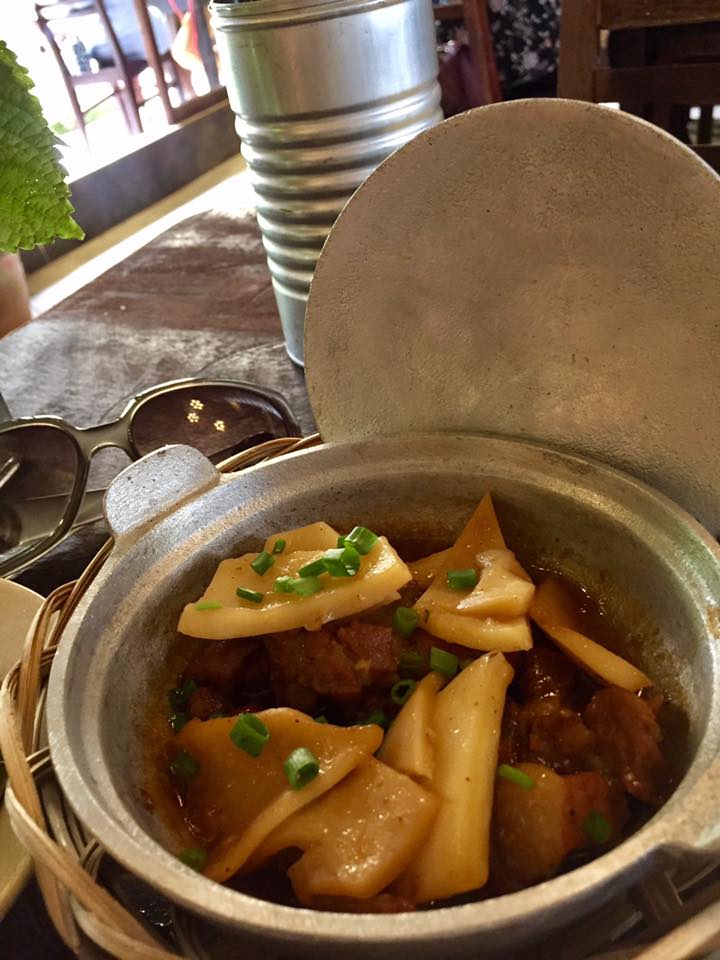 caramel-braised pork with young coconut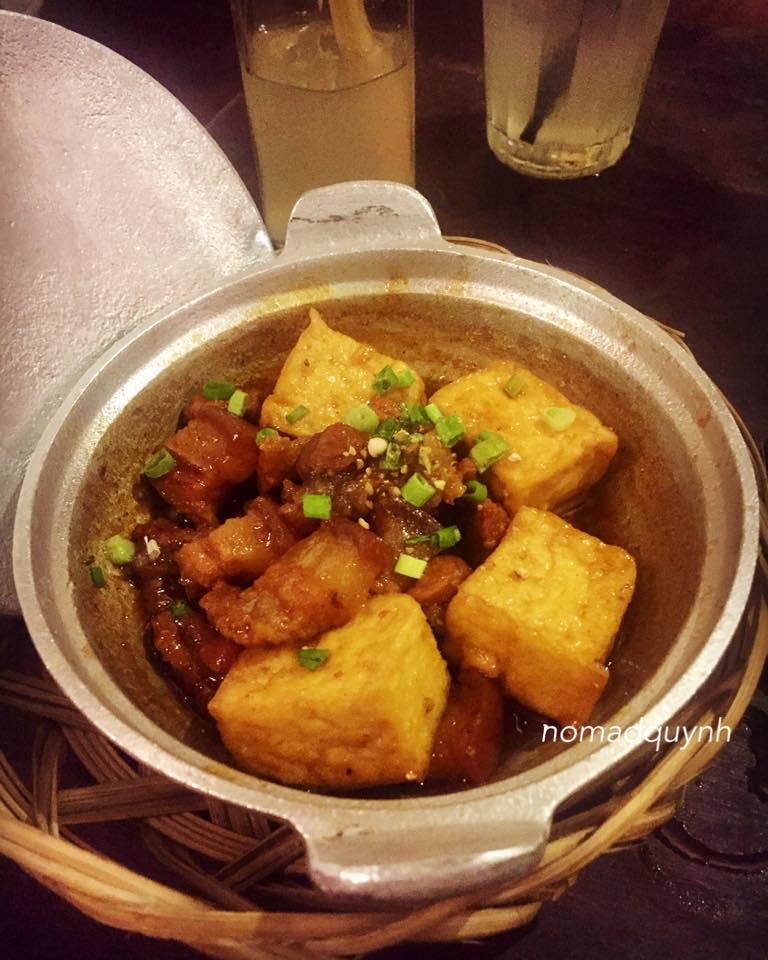 caramel-braised pork with tofu
Vegetarians also have plenty of choices. Below is fried sauteed tofu in tomato sauce: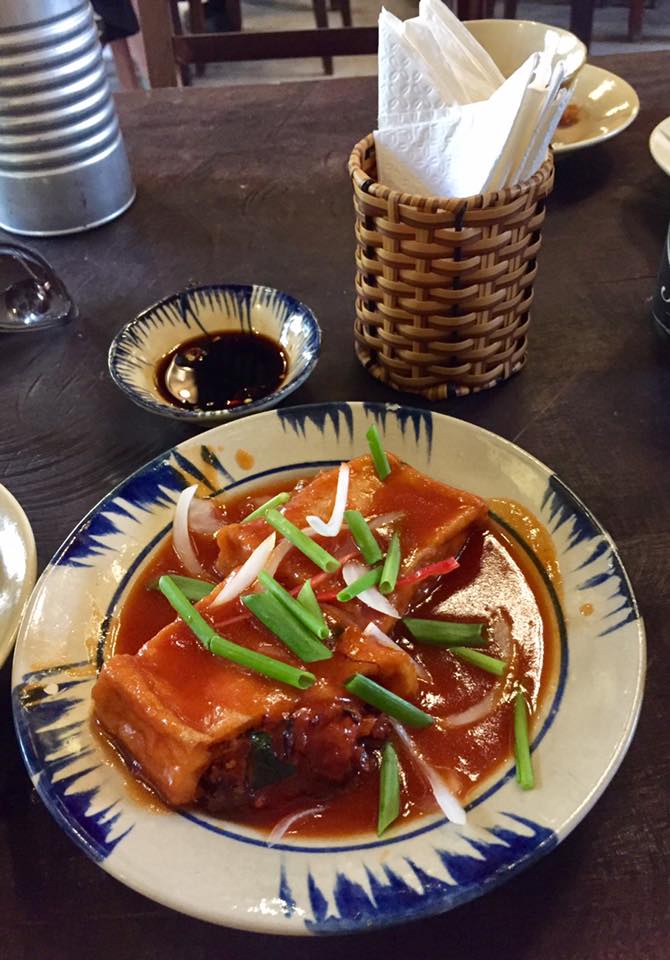 Steamed mixed vegetable with kho quẹt – a special spicy Southern dipping sauce made from fried bacon, dried shrimp, fish sauce, salt, sugar, pepper, etc: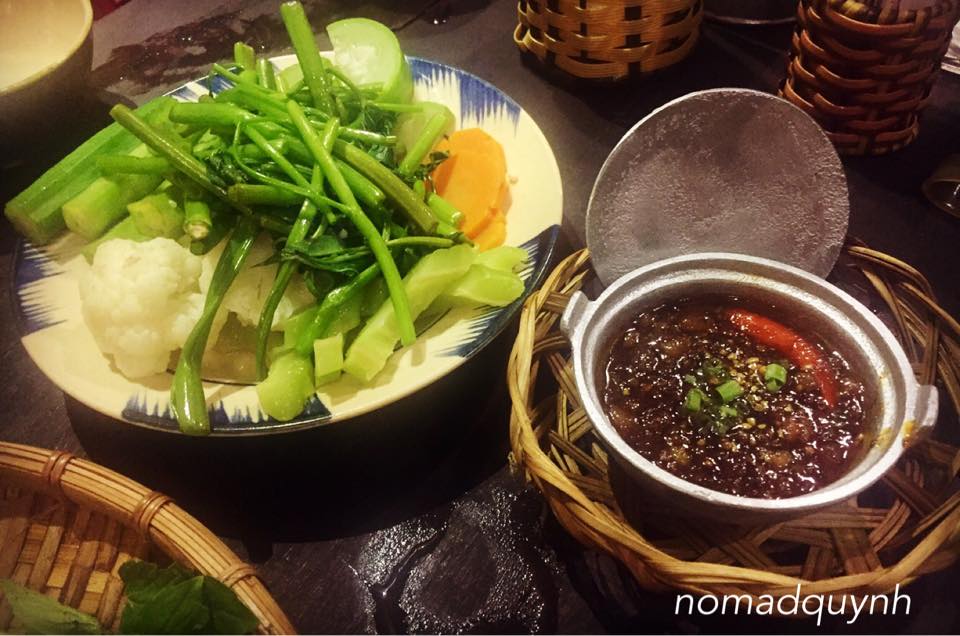 Most dishes are priced under VNĐ100,000 which I find quite reasonable. The staff are friendly and professional, which adds to the positive experience. Every Thursday, there is a live Vietnamese musical instrument show from 7 – 8.30pm.
Overall, Secret House is among my top choices for traditional Vietnamese food in a homely and cosy venue when I want to bring my guests out for either a casual business meal or a friendly gathering. You can also check out my other choices here: http://nomadquynh.com/5-popular-vietnamese-restaurants-in-hcmc-to-bring-guests/
Secret House Vietnamese Restaurant & Cafe
Address: 55/1 Lê Thị Hồng Gấm St., Nguyễn Cư Trinh Ward, District 1, HCM City
Tel: 091 187 7008
Opening hours: Everyday from 7am – 10pm
Facebook page: https://www.facebook.com/secrethousevn/
The Nomad Quynh