La Villa – A sumptuous choice for a special occasion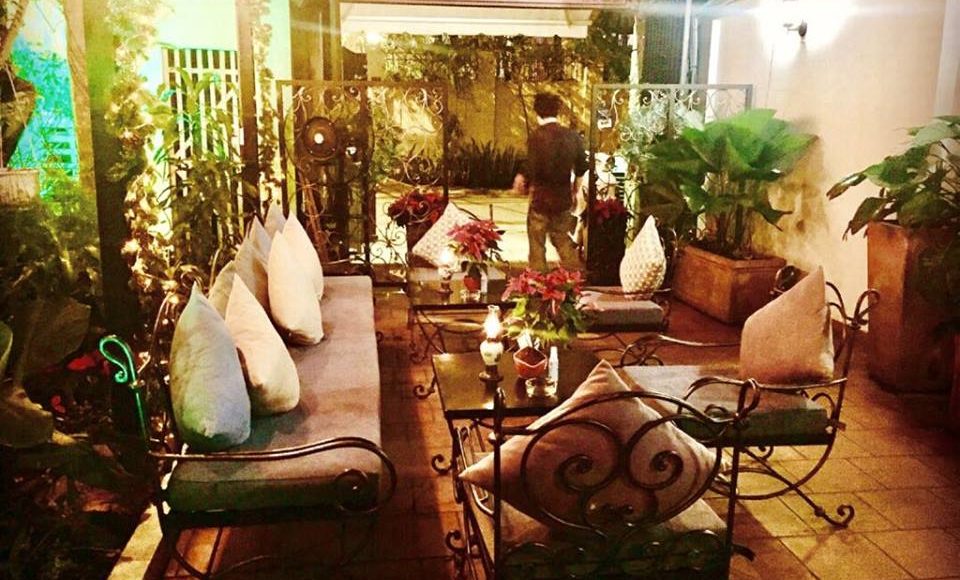 Ask any French food experts who have been living in HCM City for a while which are the best French restaurants here, and you will very likely hear the name La Villa being mentioned. Opened since 2011 by chef Thierry Mounon, this place has consistently been keeping up the great work by maintaining its superb food and service quality despite growing competition.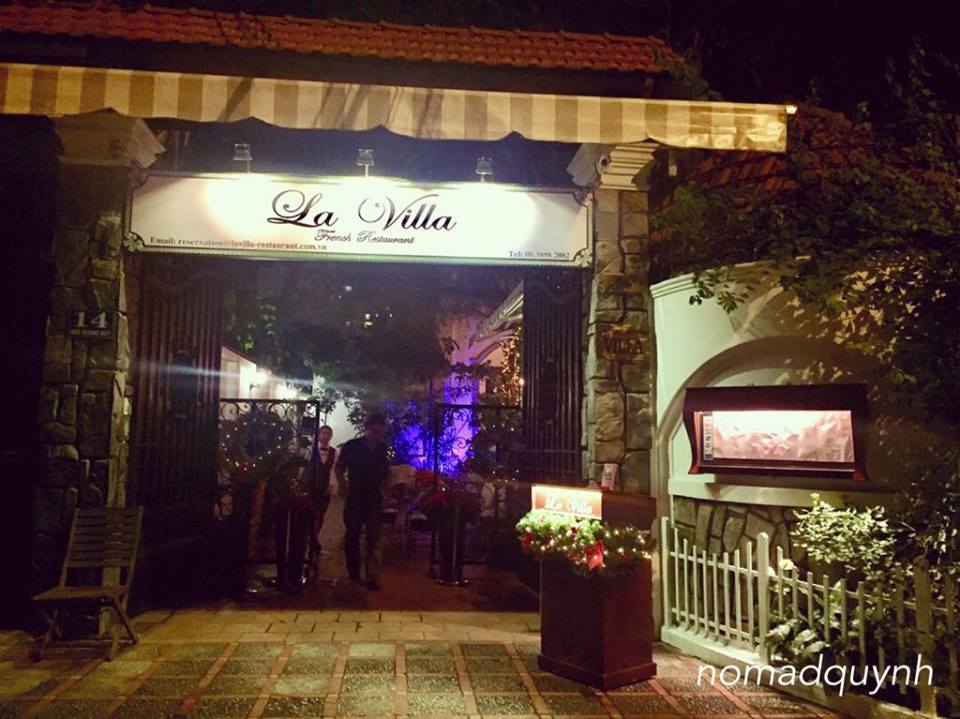 Tuck away in a quiet street in the expat area of Thảo Điền ward, District 2, the restaurant seemed to be almost fully packed even on a weekday when we came, although the location is quite far from the city center and the price is not considered cheap at all according to local standard. They aim to give customers the best experience of French gastronomy in Vietnam, using high-quality ingredients both local and imported. The restaurant is located in a nice colonial French villa itself, with spacious areas both indoor and outdoor.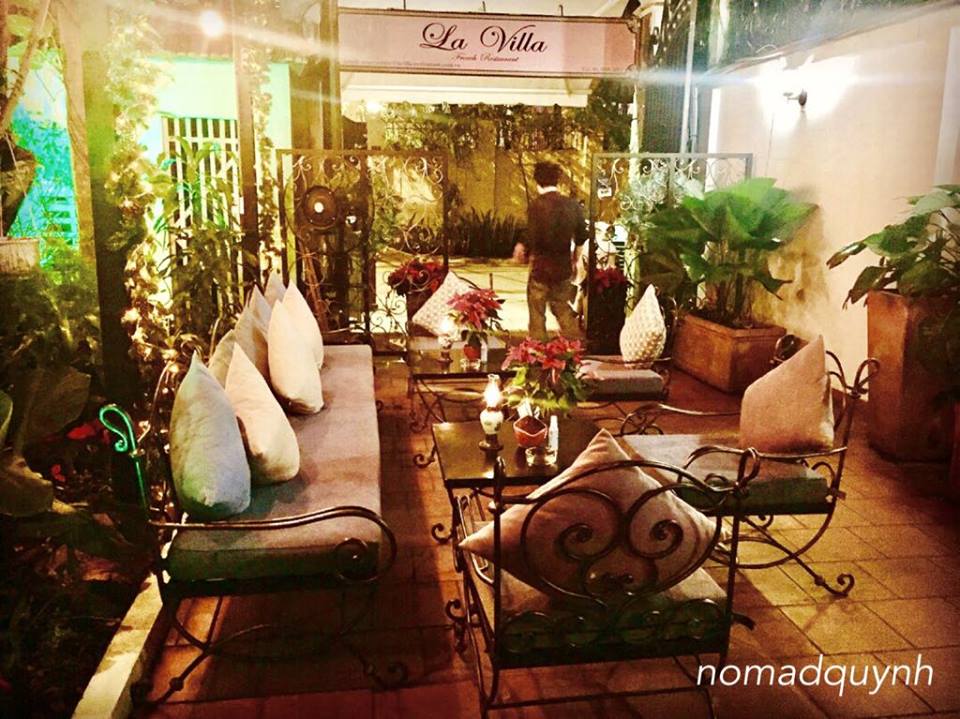 A nice corner outdoor
For your consideration, there are a-la-carte and course menus available. I would highly recommend you to opt for the course menus in order to taste all the best creations from chef Thierry. There are four different courses, price ranging from VNĐ1,090,000 to 2,390,000 (net). There is also another small course menu at VNĐ890,000 but only available for lunch. And for an extra of over VNĐ1,000,000, you can add the wine pairing options which also sounds great. My partner and I decided to choose two different course menus – Menu de la Villa (VNĐ1,090,000) and Menu de la Villa Gourmet (VNĐ1,450,000) to share, in order to try different dishes.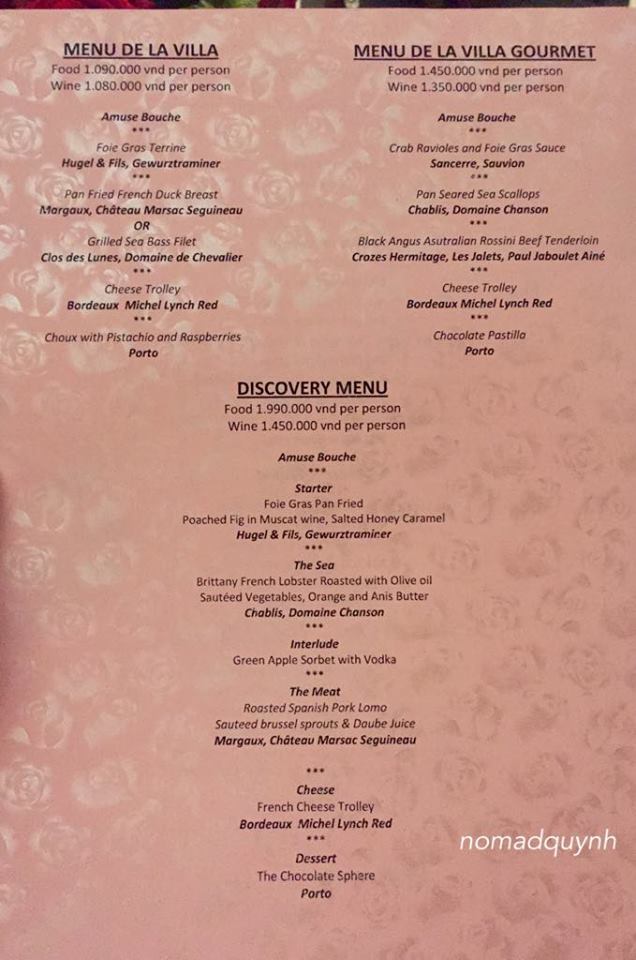 First we were served with some Amuse Bouche. This term, in French, means "mouth amusers", which are often presented as starters in many course meals in French restaurants nowadays. As the name suggests, it normally includes several small, bite-sized offerings in order to show customers a glimpse into the chefs' individual creativeness. Here at La Villa, our first amuse bouche came with Fromage de Tête (head cheese in English) with pork, Seafood gougère (choux pastry), Broccoli soup and Zucchini cake with aioli sauce. These were some great starters to begin our night with.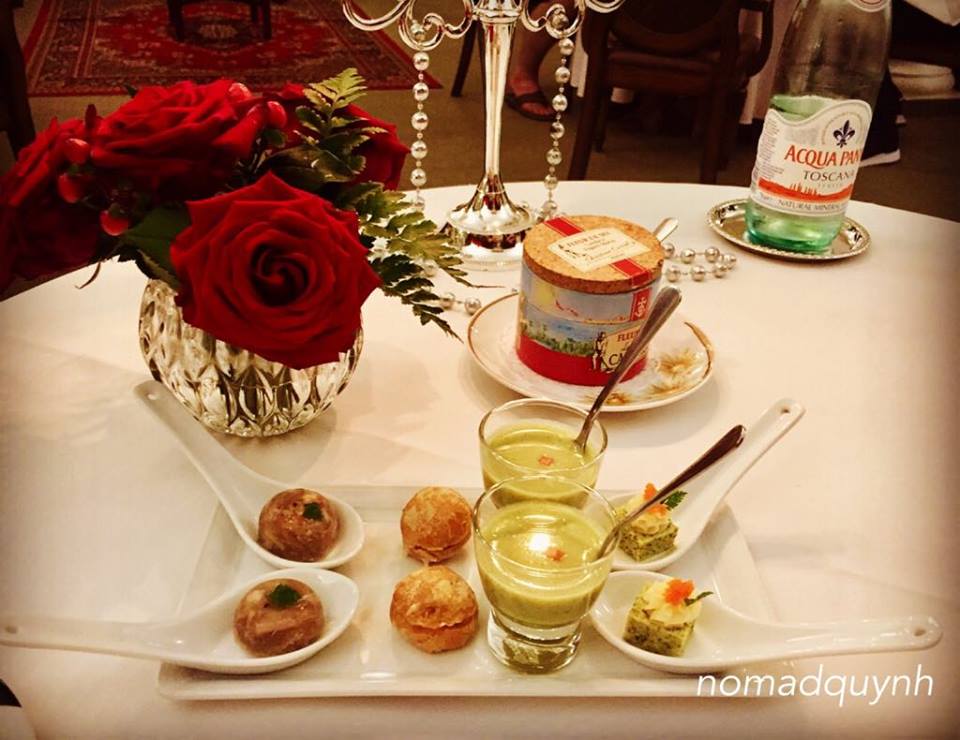 We continued with another amuse bouche from Menu de la Villa Gourmet – Mini caillette provencale, which is pork meat, pork liver and spinach stuffed with fresh goat cheese and tomato basil sauce. Whether or not you are a fan of these ingredients, you will very likely enjoy this dish as all the tastes balance very well with each other.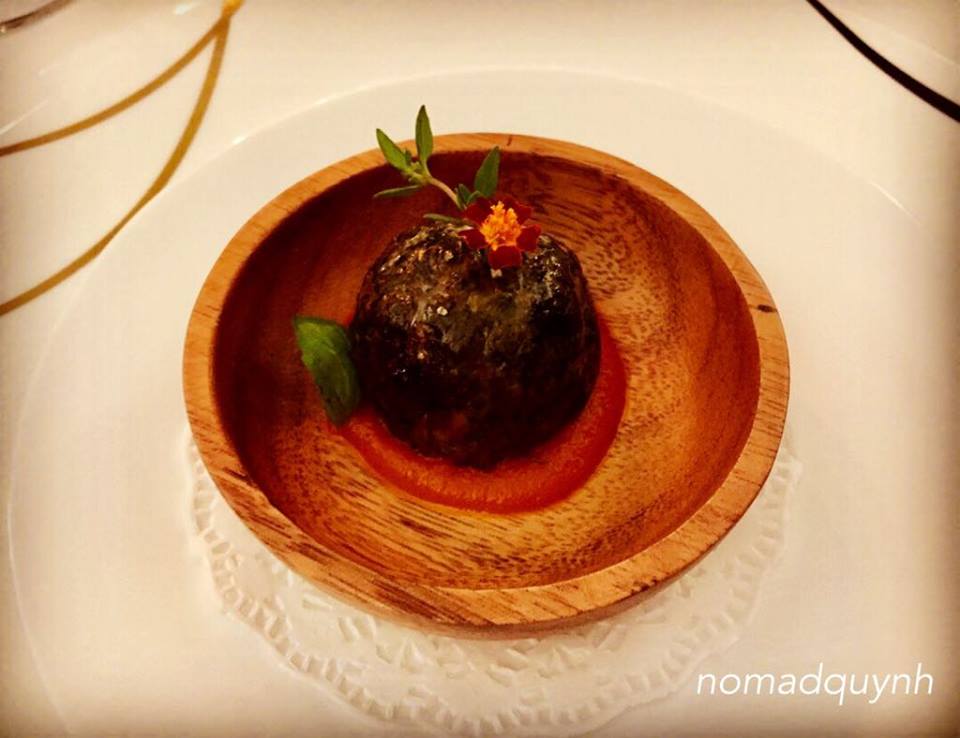 Our first real courses came next, which were Foie Gras Terrine (Menu de la Villa) and Crab ravioles with foie gras sauce (Menu de la Villa Gourmet). Foie gras terrine is one of the things I love most about French gastronomy so I have tried it in many places, and I must say La Villa's is one of the best I have had so far. I can't praise it highly enough.  The taste was so rich yet very subtle and not overwhelming, so heavenly that I must apologize for the half-eaten photo as I dug into it too fast. The crab ravioles with foie gras sauce was great as well, however if I have to pick my favorite among these two, the terrine still wins my heart. Be careful, the accompanying bread is also very nice but don't eat too much of them at this point – you need to save your stomach space for many more dishes later.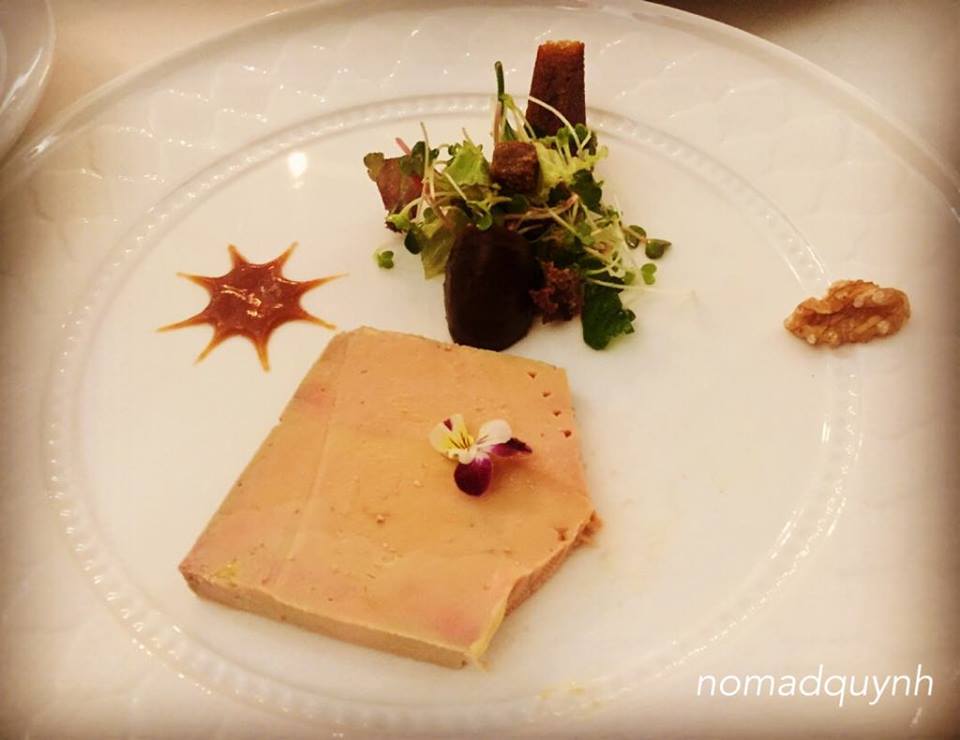 The heavenly Foie gras terrine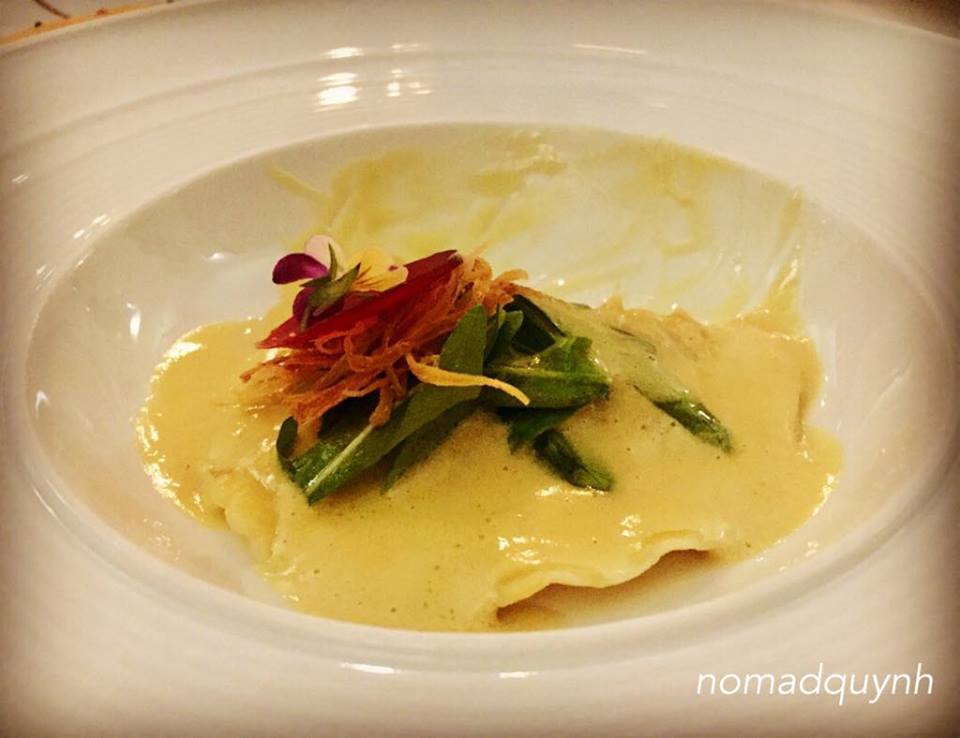 Crab ravioles with foie gras sauce
Coming next was Menu de la Villa Gourmet's second course – Pan-seared sea scallops. I'm a fan of scallops as well, and here, together with different kinds of sauces, it was another dish cooked to perfection.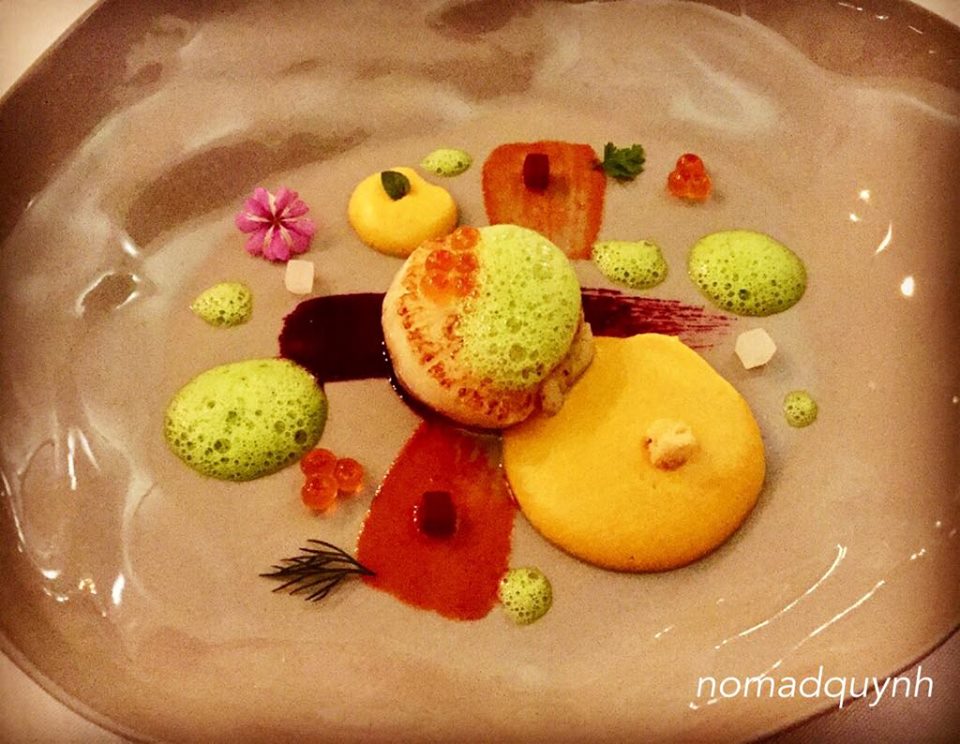 For the main course, Menu de la Villa offered two options – Pan-fried French duck breast or Grilled sea bass fillet, and I opted for the duck breast, medium rare style. Meanwhile, for Menu de la Villa Gourmet it was Black angus Australian Rossini beef tenderloin, which my partner also chose medium rare, and it came with a small pot of pot-au-feu (French beef stew). The beef tenderloin was as perfect as a steak could be, but I must say I was really impressed with the duck breast. It was perhaps one of the best pan-fried duck breasts I've had, so soft, tender and nicely seasoned with a perfect sauce to compliment it as well. Needless to say, I enjoyed this dish until the very last bite.
The perfectly cooked medium rare pan-fried French duck breast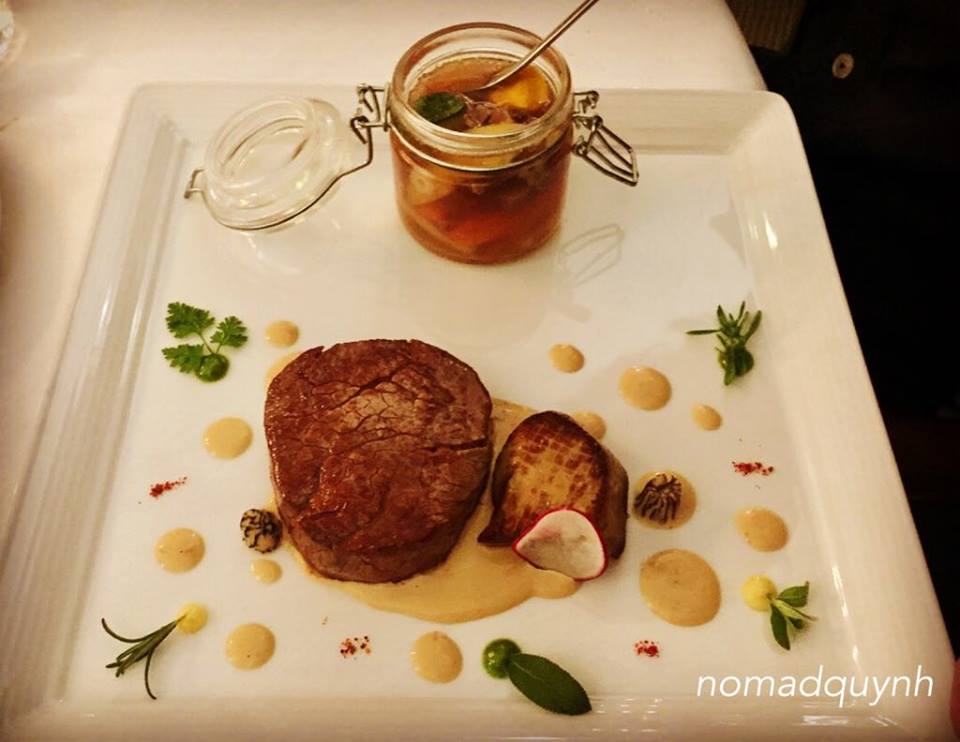 Medium rare Black angus Australian Rossini beef tenderloin with pot-au-feu
Next, before dessert, we were presented with a cheese trolley of about 15 types of nice goat, cow and sheep cheese to choose from. This list varies often depending on the availability, some examples are Epoisses, Langres, Comte, Brie, Camembert, Reblochon, Roquefort, Fourme d'Ambert blue cheese, Crottin, Banon, Livarot, Valencay, etc. You are welcome to choose as much as you want, and can also go for a second helping if you feel like it. They can also be served with nuts and jam if you prefer, I myself find cheese go really well with fig jam. If you are not so familiar with French course meals yet, you might find yourself already quite full at this point. My advice: Eat slowly, savour the food and wine, and don't eat too much bread 😀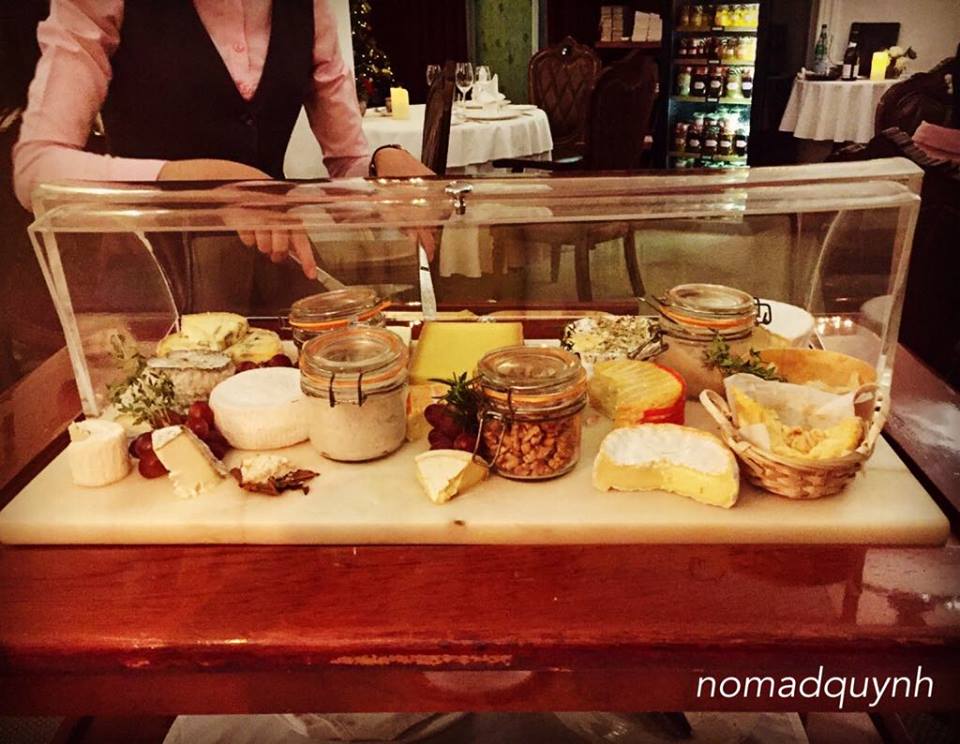 Choose as much as you want from this!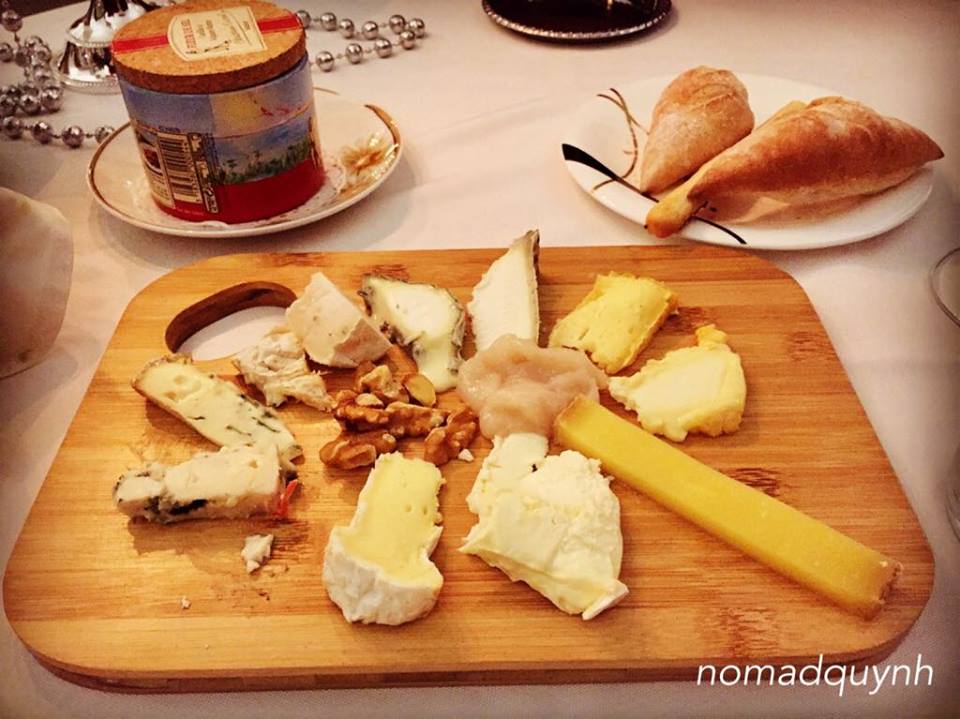 and…the result 🙂
That was the end of our savoury dishes and as someone with a sweet tooth, the last course – dessert – was something I was really looking forward to. Menu de la Villa offered pistachio and raspberry éclair, and for Menu de la Villa Gourmet it was chocolate pastille, both came with scoops of different ice-cream. They did not disappoint. I enjoyed them both especially the éclair, as its light taste was really refreshing after such a big meal.
And since it was our wedding anniversary, La Villa team surprised us with small fireworks celebration and some lovely extra decoration on our dessert 🙂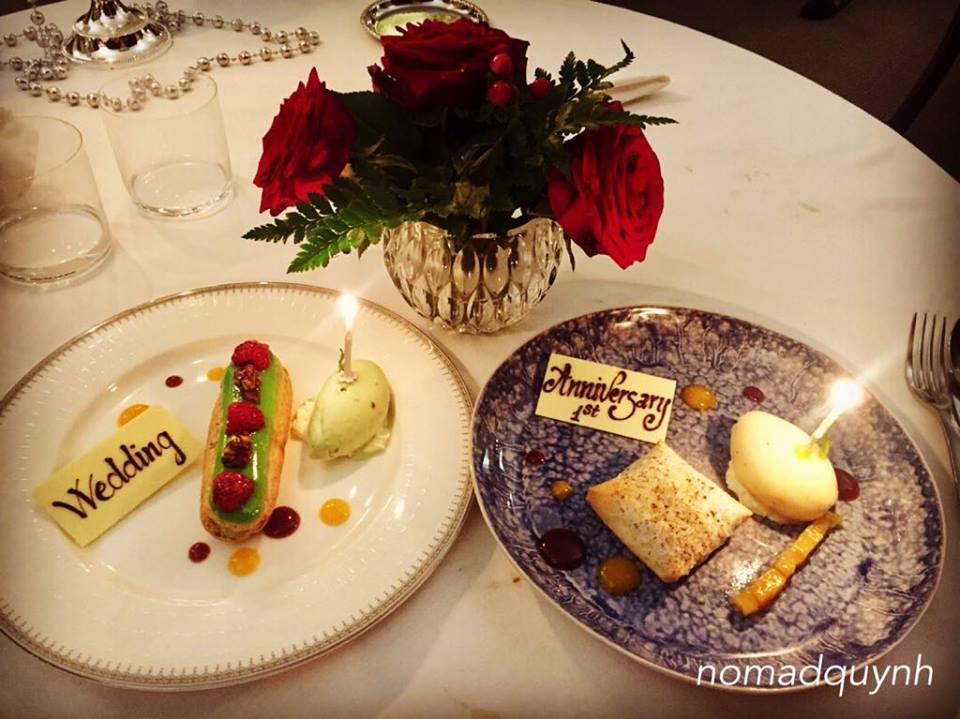 Upon finishing this last course of our meal, we were served with infusion tea, digestif and more complimentary dessert, which includes macarons, biscuits, mousse and chocolate cakes. The highlights were the macarons which were very nicely made, not too sweet. It was the perfect end to our lovely meal.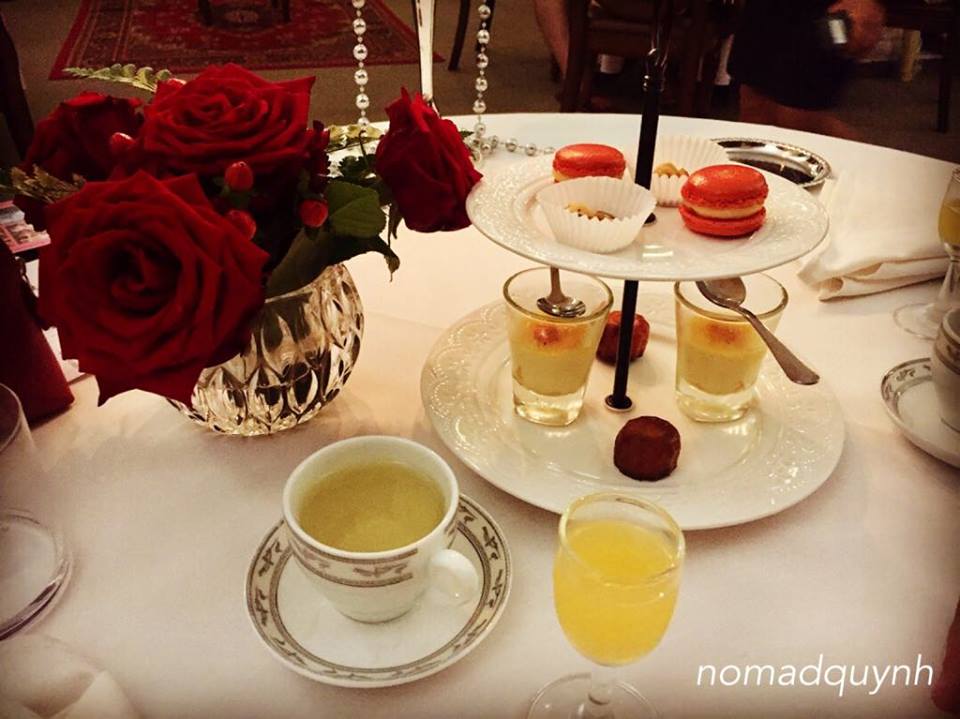 I have no doubt that this was one of our best dining experiences in HCM City so far. Our total bill came to VNĐ3,560,000 including drinks, which was not cheap but really worth it for our special occasion. Great to see La Villa so committed to providing lovers of French gastronomy with top-rated quality, from the food to the service. Perhaps that's why in all 7 years, it has always remained one of HCM City's best fine dining restaurants.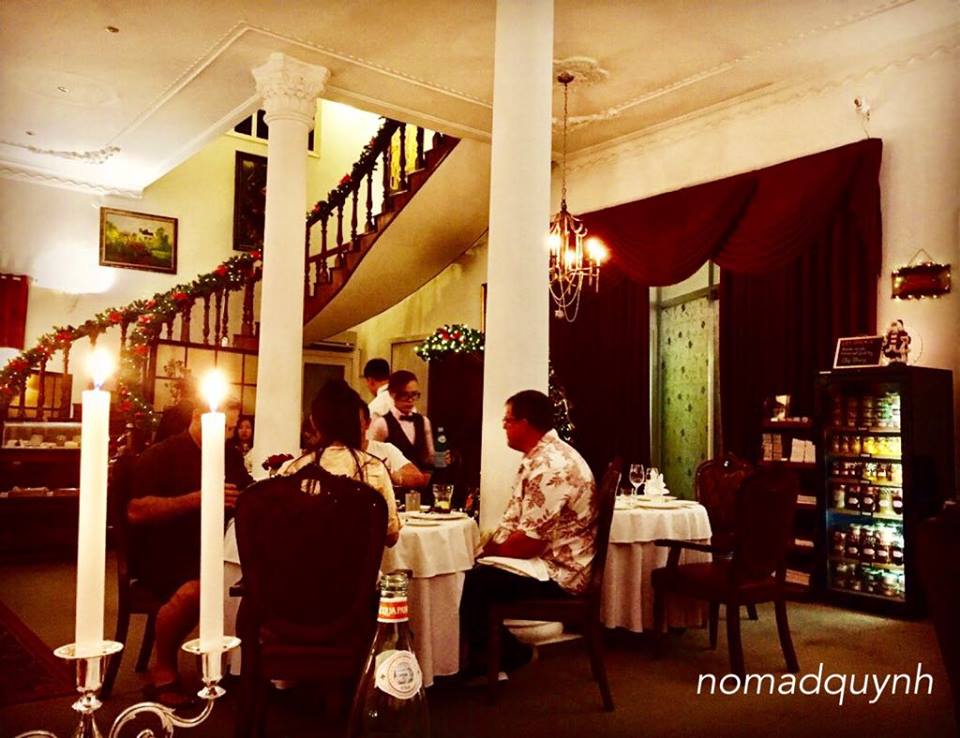 La Villa French Restaurant
Address: 14 Ngô Quang Huy Street, Thảo Điền ward, District 2, HCM City
Tel: 028 3898 2082
Opening hours: Monday to Saturday from 11.45 – 13.30 and 18.30 – 21.30.
Sunday closed.
FB page: https://www.facebook.com/LaVillaFrenchRestaurantHCMC
The Nomad Quynh