Ralf's Gelato – My favorite ice-cream parlor in HCMC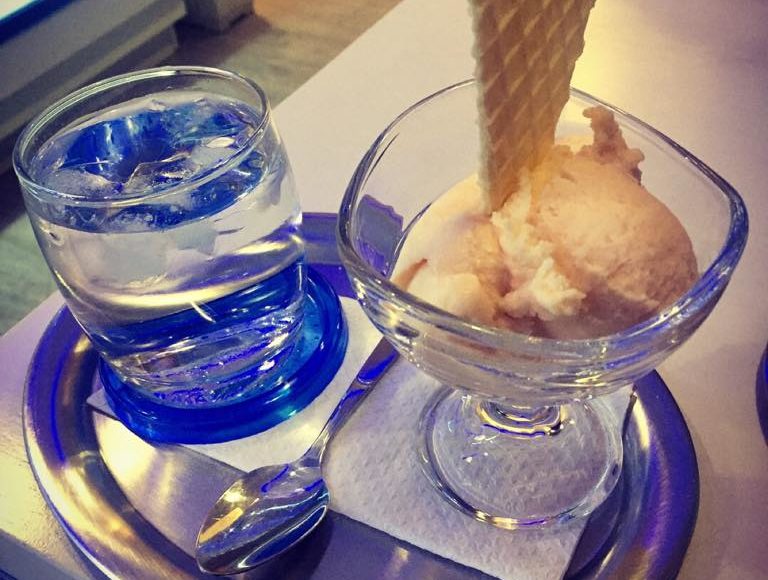 I love desserts, or in general, any sweet stuff. Ice creams are no exception, however I find most of the common Western industrial ice cream franchises in Vietnam not exactly to my liking. Except a few flavors, most of them are either too heavy or too sweet, and you can easily tell that they are not of high quality either.
But then around 2016 Ralf's Artisan Gelato arrived, and there I was, falling in love with ice creams all over again.
I still remember the first time I went there and tried the mango yogurt. I couldn't remember the last time I had an ice cream that good. It was so much better and fresher than all the normal franchise brands out there. I later learnt that was because Ralf's gelato is 100% handmade, contains no vegetable fats, no artificial flavors or preservatives.
The shop is a small, humble but cozy place, tucked away in a small quiet street amidst the hustle and bustle of District 1. It's the total opposite of the "cold" atmosphere you'll find in most big franchise ice cream parlors. Ralf and his lovely wife Tram are always there to take care of customers and make sure they have the best experiences. As for me, even though my house is quite far and hence I cannot go there often, every time I come I always feel treated like family.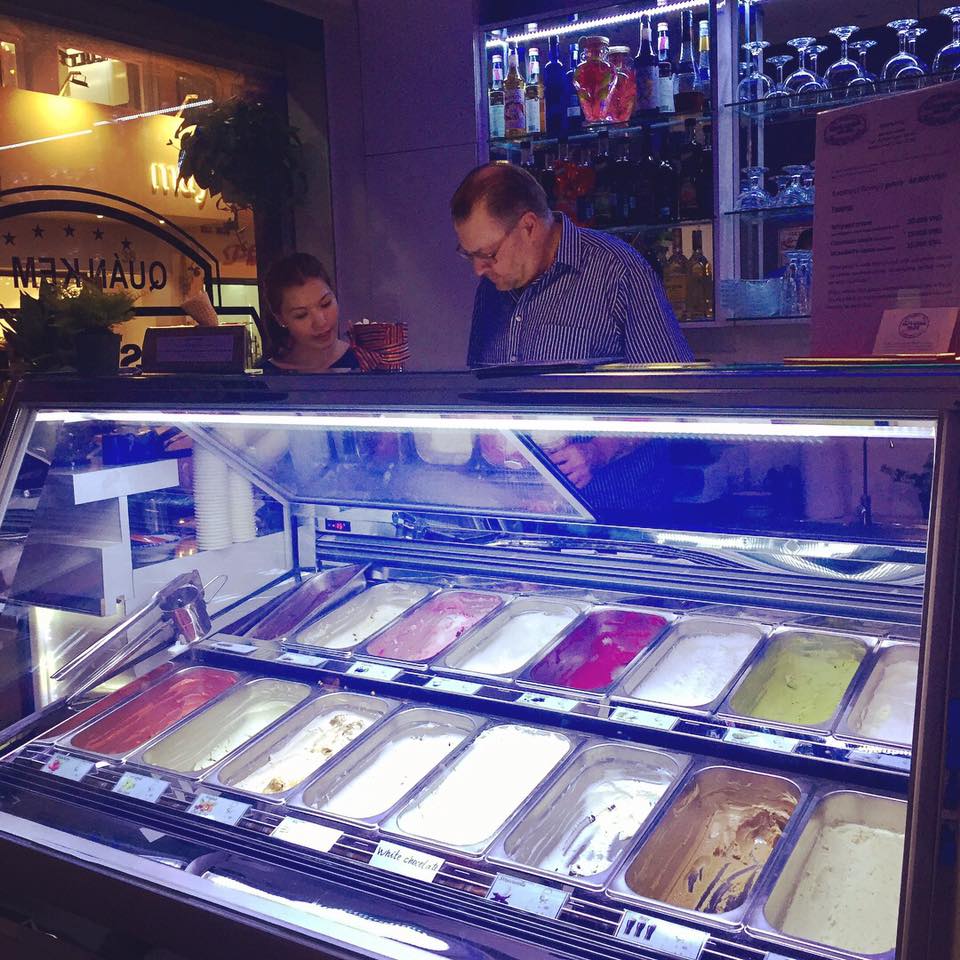 Ralf and Tram – my two most favourite ice cream people
Ralf is an incredibly creative and talented guy when it comes to gelato. Every few weeks he would create new flavors, including very interesting and unusual ones like the Vietnamese famous noodle dish "pho", fish sauce, etc. If you want to try but feel a bit hesitated, don't be afraid to ask them for a taste. Personally I found the pho flavor a bit strong, but the fish sauce one is actually quite good and not that hard to eat at all. If you can eat flavors that are a bit salty like salted caramel, perhaps you wouldn't have much problem with it. It also comes with peanuts on the side which compliment the taste wonderfully.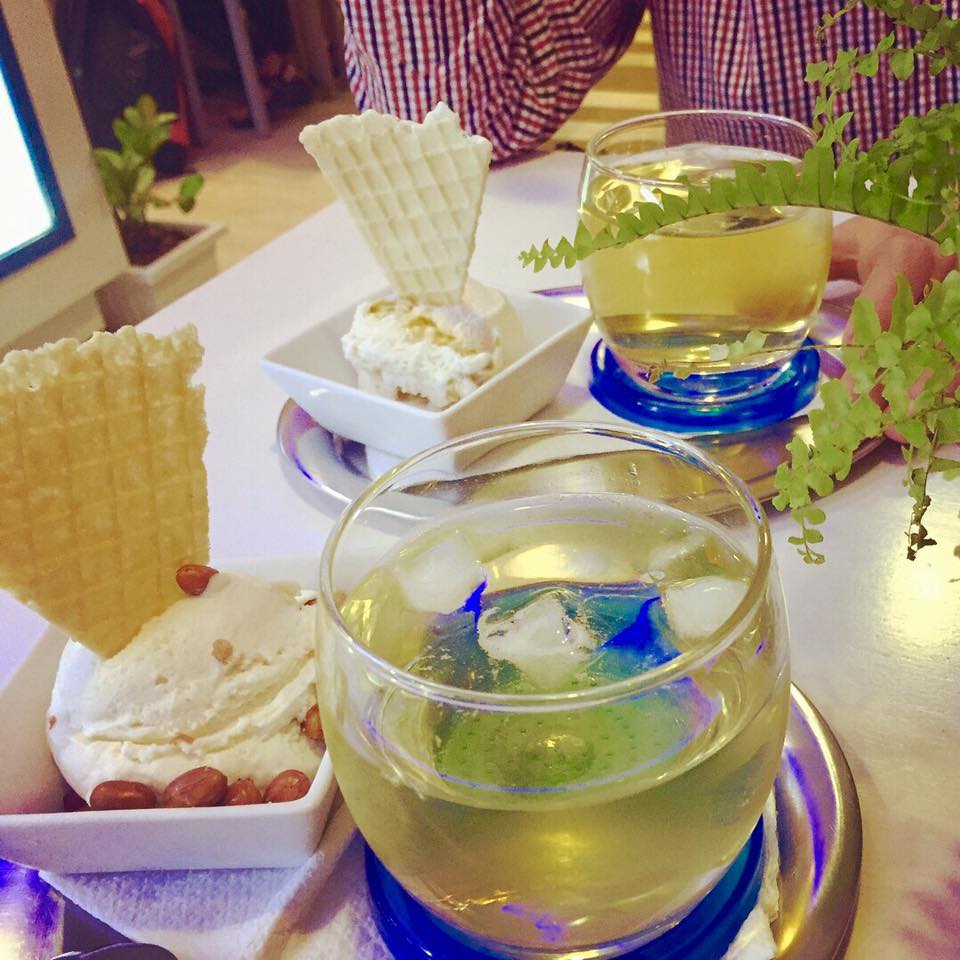 Fish sauce gelato! Are you brave enough to try? 🙂
Ralf always has 16 flavors available, and besides the above unusual ones for the more adventurous, there is of course a wide range of other flavors that can satisfy anyone's taste. My usual favorites are those that are made from yogurt (the yogurt itself is also homemade). Walnut, rum raisin, or those made from seasonal fresh fruits are also amazing.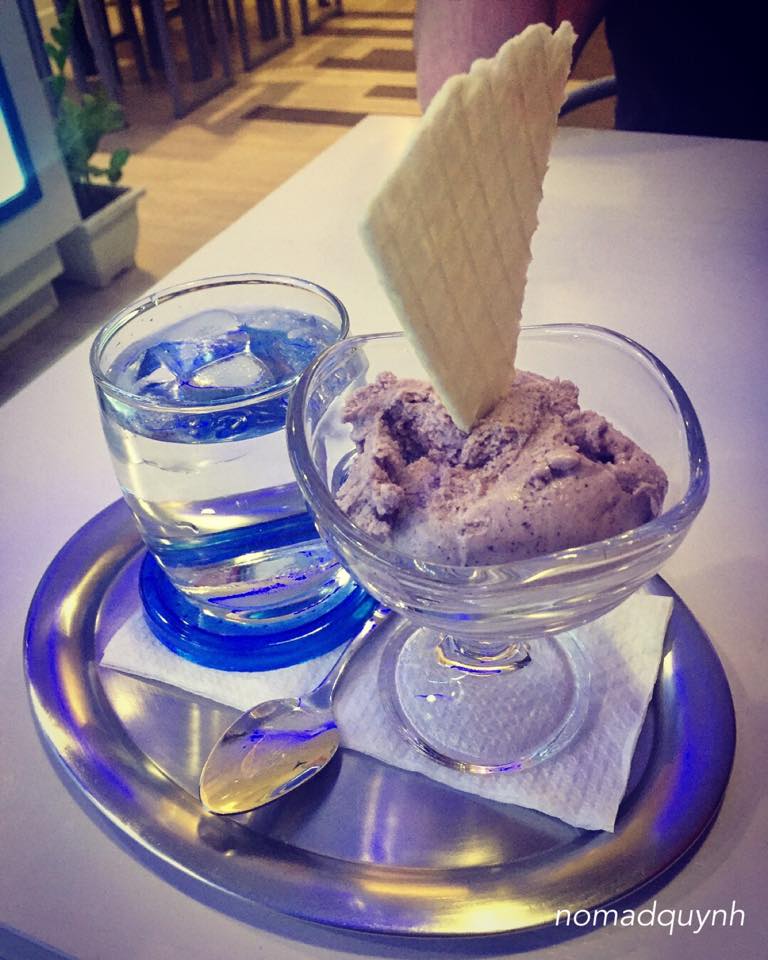 Another favorite flavor of mine – Sữa chua nếp cẩm, aka. Yogurt with fermented black sticky rice
I once asked him: "Where did you learn to make gelato that good? You must be Italian aren't you?" It turned out he's half German half Italian, and used to attend the best gelato schools in both Germany and Italy. Then he fell in love with a lovely Vietnamese lady, they got married and thus he moved to Vietnam and opened this shop. And how lucky we are to have this wonderful addition to our beloved Saigon's F&B scene.
The price here on the other hand is very reasonable. One scoop is 45,000VND, and comes with complimentary cone biscuit and ice tea. There are also several special Sundae versions with toppings etc., and gelato in the form of spaghetti with cheese on top! He also has homemade croissant, cheesecake and tiramisu which are all delicious, the tiramisu is also one of my favorites. There are also plenty of drinks options, ranging from coffee to cocktail.
Honey melon flavor which is also very tasty
The place has two floors, and if you go to the 2nd one, on the way you will see his kitchen and equipment which always look clean and tidy. As his gelato contains no preservatives and hence has a shorter expiry date than normal ice creams, Ralf makes sure all processes are followed strictly in order to keep the products always fresh and taste good. Some ingredients, for example the fresh milk, are 100% imported.
Ralf's Artisan Gelato is open all week except Monday. Go check them out if you haven't. You will likely become a fan like me 🙂
Ralf's Artisan Gelato
Address: 39 Dang Thi Nhu, Nguyen Thai Binh Ward, District 1, HCMC
Tel: 097 932 79 05
Opening hours: 1pm – 10pm (Tue-Fri), 11am – 10pm (Sat-Sun), closed on Mondays
FB page: https://www.facebook.com/ralfsartisangelato
The Nomad Quynh